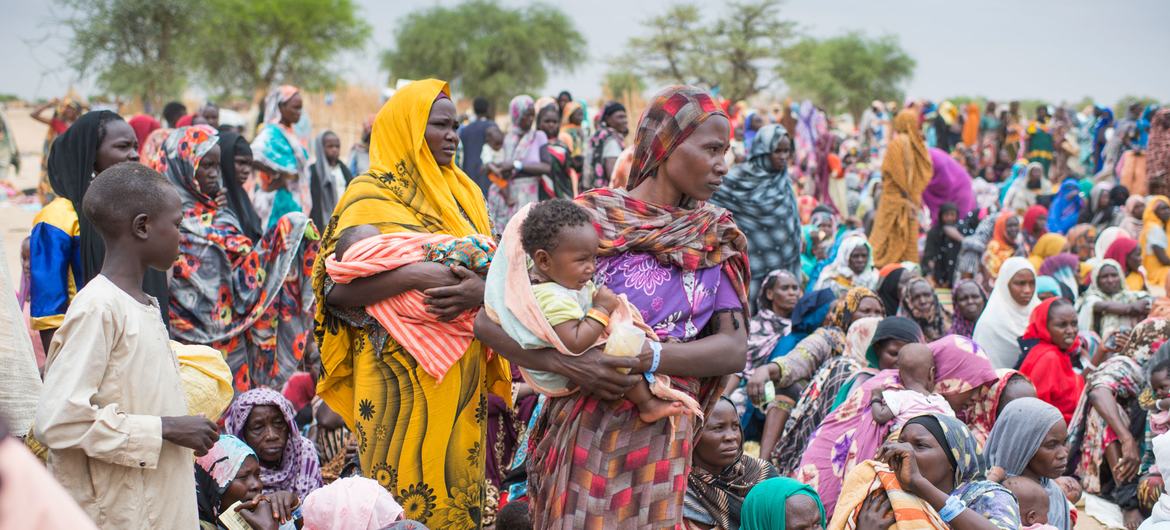 UN and partners launch $445 million plan to ease Sudan crisis
© UNHCR/Colin Delfosse. Hundreds of newly arrived Sudanese refugees gather to receive UNHCR relief kits at the Madjigilta site in Chad's Ouaddaï region.
United Nations, 4 May 2023
With 860,000 people projected to flee the fighting in Sudan for neighbouring countries, the UN refugee agency, UNHCR, and partners on Thursday appealed for $445 million to assist the displaced through October. 
The updates were made in a preliminary summary of the Regional Response Plan for Sudan, that was presented to donors in Geneva.
The funding will cover immediate support in Chad, South Sudan, Egypt, Ethiopia and the Central African Republic. A more detailed plan will be launched next week.
More help needed
Raouf Mazou, UNHCR Assistant High Commissioner for Operations, pointed to the "tragic" humanitarian situation that has emerged in Sudan since fighting between rival military forces broke out nearly three weeks ago, killing more than 500 people.
The dire conditions include food, water and fuel shortages, as well as limited access to transport, communications and electricity. Access to healthcare has also been critically impacted, ongoing insecurity has prevented people from leaving dangerous areas, and the cost of basic items has skyrocketed.
UNHCR has been coordinating contingency planning with partners for new arrivals to countries bordering Sudan. The crisis has uprooted Sudanese citizens but also refugees who are now returning to their homelands, and other nationals.
"UNHCR and partners have emergency teams in place and are assisting authorities with technical support, registering arrivals, carrying out protection monitoring and strengthening reception to ensure urgent needs are met," Mr. Mazou said. "This is just a start. More help is urgently needed."
Refugees and returnees
The Regional Response Plan was drawn up by UNHCR together with 134 partners, including sister UN agencies, national and international non-governmental organizations, and civil society groups.
The 860,000 preliminary projection anticipates that some 580,000 people would be Sudanese; 235,000 returned refugees previously hosted by Sudan, leaving amid adverse conditions, and 45,000 refugees of other nationalities. Most arrivals are expected to flock to Egypt and South Sudan.
The fighting has already displaced over 330,000 people inside Sudan and forced over 100,000 to leave. UNHCR has also launched a data portal that will update daily refugee and returnee arrivals in neighbouring countries. 
Whole region at risk
The Regional Response Plan will support host countries to ensure access to asylum, life-saving humanitarian assistance, and specialized services for the most vulnerable.
Like Sudan, most of the receiving nations were already hosting large numbers of forcibly displaced people, and operations were already perennially underfunded.
Mr. Mazou stressed the need for greater support now, warning of the potential wide-reaching consequences.
"We urgently need timely, new funding to respond to the mounting needs," he said. "The needs are vast, and the challenges are numerous. If the crisis continues, peace and stability across the region could be at stake." 
Thousands at Ethiopia border town
Meanwhile, over 12,000 people have arrived at the remote Ethiopian border town of Metema since the fighting started on 15 April, the UN migration agency, IOM, reported on Thursday.
They include Sudanese citizens, returning Ethiopians and nationals from Türkiye, Eritrea, Somalia, Kenya and more than 50 other countries.
Many are exhausted from the long and dangerous journey to safety.
IOM's Displacement Tracking Matrix (DTM) is currently recording over 1,000 daily arrivals in Metema. Many of these people enter Ethiopia without resources and belongings, leaving them vulnerable to being stranded.
IOM is assisting the arrivals, including those from countries whose embassies have requested support for their citizens.
Nearly 200 Kenyans, some of them students, over 200 Ugandans and more than 800 Somalis are among those who have been helped so far.
A Tanzanian family was also able to receive urgent medical attention and eventually return home with the assistance of their embassy in Ethiopia's capital, Addis Ababa.
© UNFPA Sudan. Two midwives work at a UNFPA-supported clinic in Sudan. (file)
'Pregnancies don't stop'
Back in Sudan, courageous midwives continue to bring new life into the world, amidst the heavy shelling and insecurity.
"As supplies and services grind to a halt, pregnancies don't stop," UN reproductive health agency, UNFPA, noted on Thursday.
UNFPA has trained some 90 community midwives who are helping pregnant women deliver safely, mainly at home, in the capital Khartoum.
"We are working all day every day across three hospitals. For women and girls who don't have means of transportation, we go to their homes to ensure they give birth safely," said Insaf, a midwife currently working in Om Badda, a western district in the city.
A life-threatening situation
Some 61 per cent of health facilities in Khartoum are closed, and only 16 per cent are operating as normal, affecting millions.
Dozens of attacks on hospitals, healthcare staff and ambulances, alongside widespread looting of already scarce medical supplies, water, fuel, and electricity, are pushing the health sector to the brink of collapse, UNFPA said.
The situation could prove life threatening for the estimated 219,000 pregnant women and girls in Khartoum alone because they cannot access essential health services, such as antenatal care, or deliver their babies in safety.
UNFPA stressed that access to midwives is the single most important factor in stopping preventable maternal and newborn deaths. Some 24,000 women are expected to give birth in the coming weeks.
"We have a severe lack of supplies in Khartoum, especially oxytocin and umbilical clips. Although services continue for the time being, we are praying for more supplies to arrive soon," said Jamila, a midwife working in a UNFPA-supported health centre.
Meanwhile, blood, oxygen and other medical necessities, such as fuel for ambulances, are also running dangerously low.
Healthcare under fire
The World Health Organization (WHO) verified further assaults to the health system, such as looting, obstruction of access, violent attacks, and the forced occupation of facilities, the UN reported on Thursday.
Overall, 28 incidents have been verified, leading to eight deaths and 18 injuries among personnel working in the sector.
The UN and partners also continue to deliver humanitarian assistance to people in Sudan, wherever and whenever feasible.
Following a temporary pause, the World Food Programme (WFP) resumed its lifesaving operations on Wednesday, and a first set of distributions is underway to reach 22,000 people in Gedaref state.
Children caught in the crossfire
The UN Children's Fund (UNICEF) has voiced its ongoing concern for boys and girls affected by the crisis. Some 190 children reportedly have been killed and another 1,700 injured.
"The situation in Sudan is teetering toward catastrophe, and children are increasingly caught in the crossfire," Executive Director Catherine Russell said in a statement on Thursday.
"For the sake of Sudan's children, the violence must stop."
Ms. Russell added that attacks on the humanitarian sector are affecting her agency's work to deliver lifesaving health, nutrition, water and sanitation services to children across the country.
Aid workers have come under fire, while humanitarian facilities and supplies – including those belonging to UNICEF – have been looted or destroyed.
"UNICEF also calls for a long-term political solution to the crisis, so that Sudan's children can grow up in an environment of peace and look ahead to a more hopeful future," Ms. Russell said.
The original article appeared here.