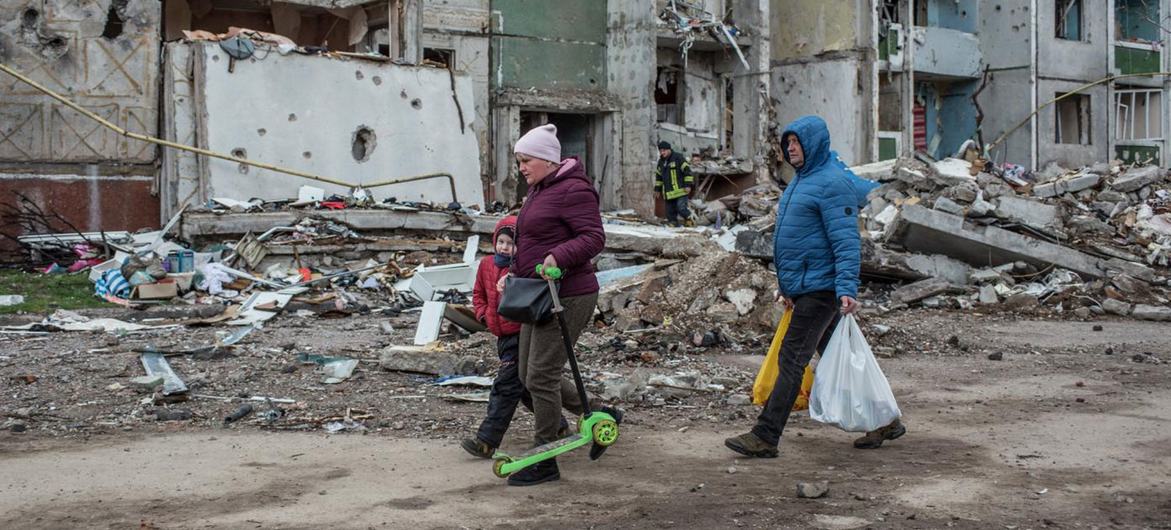 Ukraine: General Assembly resumes emergency special session, taking up new text to end war
© UNDP/Oleksandr Ratushniak. People walk past bomb-damaged building in Chernihiv in northern Ukraine.
United Nations, 22 February 2023
On the eve of the one-year mark of the ongoing war in Ukraine, the UN General Assembly resumed its eleventh emergency special session on Wednesday to consider a new draft resolution aimed at restoring peace.
Assembly President Csaba Kőrösi said that, for almost a full year, the world body, UN Secretary-General, and international community have been consistent and vocal in calls to end this war, and to adhere to the UN Charter and international law.
"Let this anniversary and the anguish of millions before our eyes over the last year serve as a reminder to all of us here in this Hall that military solutions will not end this war," he said. "Too many lives, livelihoods, families and communities have been lost. Russia can end its aggression and the war it has unleashed. Russia must end this hell of bloodshed."
The General Assembly eleventh emergency special session resumed, with the introduction of a new draft resolution and two proposed amendments, and is expected to last into Thursday or Friday.
The draft text calls for an immediate ceasefire, demands that Russia leaves Ukraine, and emphasizes the need for accountability for serious crimes and justice for all victims.
Devastating consequences
Outlining the landscape of the ongoing war, the Assembly President said 20,000 civilians and many soldiers are dead ,and countless more injured, while eight million refugees have spread across Europe and beyond, and six million remain internally displaced. Currently, 40 per cent of Ukrainians need humanitarian assistance.
Condemning the systematic targeting of civilian infrastructure that has left millions of Ukrainians without energy, water, and heat in the depths of winter, he said such actions violate international humanitarian law.
"Across the UN system, we are working tirelessly to find solutions to your plight and to accompany you on the road to reconstruction," he said. "This war will come to an end, and the time of reconstruction, reconciliation, and transformation will come. We know it will not be easy. We know the scars are deep. Culture, family bonds, sports, arts, and the acknowledgement of the shared destiny of humanity will certainly help nations currently facing each other in the trenches."
Costs of war
UN Secretary-General António Guterres said the one-year mark stands as a "grim milestone", and the impact is being felt far beyond Ukraine. He called for full support of the recent UN launch of a $5.6 billion humanitarian appeal for the people of Ukraine.
"While prospects may look bleak today, we know that genuine, lasting peace must be based on the UN Charter and international law," he said. "The longer the fighting continues, the more difficult this work will be. We don't have a moment to lose."
He called on the parties and the international community to recommit to the values, principles, and purposes of the UN Charter.
Upholding and preserving "our constitution for 'we the peoples' must be the common interest of all Member States," he said. "There is no alternative."
More than 80 countries are scheduled to address the General Assembly, which is expected to vote on the new draft resolution on Ukraine on Thursday or Friday.
Ukraine: Multiple atrocities
Ukraine's Foreign Minister Dmytro Kuleba called on the UN membership to support the new draft resolution and the UN Charter towards a path to peace.
"No one should be fooled by Russia's empty calls for negotiations," he said. The current situation on the frontlines proves they want war, not peace, as Russia is mounting attacks, from the Dnipro River to the Russian border, striking Ukraine's civilian infrastructure with salvos of cruise missiles and drones, he added.
"We have no choice but to keep fighting for our survival, as any of you would," he said, citing atrocities that amount to genocide, including forcible deportation, torture, rape and attacks on civilians.
With the support of the world, he said, Ukraine can restore its territorial integrity and respect for the UN Charter, which will discourage Russia and other aggressors from wanting to attack other nations. This requires sending a strong and clear message that the UN Charter should serve as the basis for the process of peaceful resolution.
"Exactly a year ago I was standing here appealing to the nations united in this Hall on the need to prevent war," he said. "A year after, against all odds, Ukraine is effectively defending itself against a much stronger enemy and I appeal to you: this is a decisive moment to show support, unity, and solidarity. This is the moment to prove that you stand for the UN Charter."
Russia: West is fueling war
Russian ambassador Vassily Nebenzia said the Ukrainian situation is being fueled by the West, which is conducting a hybrid war that has triggered a global food crisis.
He said Moscow began its special military operation in 2022 to stop an eight-year-long war in Donetsk and Luhansk, two regions in eastern Ukraine, following a coup by people who rejected Nazism or authoritarianism. Since 2014, he said, the Kyiv "regime" continued shelling people in the region and now has effectively banned peace negotiations.
"It's not Ukraine that is fighting Russia, but rather it is a collective West," he said. "All decorum is set aside, and the goal is to inflict strategic defeat on my country. The US thinks the planet is their turf."
Meanwhile, the West is closing its eyes to the regrowth of Naziism in Ukraine, and Russophobia is only growing, he cautioned, pointing to sanctions that are effectively "hitting developing countries hardest".
"Moscow is ready for a solution," he said. "The draft resolution submitted here will not help this at all. It will rather encourage the West, which will continue its militaristic line, using the UN as a cover."
'Uniting for Peace'
Days after the 24 February 2022 invasion, Security Council members had voted in favour of the General Assembly convening the session after Russia had vetoed a resolution that would have deplored the assault on Ukraine.
Opening the current emergency special session on 28 February 2022, the world body had subsequently resumed meetings in March, April, October and November.
The Assembly has held 10 emergency sessions, in line with resolution 377A(V), adopted in 1950 in response to the Soviet Union's efforts to block Security Council action related to the war on the Korean Peninsula.
Commonly known as "Uniting for Peace", the text empowers the Assembly to consider international peace and security matters when the Council is unable to act due to a lack of unanimity among its five permanent members – China, France, Russia, United Kingdom and the United States – who have the power to veto decisions.
Further information on the special emergency session can be found at UN Meetings Coverage.
The original article appeared here.