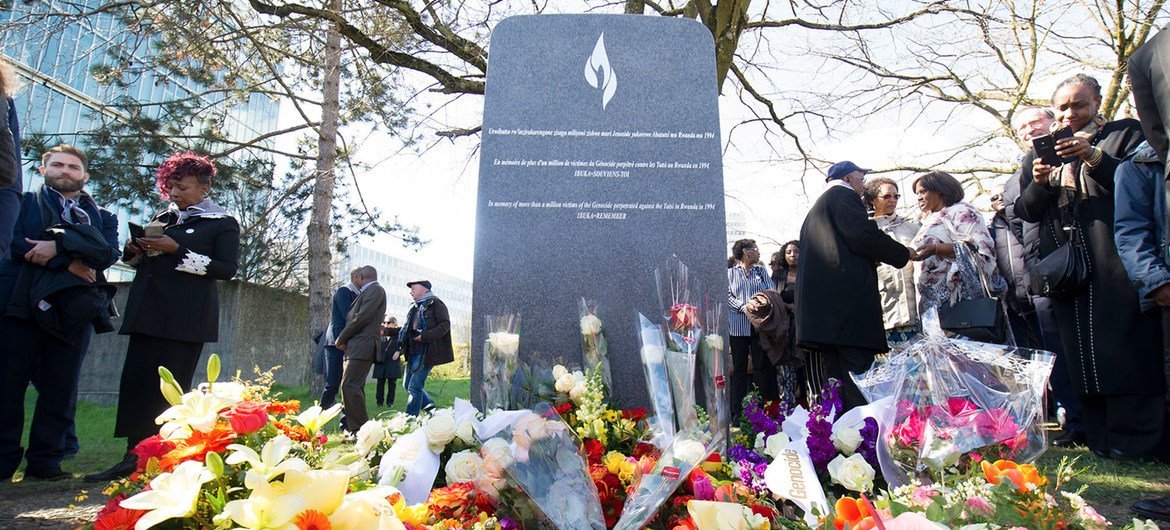 Top UN body asks what more can be done to stop genocide, atrocity crimes
UN Photo/Violaine Martin A monument in memory of the 1994 Genocide against the Tutsi in Rwanda is unveiled at the United Nations in Geneva. (file)
United Nations, 24 January 2023
Ambassadors, UN officials and experts from the international community have been sharing ways to better prevent genocide, ethnic cleansing, war crimes and crimes against humanity, at a special meeting of the Economic and Social Council (ECOSOC) in New York on Tuesday.
The UN fears risk of these atrocities is heightened given current global crises that include conflict, soaring food and energy costs, and deepening inequalities and tensions, all exacerbated by the COVID-19 pandemic and climate change. 
In her opening remarks, ECOSOC President Lachezara Stoeva highlighted how the 2030 Agenda for Sustainable Development, together with global commitment on the responsibility to protect (R2P), underscore the need to uphold the dignity and worth of every person on the planet.
Stronger UN needed
Ms. Stoeva said protecting fundamental freedoms and human rights, including socio-economic rights, underpins the 2030 Agenda, and is critical both to address the root causes of conflict and to make communities more inclusive and resilient.
However, she warned that promises were not enough in the face of current global challenges, which are undermining progress towards achieving sustainable development and reversing gains made.
"These challenges require reinvigorated multilateralism and a stronger United Nations. It requires us to engage with all stakeholders, including young people and women, to promote social progress, better living standards and human rights for all," she said.
Rooted in discrimination
Genocide refers to acts aimed at destroying a national, ethnic, racial or religious group and "sad experience" has shown that it is a gradual process, the President of the UN General Assembly, Csaba Kőrösi, explained.
Hate speech, dehumanization of groups as "others", and recurrent violations of their rights are precursors to mass atrocities, he added.
"Like a weed, genocide has roots in discrimination and artificially aggregated ethnic, religious or social differences. The seedling of genocide breaks through when the rule of law breaks down," said Mr. Kőrösi.
Prevention and protection
Preventing genocide requires pulling out its roots, he continued, as well as protecting at-risk communities, including minorities and especially women and girls.
The General Assembly President also pointed to the transformative role of education, saying "by fostering an environment of coexistence, mutual respect, tolerance and cooperation, education can buffer societies against the threat of violent extremism."
Following the international community's failure to prevent atrocities in Rwanda and the Balkans in the 1990s, the UN established the mandate of Special Adviser on the Prevention of Genocide, a position currently held by Alice Wairimu Nderitu. 
Human rights connection
She told participants that the responsibility to protect is a matter of both domestic and international policy on meeting human rights obligations.
"We must therefore see social and economic measures to prevent genocide, war crimes, ethnic cleansing and crimes against humanity, within the lens of basic rights. The lack of adequate food, adequate housing, education, health, social security, work, water and sanitation, creates the conditions for atrocity crimes to occur," she said.
Ms. Nderitu recalled that the COVID-19 pandemic profoundly impacted economic and social rights and enhanced the risk of atrocity crimes, due to rising hate speech and discrimination.
Research collaboration proposal
In response to the global crisis, governments implemented measures to support their populations, such as cash transfers, school meals, unemployment protection and temporary changes to social security contribution payments.
Some also partnered with the UN and social media companies to address hate speech and discrimination.
While these measures contributed to mitigating and preventing many adverse impacts of the pandemic, Ms. Nderitu called for more action.
She proposed collaboration with ECOSOC to advance research and policy on the connection between atrocity crimes and socio-economic vulnerabilities.
 "I also count on the leadership of ECOSOC and Member States to continue addressing social and economic vulnerabilities and operationalize the Secretary-General's call for a renewed social contract centered on the respect of all human rights without discrimination and aim to achieve a world free of atrocity crimes," she said. 
The original article appeared here.