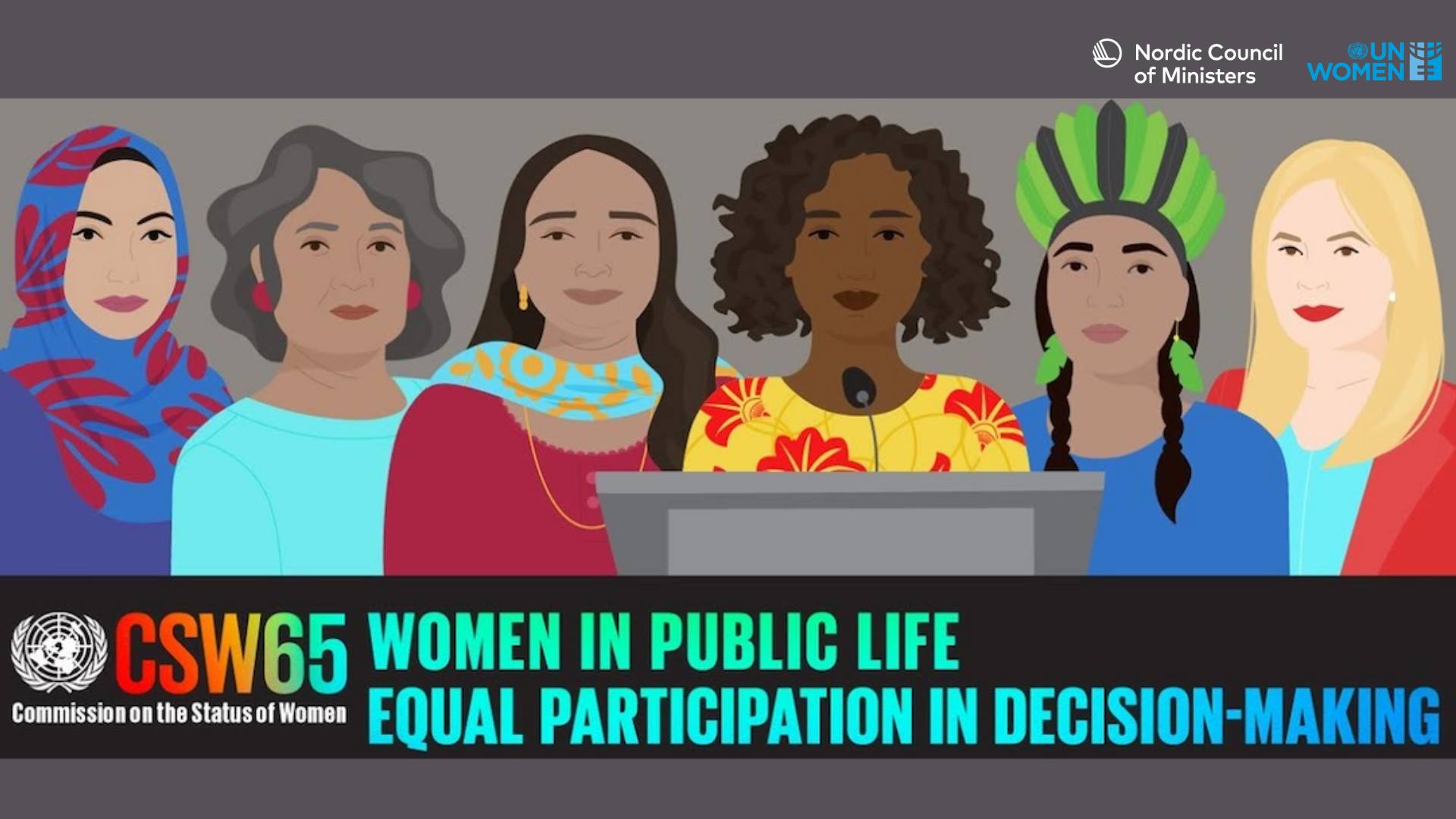 Online UN Women event: The Shrinking Democratic Space: Who is heard and who decides?
UN Women, 15 March 2021
Join this event on voices in public life and intergen(d)erational action, moderated by Alexandra Pascalidou, award-winning Swedish journalist and human rights champion.

The event features prominent and diverse voices from across the Nordics including:
Chanel Björk Sturludóttir, diversity activist and radio show producer, Iceland
Ugla Stefanía Kristjönudóttir Jónsdóttir (Owl Fisher), journalist, filmmaker and trans campaigner, Iceland
Atilla Yoldas, Author, columnist and gender equality activist, Sweden
Petra Laiti (Mihku Ilmára Mika Petra), Activist, Sámi Youth Association, Finland
Åsa Regnér, Deputy Executive Director, UN Women
Maria Gudme, Parliamentarian candidate and member of the Regional Council for the Social Democratic Party, Denmark
Thomas Blomqvist, Minister for Nordic Cooperation and Equality, Finland
Annika Strandhäll, Member of Parliament for the Social Democratic Party and former Minister of Social Security and Social Affairs, Sweden
Sikandar Siddique, Member of Parliament and leader of the Independent Greens, Denmark
Public life in the Nordics is not accessible to everyone. Who is heard and who decides? This event scrutinizes gender inequalities in public life, politics, and media, where women and gender diverse people are still excluded.
Daily, women in all their diversity face harassment, hate and structural barriers when participating in democratic spaces. Gender equality cannot be achieved, and democracy cannot be secured unless public life and decision-making include everyone.

The CSW is an annual international summit on gender equality, usually bringing 30,000 people to the UN headquarters. This year, we bring CSW home, discussing the theme: "Women's full and effective participation and decision-making in public life, as well as the elimination of violence, for achieving gender equality and the empowerment of all women and girls".

The event is live-streamed here.
---