COVID-19 response: mobilizing supply operations to fight the pandemic
In spite of extremely complex supply and logistics challenges caused by the COVID-19 pandemic, UNICEF shipped half a billion items of personal protective equipment in support of 138 countries in 2020 alone
UNICEF, 10 March 2021
In the span of a few weeks, in late 2019 and early 2020, COVID-19 escalated from a localized outbreak in China into a global pandemic affecting nearly the entire world. As the outbreak worsened, demand for supplies to combat the virus sharply increased, leading to market constraints, pricing volatility, export bans and logistics barriers.
To navigate these extremely complex supply and logistics challenges on a global scale, UNICEF mobilized its supply operations to support countries in their efforts to fight the pandemic. With the situation evolving rapidly, flexibility and adaptability were key components of the UNICEF response.

Rapid response at the onset of the outbreak
Wuhan Municipal Health Commission reported a cluster of cases of pneumonia in Wuhan, China, on 31 December 2019. A novel coronavirus was later identified.
As the outbreak unfolded in China, it became clear that supplies were a central component of the response – especially personal protective equipment (PPE) to safeguard the health of frontline workers. To support the China response, UNICEF shipped PPE from its global supply hub emergency stocks in Copenhagen, Denmark, in January 2020.
With much of the world's PPE manufacturing concentrated in China, the outbreak had a sharp impact on the global market for these supplies. As lockdown restrictions began to impact the production in China, and with UNICEF emergency stocks depleted, UNICEF expanded its reach for sourcing PPE to meet the demand.

Adapting the response as the epidemic escalates
On 30 January 2020, the outbreak was declared a Public Health Emergency of International Concern by the World Health Organization (WHO).
By mid-February, the virus was spreading across borders and UNICEF expanded its supply response to support the growing needs of an increasing number of countries.
As the outbreak in China began to subside, Chinese manufacturers resumed operations but with limited capacity: manufacturers who were able to return to work faced large backlogs and limited access to raw materials. New policy and export regulations further complicated getting supplies out of China.
Widespread global competition for PPE led to further shortages and market fragmentation. UNICEF supply operations intensified, and the teams engaged with more than 1,000 suppliers and industry leaders around the world to identify solutions to the market constraints and secure supplies needed at appropriate prices, in an effort to support PPE equitable access for programme countries.
To mitigate the risk on transport operations, UNICEF decentralized some stocks for regular programmes from Copenhagen to its supply hubs in Dubai, Panama City and Accra, to position these supplies closer to their destinations if transport operations became further limited.
Coordination efforts among partners also intensified to harmonize efforts and prioritize and organize allocations.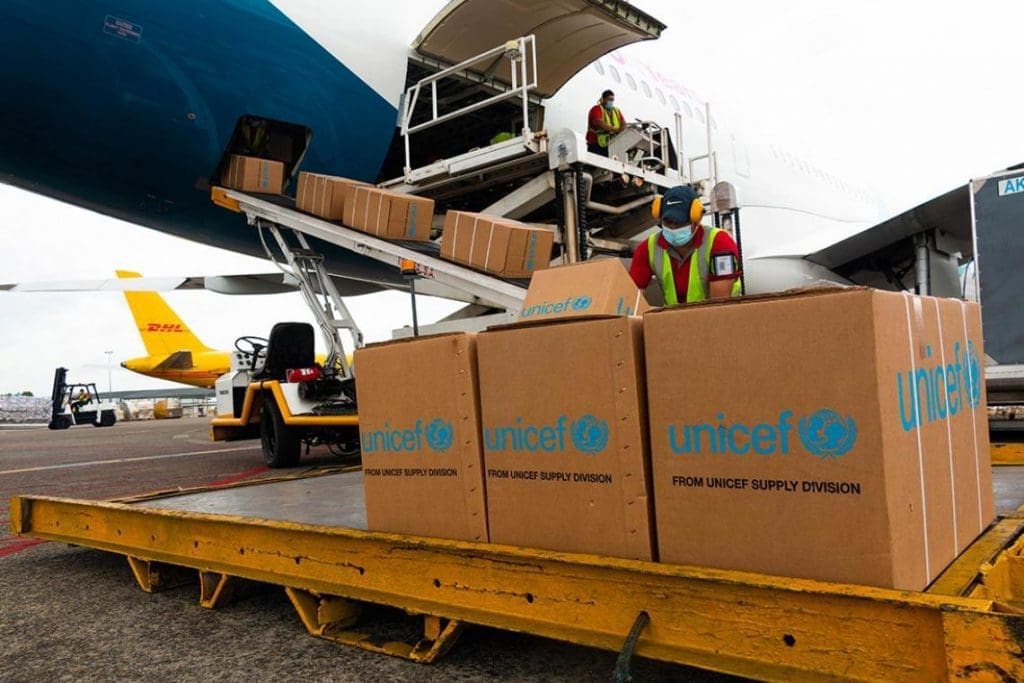 Scaling up the response in a global pandemic
COVID-19 was declared a pandemic by WHO on 11 March 2020.
By mid-March, Europe was declared the epicenter of the epidemic, followed by the United States in late March. Global demand for PPE supplies continued to escalate, far outpacing available supply. Prices for some items surpassed 20 times historical levels.
Logistics constraints also reached unprecedented levels as countries around the world closed their borders to travel and trade. Options for cargo transportation became very limited, shipments of supplies were blocked in airports and prices for charter flights skyrocketed – reducing air shipments of UNICEF supplies in March 2020 by over one third compared to the previous year. Despite these challenges, thanks to creative solutions and strong collaborations with governments, donors and partners, 400 air shipments were completed in March, in support of COVID-19 response efforts and other regular programmes.
To support countries with limited buying power to access essential supplies, UNICEF employed a strategic market approach – that is, consolidating demand and centralizing buying, and working with manufacturers to share risks and negotiate affordable pricing.
Partnership efforts also intensified across the different areas of the response. UNICEF brought its expertise, assets and networks to these collaborations, including the WHO-led COVID-19 Supply Chain System and the ACT-Accelerator initiative – a global collaboration launched in April 2020 and aimed at developing and accelerating access to COVID-19 diagnostics, therapeutics and vaccines.
The COVID-19 pandemic not only represented a health risk in itself, but it also has severe secondary impact on the well-being of children, threatening to reverse gains made in child health over the last two decades. Throughout 2020, UNICEF continued to support countries in their efforts to respond to COVID-19, and their long-term efforts to re-build, recover and put in place the systems that children and their families need for the future.
---
COVID-19 supplies shipped since the start of the COVID-19 outbreak through 10 March 2021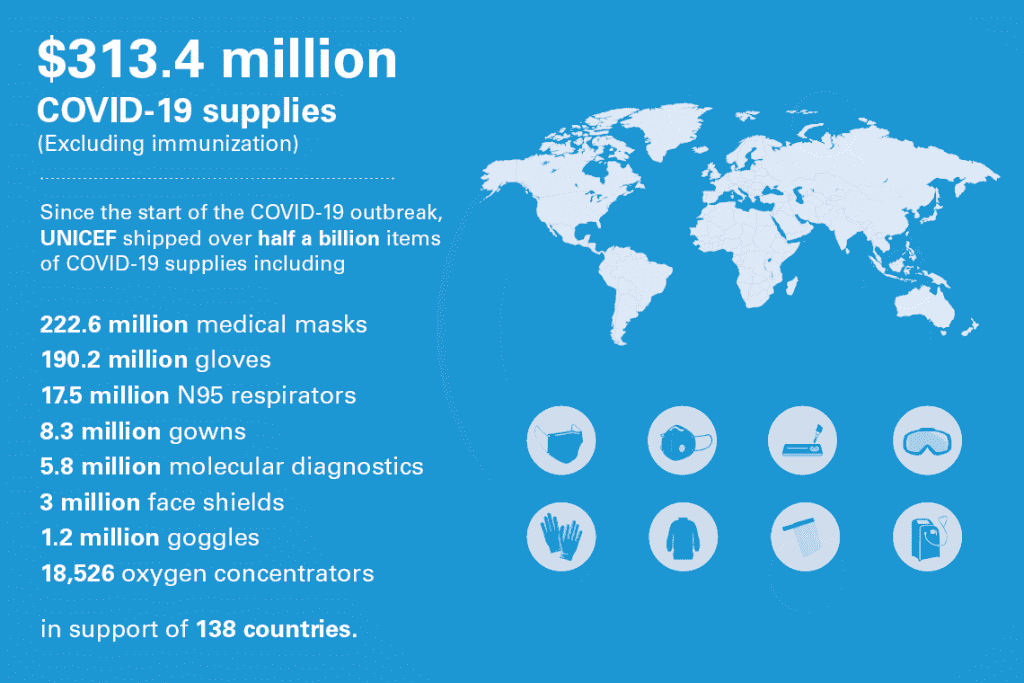 ---