docUNight: World Mental Health Day Short Films
October 6 @ 17:30

-

19:30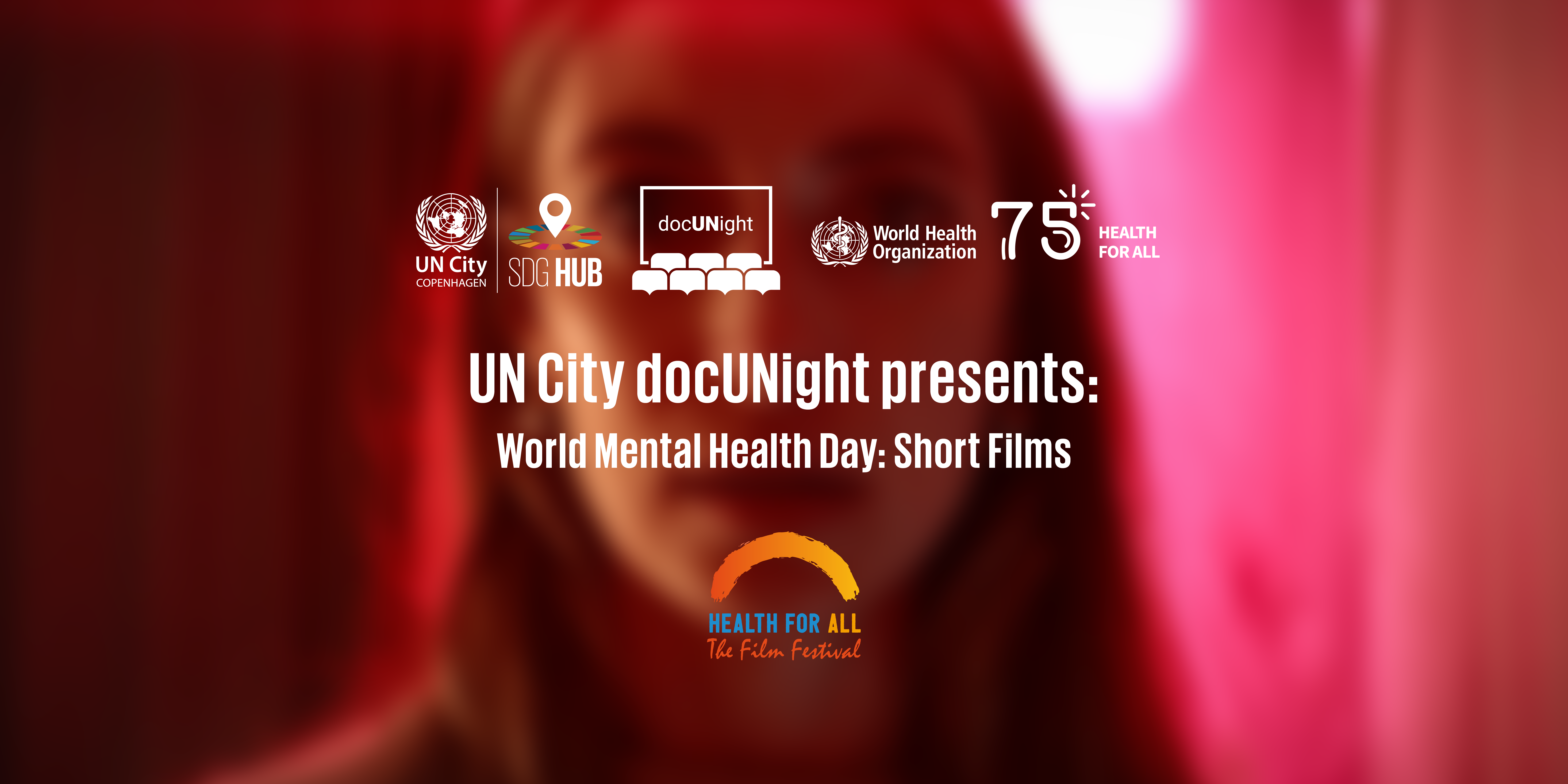 In connection with World Mental Health Day and the 75th anniversary of the World Health Organization, join us on 6 October for a docUNight screening of award-winning short films on various topics surrounding mental health and well-being.
Chances are we all know someone who has struggled with poor mental health. In 2019, more than 125 million people in the WHO European Region – about 1 in 7 people – lived with a mental health condition. Only a fraction of them received the care they need.
In these short films, we will meet ordinary people with extraordinary determination and resilience. Diving into topics such as depression, climate anxiety, schizophrenia, stigma, or homelessness – combined with a strong message of hope – the films underline the importance of connecting with each other, fostering discussion, dialogue, and understanding.
The short films are part of the WHO Health For All Film Festival's shortlisted or winning films.
The screening will be followed by a discussion and Q&A, inspiring conversations, actions, and solutions for reducing stigma and improving well-being for all through #Film4Health.
–––––––––––––––––––––––––––––––––––––––––––––––––––––––––––
–––––––––––––––––––––––––––––––––––––––––––––––––––––––––––
Food and drinks will be available for purchase from 16:30–17:30.
Please bring a valid photo-ID to get through security at UN City and set aside time for the security check prior to the event.
–––––––––––––––––––––––––––––––––––––––––––––––––––––––––––
Programme:
17:30: Welcome by WHO
17:35: Screening of short films on mental health (total duration: 1 hour)
18:35: Discussion and Q&A
19:30: Closing of event
–––––––––––––––––––––––––––––––––––––––––––––––––––––––––––
About the panelists:
Paul Jerndal
Paul Jerndal is an award-winning Swedish filmmaker and passionate advocate for mental health. Paul actively engages with organisations and non-profit mental health initiatives, using his films to raise awareness and drive positive change, sparking conversations that promote understanding, compassion, and self-reflection.
Rune Jørgensen
Rune Jørgensen is a voluntary ambassador with One Of Us, a Danish governmental campaign for combatting societal stigma associated with ill mental health. He also has 20 years of experience living with a mental health condition. Politically engaged, Rune sees his work as part of fighting stigma and self-stigma in a broader context in a society.
Dr Ledia Lazeri
Dr Ledia Lazeri is the Regional Adviser for Mental Health at the WHO Regional Office for Europe, leading WHO's work on mental health in several areas such as policy and services, rights and advocacy, as well as implementing the WHO European Framework for Action in Mental Health 2021–2025 and supporting the pan-European Mental Health Coalition.
–––––––––––––––––––––––––––––––––––––––––––––––––––––––––––
Background:
Mental Health matters. Nevertheless, people with mental health conditions rarely get the help they need. Many people avoid disclosing a mental health condition because doing so often invites discrimination and stigma – they may lose their job or find it difficult to get hired, get deprioritised in housing queues, and even become alienated from friends and family.
Mental health services are under-funded and under-resourced: for the estimated 1 in 7 members of the European population who have a diagnosable mental health condition, governments on average allocate only about 3.0% of their healthcare budgets to mental health services. Also, there are only about 45 mental health workers for 100,000 people in the WHO European Region.
WHO launched the pan-European Mental Health Coalition in 2021 to unite everyone who is already enacting the phrase "mental health matters", whether they be healthcare professionals, academics, or people living with mental health conditions and their families. The coalition's overarching aim is to create a space for sharing knowledge, wisdom, and experience in improving mental health at the individual, community, national, and international levels.
–––––––––––––––––––––––––––––––––––––––––––––––––––––––––––
The WHO Health For All Film Festival
The WHO Health for All Film Festival (HAFF) aims to harness a new generation of film and video innovators to champion global health issues, inviting independent film makers, production companies, NGOs, communities, students, and film schools from around the world to submit their original short films about health. In its fourth edition of 2023, there was a strong showing for mental health by European filmmakers as HAFF received hundreds of submissions from all over the world, competing in the Universal Health Coverage, Health Emergencies, Better Health and Well-being, Sexual and Reproductive Health and Rights, Climate Change and Health, and Very Short Film categories. Since 2020, the Health for All Film Festival has gathered more than 4,300 submissions from 110 countries.
–––––––––––––––––––––––––––––––––––––––––––––––––––––––––––
About the World Health Organization:
Founded in 1948, the World Health Organization is the United Nations agency that connects nations, partners, and people to promote health, keep the world safe, and serve the vulnerable – so everyone, everywhere can attain the highest level of health. Dedicated to the well-being of all people and guided by science, WHO leads and champions global efforts to give everyone, everywhere an equal chance to live a healthy life.