docUNight: In Her Hands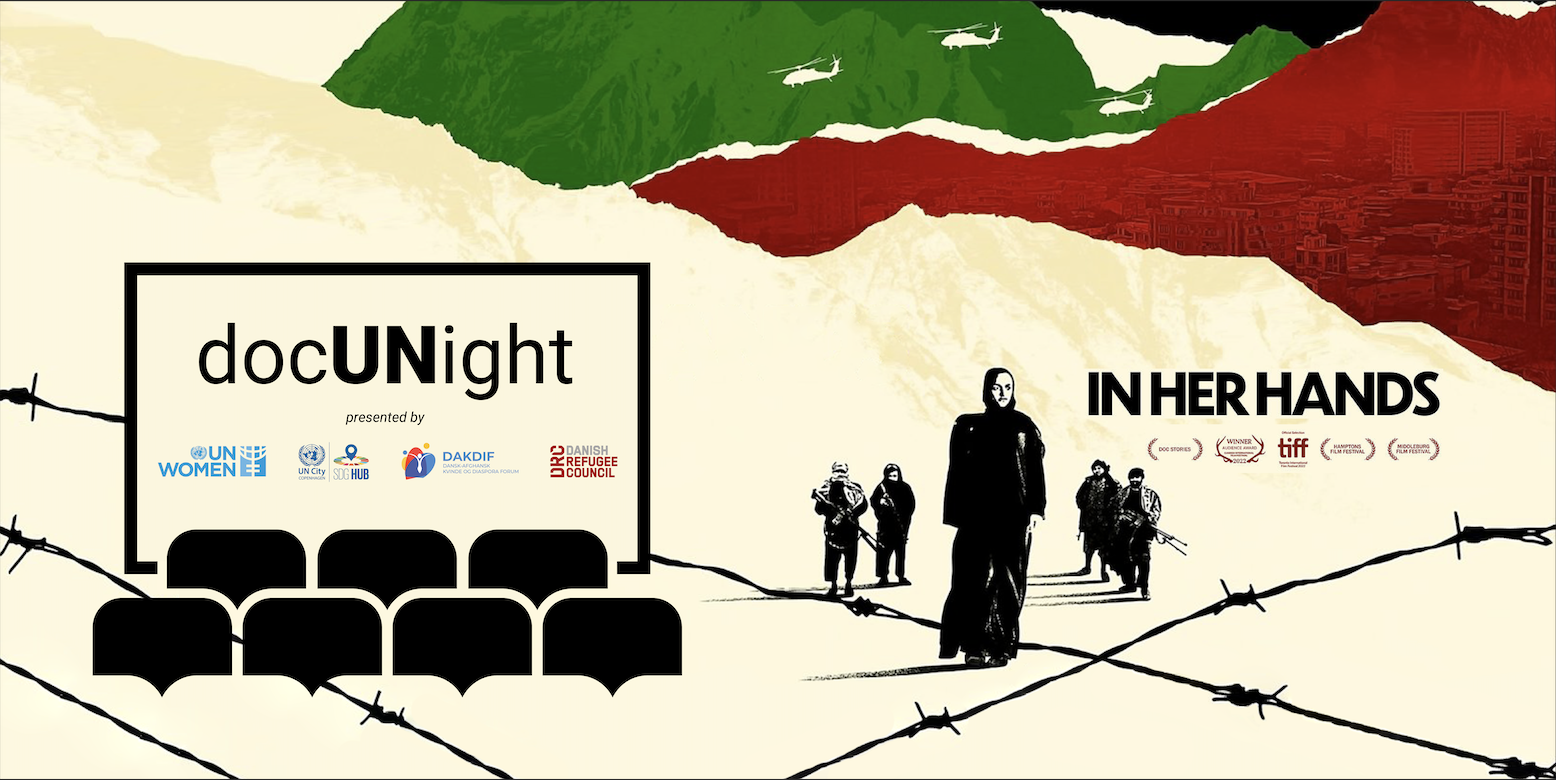 At 26, Zarifa Ghafari, became one of Afghanistan's first female mayors and the youngest to ever hold the position. Filmed over two turbulent years, the film documents her personal battle for survival as her country unravels.
In commemoration of International Women's Day, join us on 17 March in UN City for a screening of the movie 'In Her Hands' and expert perspectives on the situation and quest of women and girls in Afghanistan.
The event is co-hosted by UN Women Nordic Office and DAKDIF – Danish-Afghan Women & Diaspora Forum, with support to the event provided by the Danish Refugee Council.
#LetHerLearn #WomenLifeFreedom #WorkFoodFreedom #EducationWorkFreedom
Food and drinks will be available for purchase in the UN City Café from 15:30–16:30.
Please bring a valid photo-ID to get through security at UN City and set aside time for the security check prior to the event.
Register to save your spot via Eventbrite
Programme:
16:30: Welcome by moderator Flemming Johannesen, Head of UN City Communications
16:33: Panel introduction to the commemoration of International Women's Day zooming in on the voices of women and girls in Afghanistan
Panelists:
Alison Davidian, UN Women Representative, Afghanistan (virtual participation)
Tahmina Salik, Chairperson, DAKDIF – Danish-Afghan Women & Diaspora Forum
Zarifa Ghafari, Economist and Human Rights Activist
17:00–18:30: Screening of 'In Her Hands'
18:30–19:00: Interview with Zarifa Ghafari
19:00: Closing of event
Background:
On 24 December 2022, the Taliban issued a letter banning women from working in international and national non-governmental organizations (NGOs), the latest attack in a series of systematic infringements on the fundamental rights of women and girls since the Taliban takeover of Kabul in August 2021.
Developed during the two-week period following the ban, this gender alert analyses the impact of the directive through the insights of Afghan women's civil society organizations. The gender alert focuses primarily on the immediate repercussions of the ban on humanitarian assistance, as well as the implications for the economy and women's empowerment. It concludes that the ban:
is discriminatory and dictates whom humanitarian actors can(not) employ, and whom they can reach with assistance;
has multilayered implications that go beyond the inability of reaching women and girls with life-saving assistance, including dealing a further blow to the Afghan economy amid the ongoing crisis; and
speeds up the erasure of Afghan women and girls from all aspects of Afghan public life.
About Zarifa Ghafari:
Zarifa Ghafari received the 2022 International Women's Right Award at United Nations Geneva Summit. She was included by BBC in the list of 100 inspiring and influential women from around the world for 2019. On March 4, 2020, Zarifa Ghafari was honored by the U.S. Department of State as an "International Women of Courage" and she was included in The Badass 50 list. In 2020, she received the award: "Women Who Can Change the World by InStyle" as well as many other awards and lists within the country from various organizations.
About UN Women:
UN Women is the United Nations entity dedicated to gender equality and the empowerment of women. A global champion for women and girls, UN Women was established to accelerate progress on meeting their needs worldwide.
About DAKDIF:
The Danish Afghan Women Forum (DAKDIF) was established in January 2021 to promote Afghan women's access to education, economic growth, their participation in social and political landscape on both a national and international scale, and civic engagements. DAKDIF strives to provide Afghan women with the necessary tools and resources to participate and engage in civic, social and political activities.