docUNight: Green City Life / La Belle Ville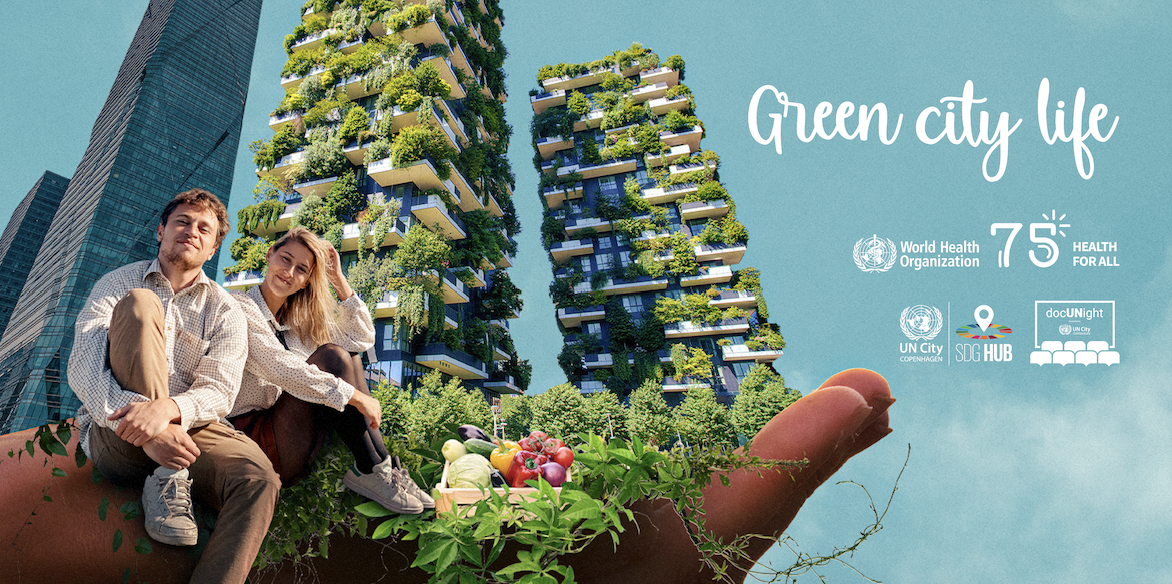 What makes a city healthy? How do we build greener and cleaner cities of tomorrow, reconnecting with nature and combining the benefits of the countryside with the advantages of the urban world?
In connection with World Health Day and the 75th anniversary of the World Health Organization, join us on 14 April for a docUNight screening of 'Green City Life' ('La Belle Ville'). This inspiring documentary on how cities can be propelled into the 21st century links solutions such as revegetation, urban farming, and bio-waste recovery with greener and healthier cities for everyone.
Through the documentary, Manon and François will take you on an inspiring journey around the world, meeting ordinary people with extraordinary initiatives and solutions for healthier urban environments that reconnect People, Cities, and Nature.
#WorldHealthDay #HealthyCities
––––––––––––––––––––––––––––––––––––––––––––––––––––––––––––––––––––––––––––
––––––––––––––––––––––––––––––––––––––––––––––––––––––––––––––––––––––––––––
Food and drinks will be available for purchase in the UN City Café from 15:30–16:30.
Please bring a valid photo-ID to get through security at UN City and set aside time for the security check prior to the event.
––––––––––––––––––––––––––––––––––––––––––––––––––––––––––––––––––––––––––––
Programme:
16:30: Welcome by Flemming Johannesen (Head of UN City Communications)
16:33: Welcome by Petra Hongell (World Health Organization)
16:35: Short Film on WHO75 (1:32 min)
16:38: Screening of 'Green City Life – La Belle Ville' (1h 25min)
18:05: Presentation of the panellists by moderator Petra Hongell (World Health Organization)
18:10: Discussion and Q&A on the Cities of the Future
Panellists:
Camilla van Deurs, Architect MAA, Copenhagen Municipality City Architect

Kira Fortune, Ph. D., M.I.H., M.A., B.Sc., Regional Advisor, Healthy Cities, Health Promotion and Well-being, World Health Organization

Livia Urban Swart Haaland, Co-founder of ØsterGro (rooftop farm), FællesGro (CSA initiative), and Øens Have (urban farm & restaurant).
19:00: Closing of event
––––––––––––––––––––––––––––––––––––––––––––––––––––––––––––––––––––––––––––
Background:
By 2050, 2 out of every 3 people are likely to be living in cities or other urban centres, according to the United Nations. Most of the increase is expected to be highly concentrated in just a handful of countries. Cities generate wealth but also concentrate poverty, inequality, and ill health. From densely populated slums to homelessness and pockets of destitution, urban poverty and inequality take many forms.
Good urban planning is one of the essential tools for shaping the future of sustainable cities – a future where climate change and environmental concerns increasingly dominate future scenarios. Beyond hospitals, medicines and vaccines, equitable provision of health-promoting infrastructure such as green spaces, improved housing, clean and safe drinking water, and extensive sewer systems to safely dispose of human waste are necessary minimum components for securing public health in urban areas.
WHO's Healthy Cities Network is a global movement working to put health high on the social, economic, and political agenda of city governments. For three decades, the network has been a pioneering driver of change, creating healthier urban settings that support the health and well-being of people of all ages.
About the Panellists:
Camilla van Deurs
This year, Copenhagen has been designated the World Capital of Architecture. Camilla van Deurs is the Chief City Architect for the City of Copenhagen since February 2019, working to shape a more livable capital in one of the world's most sustainable cities.
Kira Fortune
Kira Fortune, Ph. D., M.I.H., M.A., B.Sc. has worked for more than 15 years in Africa, Asia, Europe, and Latin America in positions related to public health, gender and social determinants of health. She works as the WHO Regional Advisory for Healthy Cities, Health Promotion, and Well-being.
Livia Urban Swart Haaland
Choosing rooftop gardens instead of her studies in architecture, Livia is the co-founder of the first Danish urban rooftop farm ØsterGro, as well as the CSA initiative FællesGro and the urban farm and restaurant Øens Have.
About the World Health Organization:
Founded in 1948, the World Health Organization is the United Nations agency that connects nations, partners and people to promote health, keep the world safe and serve the vulnerable – so everyone, everywhere can attain the highest level of health. Dedicated to the well-being of all people and guided by science, WHO leads and champions global efforts to give everyone, everywhere an equal chance to live a healthy life.