Bringing CSW Home: Solutions to Strengthen Civic Space and Women's Digital Rights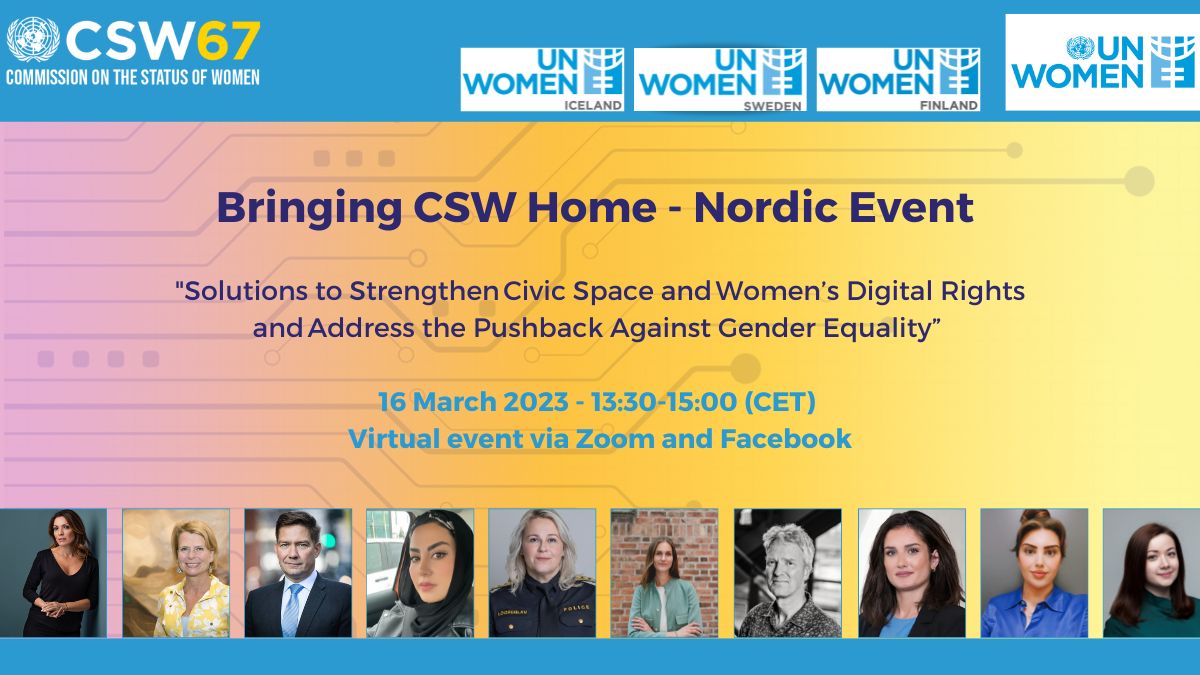 Amidst growing resistance, regression, and pushback on gender equality, join us for a discussion on the 'Solutions to Strengthen Civic Space and Women's Digital Rights'. Let us take stock of recent developments and challenges and share experiences, lessons learned, and ideas from the Nordic context to explore the role Nordic countries can play in addressing the pushback.
Moderator: Alexandra Pascalidou, award-winning journalist, author, producer, and TV hostess, UN Women Sweden's President.
Speakers: Representation from governments, civil society, private sector, youth, media, and international organisations.
This virtual event is co-organised by the UN Women Nordic Liaison Office, and Finnish, Icelandic, and Swedish National Committees.
Programme:
13:30-13:35
Introduction: CSW67
– Alexandra Pascalidou, award-winning journalist, author, producer, and TV hostess, UN Women Sweden's President
13:35-13:40
Opening Remarks: UN Women's perspective on the global pushback on gender equality and how we can strengthen the civic space and women's digital rights
– Åsa Regnér, UN Women Deputy Executive Director
13:40-14:15
Session 1: Share and discuss challenges, experiences and solutions towards the pushback on gender equality from a Nordic perspective
– Elinor Samuelsson, Founder, BrightAct, Sweden
– Sigríður Björk Guðjónsdóttir, National Commissioner of Police, Iceland
– Tawar Salari, Generation Equality Youth Group Member, Finland
– Lars Engberg-Pedersen, Senior Researcher at Danish Institute for International Studies, Denmark
14:15-14:55
Session 2: How can the Nordic countries play a key role in responding to the pushback and better support women human rights defenders, peacebuilders and members of civil society, with a focus on online spaces
– Jino Doabi, Board Member, Voice of Iran, Denmark
– Vita Volodovska, Head of NGO Digital Security Lab, Ukraine
– Thomas Blomqvist, Minister for Nordic Cooperation and Equality, Finland
– Zahra Mesbah, Project Manager and Cultural Mediator, Iceland
14:55-15:00
Conclusion & Next Steps: Taking forward concrete solutions responding to the pushback on gender equality
– Moderated by Alexandra Pascalidou, award-winning journalist, author, producer, and TV hostess, UN Women Sweden's President
Global Context
Opposition to gender equality and to women's rights activism has become more vocal, global, and better organised in recent years. Not only are there coordinated and well-resourced, well-networked groups putting forward traditional, patriarchal, binary, and hetero-normative constructs of men's and women's roles in society and polity, but these notions are finding public legitimacy through political processes and rhetoric, including from political leaders at the highest levels of governments. This challenge to long established international UN human rights frameworks norms and standards is playing out in policy making spaces nationally, regionally, and globally.
As a result, we are seeing the hard-won gains on women's rights currently under attack in fields as diverse as sexual and reproductive rights, political participation, the labour market, care work, and violence against women.
Trends of de-democratisation have gone hand in hand with the articulated opposition to established standards of gender equality and the backsliding of previous gender equality policy gains. Women's rights are significantly at threat particularly when such rights have been more recently established and where the space for civil society actors to defend them is limited and/or shrinking.
This situation is further aggravated by rampant misinformation and disinformation fuelled by technology and the surveillance, censorship, and violence enabled by the digital sphere.
Women are disproportionately targeted and suffer serious consequences as a result of online and technology-facilitated violence against women (TFVAW). The aggression faced by women and girls online also restricts their access to online services and tools, affects their work and learning opportunities, and deters their engagement as active digital citizens in important online spaces and dialogues. Women human rights defenders, politicians and journalists are at greater risk of technology-facilitated violence, as are women facing multiple discriminations. One of the consequences of online and technology-facilitated violence against women and girls is that victims/survivors silence themselves online, which limits participation in public discourse, resulting in a democratic deficit.
Nordic Context
The growing resistance, regression, and push-back on gender equality is taking place globally as well as in the Nordic context. In September 2022, the Nordic Ministers for Gender Equality launched the Nordic Roadmap on Advancing Gender Equality, Women's and Girls Rights, and Equal Rights of LGBTI-persons 2022-2024 outlining their commitment and response to the push-back and anti-gender movement.
The Nordic Roadmap is anchored by the Nordic Council of Ministers and serves as a framework to strengthen and elevate the common Nordic voice for gender equality, women's and girls' rights, and equal rights for LGBTI- persons internationally, responding to three specific objectives:
a) To promote a common Nordic voice and communication,
b) To foster advocacy, alliances and cooperation,
c) To exchange experiences.