docUNight: A Girl from Mogadishu
February 6 @ 18:00

-

21:00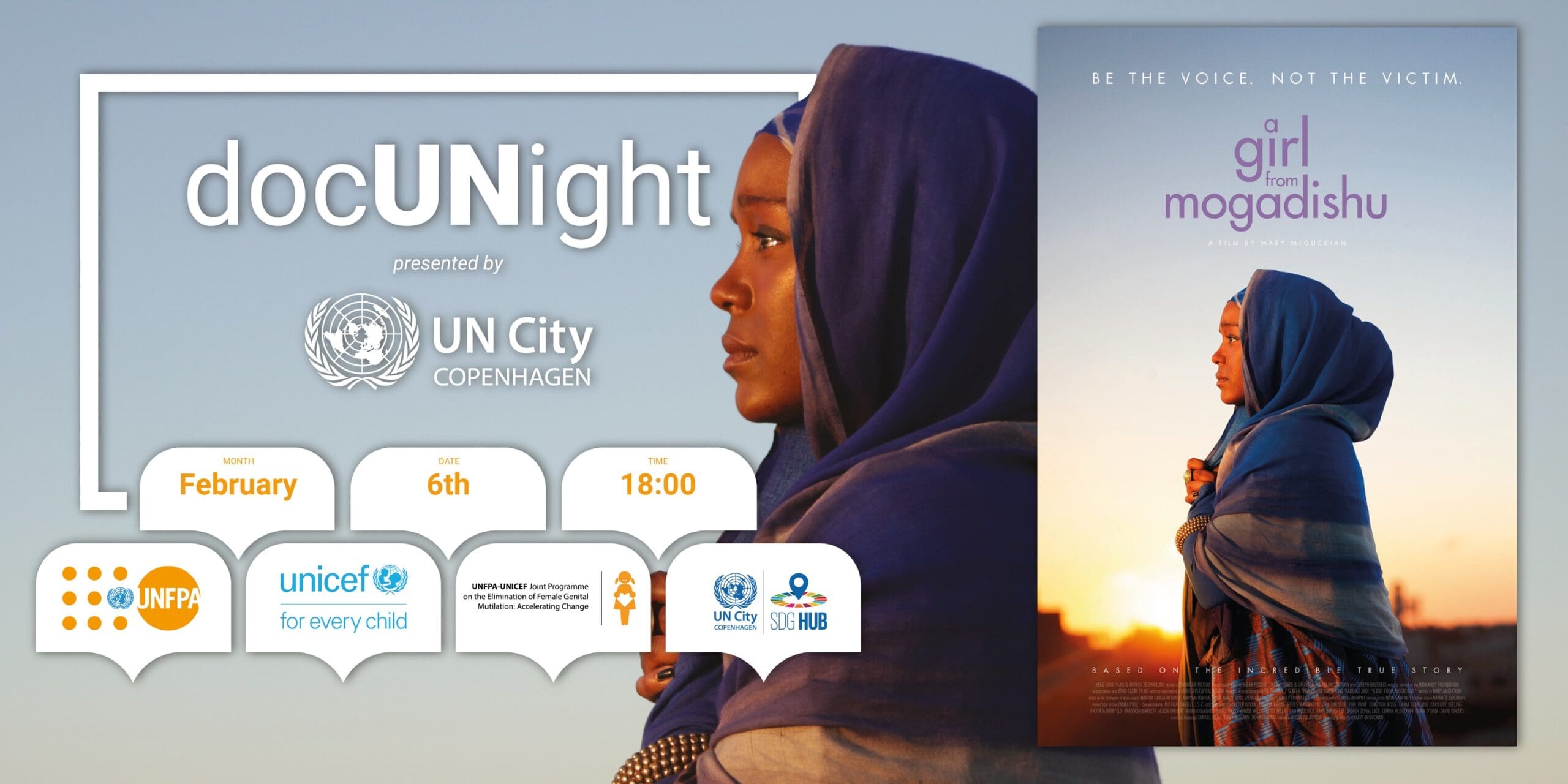 Join us on International Day of Zero Tolerance for Female Genital Mutilation (FGM), 6 February for a screening of the movie "A Girl from Mogadishu" and an introduction to global and regional initiatives to eliminate the practice of FGM.
Registration Closed
Food and drinks will be available to buy in the UN City Café from 17.00-18.00.
18.00: Welcome by moderator Flemming Johannesen, Head of UN City Communications
18.03: Panel introduction to the International Day of Zero Tolerance for Female Genital Mutilation
Panellists*:
– Pernille Fenger, Director, UNFPA Nordic Office
– Ambassador of Sweden to Denmark, H.E. Charlotte Wrangberg
– Member of Parliament (Tbc)
18.30: Screening of "A Girl from Mogadishu"
20.30: Interview with Ifrah Ahmed
21.00: End of Programme
*Panellists will be available for questions and answers after the screening.
Background
Female genital mutilation (FGM) has existed as a practice for more than 2,000 years and comprises all procedures that involve altering or injuring the female genitalia for non-medical reasons and is recognized internationally as a violation of the human rights, the health and the integrity of girls and women.
Girls who undergo female genital mutilation face short-term complications such as severe pain, shock, excessive bleeding, infections, and difficulty in passing urine, as well as long-term consequences for their sexual and reproductive health and mental health.
Although the practice has been around for more than a thousand years, there are reasons to think that female genital mutilation could end in a single generation. That is why the United Nations strives for its full eradication by 2030, following the spirit of Sustainable Development Goal 5.
Since 2008, UNFPA, jointly with UNICEF, leads the largest global programme to accelerate the elimination of female genital mutilation. The Joint Programme currently focuses on 17 countries in Africa and the Middle East and also supports regional and global initiatives.
About the movie
Circumcised at eight. Raped by wandering militiamen at twelve. Fully infibulated again at thirteen, and then married off to a fifty-year-old man who regularly beat her; Ifrah Ahmed runs away to a place she had once known as home in war torn Mogadishu to find it had become the kind of battleground now known as 'Black Hawk Down'. Ifrah makes the extraordinary journey out of war-torn Somalia and arrives not in Minnesota, USA, as she had been lead to believe, but Dublin, Ireland.
Finally finding some sense of safety, her fears begin to subside and her traumatic days, she thinks, are behind her, until a routine medical smear test elicits such looks of horror on the faces of her Irish doctors that she suffers a profound sense of shame. They say that anger is the flip side of shame. Channelling the feelings on both sides of that coin, she reacts incredibly quickly, learns English at break-neck speed and unearths an enviable technical talent for harnessing social media.
Within months she is campaigning for better conditions for asylum – seekers arriving in Ireland. She quickly becomes a leading activist against gender-based violence and fights through her campaign work for the abandonment of FGM world-wide. As an Irish citizen, she presents her testimony on behalf of Ireland's MEPs on the occasion of the ratification of the UN Convention against FGM/C at the European Parliament and it is passed unanimously.
Thus commences her now lauded professional career as an international activist.
---
Subscribe to our newsletter for future events: