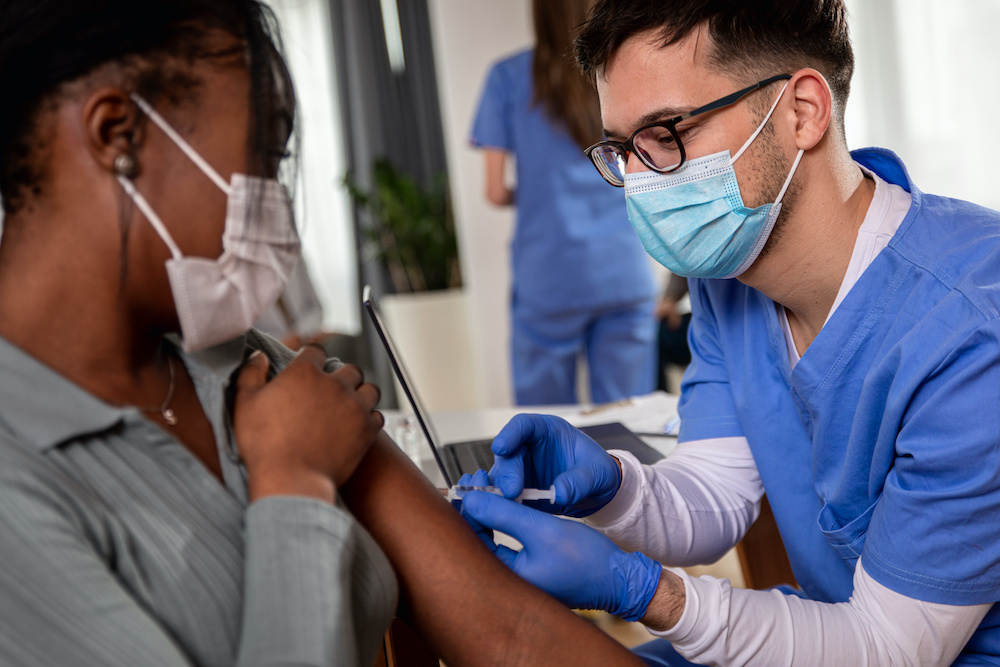 WHO/Europe Q&A on vaccination and travel this summer
WHO/Europe, 30 June 2021
WHO/Europe's Siddhartha Sankar Datta, Regional Adviser on Vaccine-preventable Diseases and Immunization, answers your questions about COVID-19 vaccines and vaccination, and the implications for travel and holidays this summer.
We spoke to WHO/Europe's Siddhartha Sankar Datta, Regional Adviser on Vaccine-preventable Diseases and Immunization, to answer your questions about COVID-19 vaccines and vaccination, and the implications for travel and holidays this summer.
Am I safe to travel as soon as I'm vaccinated?
For 2-dose vaccines, the protection provided is only partial after the first dose, and time is needed – typically 2 weeks – before protection reaches its maximum level after the second dose. For a 1-dose vaccine, maximum protection against COVID-19 only kicks in a few weeks after having got the jab.
But it's important to stress that no vaccine provides 100% protection against COVID-19.
Travel, like any activity that involves coming into contact with other people from different households, is not risk-free even after full vaccination. The good news is that having the required number of doses and giving time for the vaccines to take effect significantly reduces your risk of becoming seriously ill and spreading the virus to others.

At this time, WHO would say to anyone, regardless of their vaccination status: If you want to travel, think about the need. If you decide to, do it safely.
What does "travel safely" mean?
We recommend that everyone get vaccinated with the recommended number of doses as soon as they are available to them. In addition, it is important to protect yourself and others from COVID-19 by following our simple but effective #SummerSense tips when travelling and when on holiday:
measure your risks door to door
clean your hands frequently
keep a safe distance from others
wear your mask
avoid crowded situations
be outdoors whenever possible
make sure any places you enter are well ventilated.
Do people who have had COVID-19 need to get vaccinated before travelling? Have they not already developed sufficient immunity?
People who have previously been infected by COVID-19 still need to be vaccinated, whether travelling or not, although those with a current polymerase chain reaction (PCR)-confirmed COVID-19 infection should wait to be vaccinated until their sickness has passed and they have completed isolation requirements.
A vast majority of people who are infected produce at least some antibodies and immune cells that can fight off the infection, but there is a huge range in the extent of that immune response. In people who are only mildly ill, the immune protection that can prevent a second infection may wane within a few months.
I urge everyone to get their full course of vaccines when it is offered to them to ensure optimal protection against the virus for themselves, and to help protect the people they come into contact with.
Should fully vaccinated people be concerned about the Delta variant in their own country or destination country?
Delta is the most transmissible of the variants detected so far, being twice as contagious as the original virus. Cases and hospitalizations from it are increasing in many countries around the world and it is becoming the dominant variant in a number of them.
The good news is that most of the vaccines that we're using in the world today seem to be effective at preventing severe disease from Delta and the other variants currently in circulation.
But while vaccinated people are less likely to be hospitalized because of the disease, this doesn't mean they should drop their guard: they can still get ill from the virus and can still spread it to others. That's why it's important for everyone to follow our #SummerSense tips.
Considering the many variants around the world that travellers may come into contact with and the various types of vaccines, would it be more effective to get 2 different vaccines for added protection?
Research is still ongoing as to the efficacy of mixing vaccines in 2 doses and what effect that might have on different variants. The important thing is that people get their approved vaccines as soon as they are offered to them, because being fully vaccinated provides optimal protection and helps reduce community transmission.
The vaccines for which WHO provides emergency use listing are continually assessed for their effectiveness, and the data convince us that current vaccine regimes are protecting people, saving lives and should continue to be used.
What is the situation for travellers who have had a vaccine that is not approved for use in the destination country – can they still travel there?
It's important that travellers check and follow the rules of the country they are travelling to. However, WHO believes that COVID-19 vaccination should not be a precondition for travel, because this could disadvantage those who do not yet have access to vaccination and could lead to even fewer vaccines being available for those who are considered most at risk.
Should pregnant women who need to travel get vaccinated?
Current evidence suggests that COVID-19 during pregnancy can put women at a higher risk of severe illness and increases the risk of babies being delivered prematurely. However, pregnant women were not included in initial trials of COVID-19 vaccines, so we have limited data on which to assess their safety for mother and baby. For this reason, we recommend that pregnant women consult their health-care provider, who will be able to weigh whether the benefits of vaccination outweigh the potential risks.
Is it okay for people who have been fully vaccinated to travel to see older or more vulnerable relatives and friends who have also had their vaccinations?
As I mentioned, vaccinated people can still become infected with the virus and may have no or only mild symptoms themselves. Vaccination reduces the risk but doesn't fully prevent them from passing on the virus.
You should therefore exercise caution when visiting older people and those with underlying health conditions – whether they are fully vaccinated or not – by wearing a mask, washing your hands regularly, keeping a safe distance and meeting them either outside or in a well ventilated room.
As a fully vaccinated person, is it a good idea to get tested for antibodies before travelling?
Antibody tests are not a comprehensive way to determine immunity and are therefore not recommended as a guide to whether it's safe to travel or not. Different vaccines prompt different levels of antibody response, but they also stimulate another arm of the immune system called the T-cell immune response, which is not covered by the test. There are also uncertainties over how long the immune response lasts, so any such test is not reliable over time.
A larger proportion of children and young people are now becoming infected with COVID-19. Is it time to provide them with vaccines, particularly as families plan to go away on holiday?
Although children can catch and transmit COVID-19 infection, their risk of severe disease or death is up to 800 times lower compared to that of people aged 70 and above. For this reason, the focus should be on distributing vaccines equitably throughout the world and to priority groups first, before considering vaccinating children who do not have underlying health conditions.
WHO recommends that countries consider using the Pfizer/BioNTech (BNT162b2) vaccine for children aged 12 to 15 only when high vaccination coverage with 2 doses has been achieved in the high-priority groups. Children aged 12 to 15 years with comorbidities that put them at significantly higher risk of serious COVID-19 disease, alongside other high-risk groups, may be offered vaccination.
There are currently no efficacy or safety data for children below the age of 12. Until such data are available, individuals below 12 years of age should not be routinely vaccinated.
Some countries are getting ready for the possible supply of a booster shot within the year. Should I wait to get a booster before I travel?
There are limited data available on exactly how long protection from current doses lasts, and on whether an additional booster dose would be beneficial and for whom. Until we know more, there is no evidence to suggest that an additional booster shot is necessary before travelling.
WHO/Europe launched its #SummerSense campaign to encourage everyone to exercise caution and keep safe from COVID-19 this summer. With the pandemic far from over, we all need to practise #SummerSense:
If you want to travel, think about the need. If you decide to, do it safely.
Assess your risk at every step.
Take precautions, such as cleaning hands frequently, keeping a safe distance and wearing a mask.
Avoid the 3 Cs: settings that are closed, confined or crowded.
Original article here.