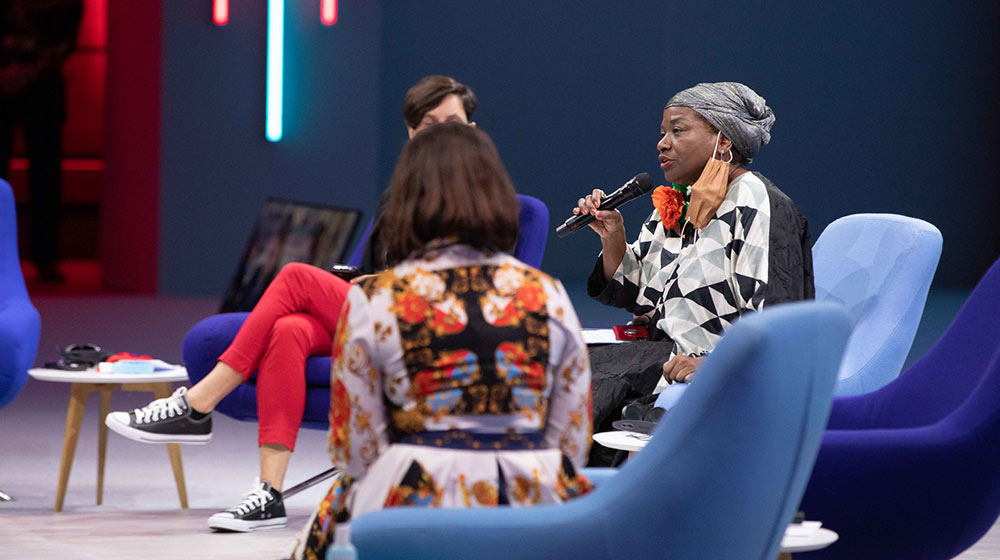 Gender equality is the key to a better future for all, world leaders and youth activists agree at Paris Forum
UNFPA, 30 June 2021
At United Nations's Fourth World Conference on Women in Beijing in 1995, then-first lady of the United States Hillary Rodham Clinton famously announced, "Human rights are women's rights and women's rights are human rights once and for all."
Today, world leaders gathered in Paris to revive that rallying cry. "In Beijing 26 years ago, the world made promises," UNFPA Executive Director Dr. Natalia Kanem said at the opening ceremony of the Generation Equality Forum. "It is now time to deliver."
The forum, convened by the Governments of France and Mexico and UN Women, brings together heads of state, activists, advocates and feminist leaders from around the world to review progress towards achieving gender equality since that long-ago conference.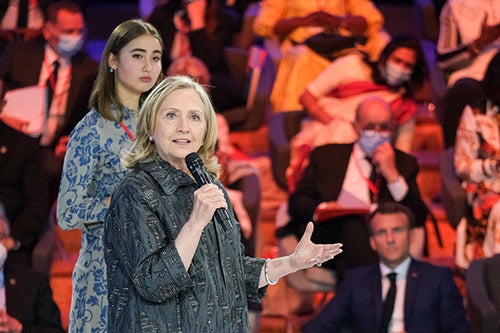 How much progress has been made? Not nearly enough, the speakers proclaimed. And during the COVID-19 pandemic, those gains are at risk, with increases in gender-based violence, losses in girls' education and escalating demand for unpaid care work among the fallout.
"I am a feminist because feminism is humanism in defending the dignity of human beings," said President of France Emmanuel Macron.
Passing the torch
World leaders shared the stage with youth leaders, passing the figurative torch to young feminist activists.
"I remain hopeful and optimistic because of you," United States Vice President Kamala Harris told the young leaders participating in the Forum. "Our world needs your leadership."
"The demands that are coming from the next generation are going to be strong and focused," Ms. Clinton said, standing alongside 17-year-old Juliatta Maritenez, an advocate from Chile.
"We have to talk about accountability. We need to be part of the decision-making. We need the tools; we need the mechanics for a more sustainable future," Ms. Maritenez said.
Young leaders received some of the most raucous applause from those assembled.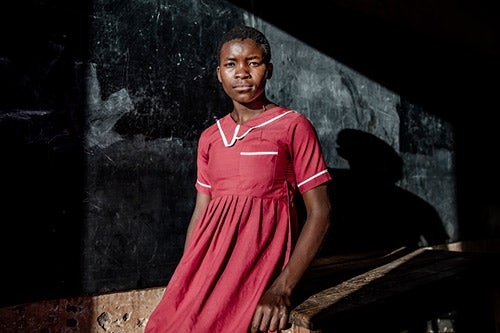 "World leaders, if you are with us and if you support us, stand now," directed Yande Banda, of the United Nations Girls Education Initiative in Zambia, drawing the entire conference hall to its feet.
Girls rising everywhere
This story – of the daughters of feminism rising to take the reins – is taking place around the world.
In Mangochi, Malawi, for instance, a group of mothers came together to fight for girls' rights. The dropout rate was high in their community, as was the rate of child marriage. Many of the women had themselves been child brides. The Mpapa mothers' group, as they call themselves, launched an effort to get girls back into school, to rescue girls from early and forced marriage, and to teach young people about their sexual and reproductive health and rights.
The annual dropout rate at Mpapa Primary school plummeted, and more than a thousand girls returned to school.
Now, those girls are becoming educated, empowered and determined to create a better future not only for themselves but for their families, communities and country. "I have made a decision to focus on my education so that I can be an independent and empowered woman," said Aisha Kayima, 15, one of the girls reached by the programme, which is supported by UNFPA.
A call to secure bodily autonomy
The voices of girls like Ms. Kayima rang through the halls of the Paris Forum today.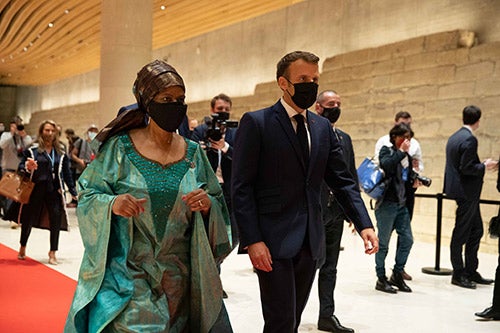 So, too, did the call for concrete efforts to empower women and secure their bodily autonomy through support for sexual and reproductive health and rights, comprehensive sexuality education and family planning.
"We need to ask ourselves why, since the times of Methuselah, women's biology has condemned women, relegated women, to a life which is not the life of larger freedom," Dr. Kanem said. "We need to understand that contraception is empowering to women and moreover it saves women from dying needlessly during childbirth."
UNFPA is leading the Forum's Action Coalition on Bodily Autonomy and Sexual and Reproductive Health and Rights, which brings together governments and organizations from around the world to carve out a path towards reproductive choice and freedom for all women and girls.
In that effort, too, young feminists are playing a key role.
"We must heed the voices of the young women who spoke before us today and made very clear they are ready to lead," Dr. Kanem said.
Original article here.
 
---