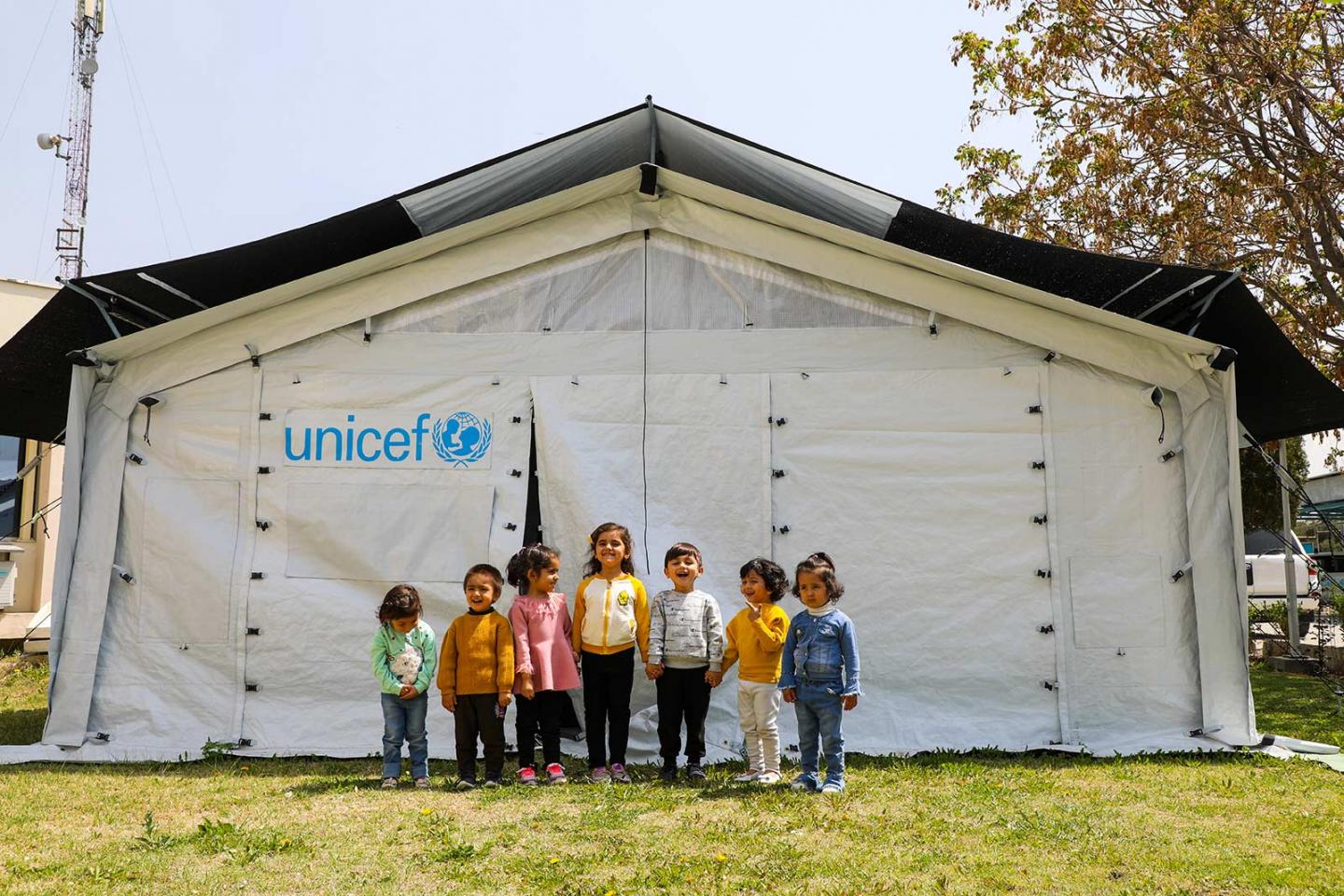 UNICEF innovative High Performance Tent on the path to global scale-up
UNICEF, 21 April 2021
This World Innovation Day, experience augmented reality of the High Performance Tent. As this innovation begins to scale-up globally, Afghanistan will be the first country to use the tents for emergency education response.
In the mountainous regions of Afghanistan, freezing temperatures of -9 °C (15 °F) are common for many communities during the winter months. Around 50 per cent of the country is covered by mountains where most inhabitants are rural, isolated from social services, and experience harsh winters, rough terrain, and a lack of modern heating.
Standard schooling is often too far from home, and when classrooms are available, they can be too cold or unsafe for children. In most cases, bukhares (traditional wood-burning stoves) are used for heating, where the smoke can get trapped, causing indoor pollution that can be dangerous to children's health.
However, this year, UNICEF is implementing a new solution: the winterized High Performance Tent, an innovation that provides a safe, warm, and comfortable space for children.
The new winter liner comes with wall-to-wall insulation and ability to use traditional stoves in a safe way, where the smoke exits through a pipe via a flap built within the liner. The insulated hard flooring keeps the ground warm and comfortable for children to sit and play on. The tent arrives in separate bags, allowing for easy transportation – by motorbike, donkey, or person – to rural, mountainous areas.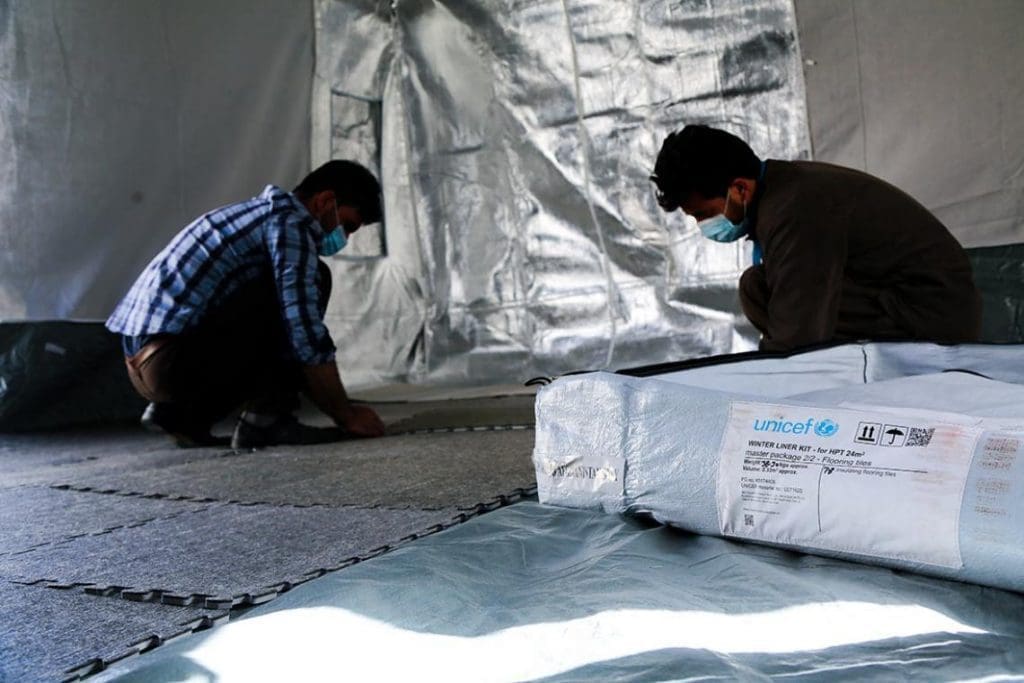 An innovation ready to improve the lives for millions of children
The High Performance Tents are a complete redesign of the previous tents UNICEF and partners have used as schools, health centres, child friendly spaces, psycho-social support centres, storage facilities, among other uses during emergencies.
They include new durable anchoring systems to withstand harsh weather, three-layered windows to block mosquito entry and improve internal climate, and a straight-wall design to increase the usable floor space, among several other innovations. They can be used along with new add-ons that suit various programmatic needs and climatic conditions, including hard flooring, electrical and solar kits, and inner and winter liners.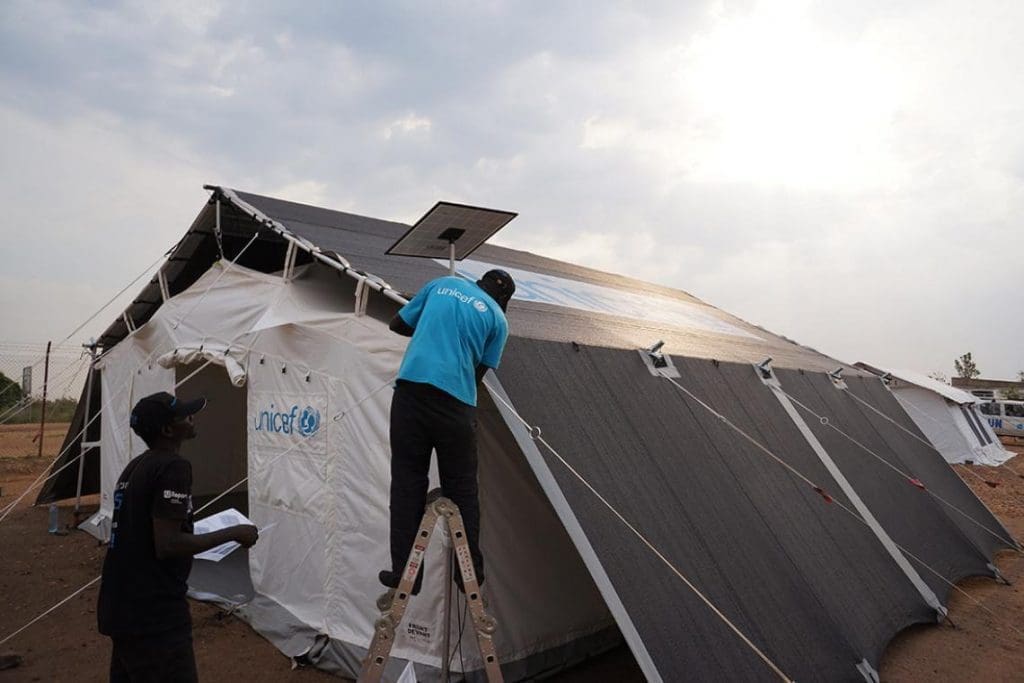 Experience augmented reality of the tents and add-ons
The High Performance Tent isn't just one new product on its own. It involves an entire product family, including several different innovations within the tent itself, three different sizes of tents from three different suppliers, and five different, unique add-ons.
To watch a graphic assembly of the tent, see what each new feature looks like and experience a few "use cases" visit our augmented reality page.
Over 400 tents to be used in Afghanistan
In Afghanistan, more than 3.7 million children don't have access to education. UNICEF's Education in Emergency Programme works to close this gap, and one major approach is via community-based schools. This involves a one-classroom school where one teacher provides education to 20-30 children in hard to reach areas – like in the mountainous, colder climates – where access to standard education services is not available.
The High Performance Tent represents a great opportunity to deliver education while ensuring children are safe from environmental hazards or risks. Afghanistan will be the first country to implement the new tents and add-ons. In total, 478 tents and 478 winter liners will improve the education services for approximately 15,000 children in community-based education programmes, with support from NGO partners, the Ministry of Education, and local communities.

"The tents come with a new way of thinking. You have the shade net on the top to stop the sun in summer and you have a different inner-liner inside to provide protection in winter. You also have floor tiles to separate the coldness from the ground. We hope these will provide a long-term response to the challenge of children going to school in winter and using traditional heating, like Bukhares."

Tilal Mohamed Salih, Education Specialist, UNICEF Afghanistan
Afghanistan was also one of the pilot countries for the innovation project. Given the cold climate, difficult terrain and complex emergency situation, the country was selected as an ideal place to test the quality and usability of the products for use in global emergency programmes. They were also tested in the Philippines for rainy environments as education centres for displaced communities and in Uganda for hot, dry environments as health centres for refugees.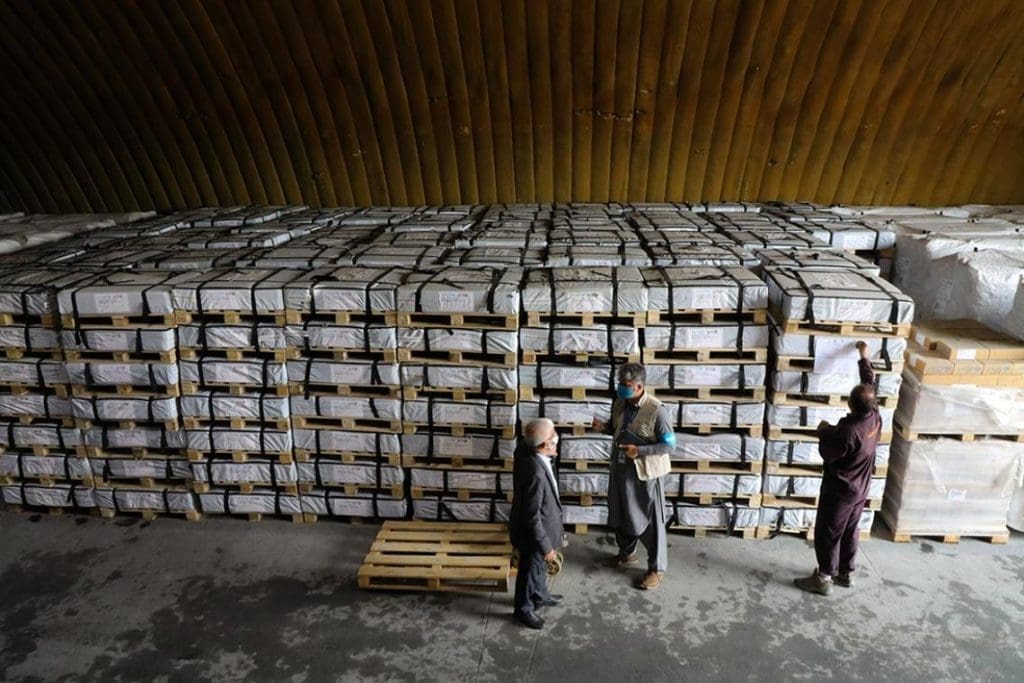 Set for global scale up
After facing global delays due to the impact that the COVID-19 pandemic has had on global supply-chains, UNICEF is on track to meet the emergency needs this year. The new tents are now being purchased and delivered to be used in emergency programmes worldwide.
As of early April, over 2,000 tents and add-ons have been ordered for six countries to respond to ongoing crises. In addition to responding to education and child protection needs, they will also be used to support COVID-19 pandemic interventions as health centres for COVID-19 patients.
And this is just the first wave of response. The High Performance Tents are replacing all other multi-purpose tents UNICEF previously used. They will be the main response for future emergency needs, providing improved schools, enhanced health programming, and safer spaces for children for years to come.
To learn more about the tents, visit our High Performance Tent webpage.
Original article here.
---