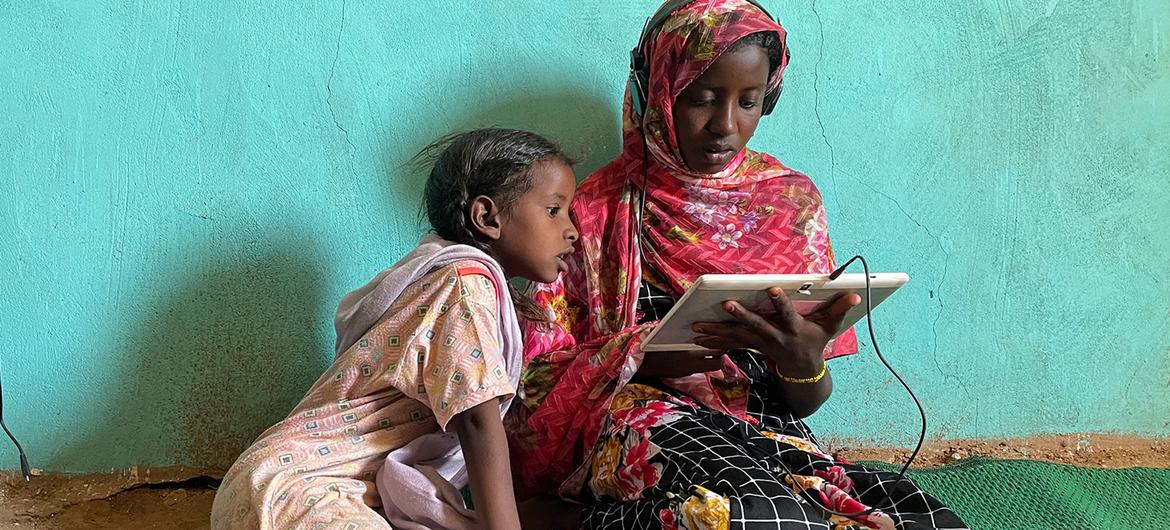 LDC5: UN conference calls for more inclusive and fair digital transformation in world's least developed countries
© UNICEF/Florine Bos. Girls use a solar-powered tablet at an e-learning centre in Jabalain, Sudan.
United Nations, 6 March 2023
A United Nations conference under way in Doha, Qatar, has turned its attention to one of the most nettlesome global challenges: closing the staggeringly wide digital divide between the world's rich and poor nations. Fresh attention to this issue comes as a new UN report finds that two-thirds of the population of the least developed countries (LDCs) is still offline.
On Monday at the Fifth UN Conference on the Least Developed Countries (LDC5), a series of roundtable discussions saw global leaders, civic actors and UN officials confront two of the most fundamental hurdles facing LDCs: how to make better use of science, technology and innovation (STI), and how to promote structural transformations that can help overcome the real impediments faced by those on the margins of society.
STI plays a critical role in LDCs' efforts to drive poverty eradication, transition to sustainable development and become globally competitive. However, these vulnerable countries are often unable to reap the full economic and social benefits of technological development due to structural constraints, as there are significant disparities between LDCs and other countries.
The reality for millions of people living in LDCs – and the impact of built-in inequalities – is stark: The internet is of no benefit if you can't get online; and it doesn't matter if you can get online if you don't know how to use a browser.
The key, according to many speakers today, is finding ways to not just connect those left behind but to sustainably address the divide and foster conditions for more inclusive digital access.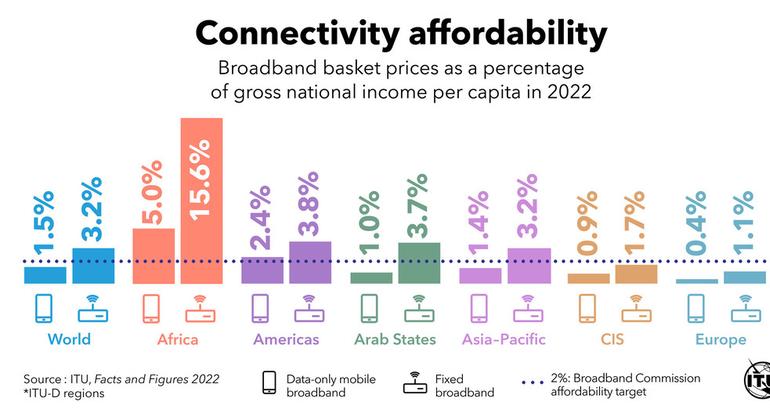 ITU
Widening digital divide 
A new special report from the UN International Telecommunication Union (ITU) shows that indeed, the digital divide between LDCs and the rest of the world shows no signs of narrowing. While the proportion of the population in LDCs using the internet had increased from four per cent to 36 per cent since 2011, two-thirds of the population was still offline.
According to the research set out in ITU's Facts and Figures on the Least Developed Countries, an estimated 407 million people in LDCs were using the Internet in 2022. The 720 million people still offline in LDCs represent 27 per cent of the global offline population, even though the LDC population accounts for only 14 per cent of world population.
The ITU study also found that the challenge of bringing communities online has become more complex over the past decade than simply building physical connections. And even among those who could access the internet, many did not because of barriers ranging from awareness to skills to cost.  
Making digital transformation sustainable 
A point of light amid such challenges is the Doha Programme of Action (DPoA) – the blueprint for renewed commitment and engagement between the LDCs and their development partners, including the private sector, civil society, and governments at all levels. It urges those partners to provide additional and substantial support to LDCs "to ensure affordable and reliable access to broadband and mobile networks and Wi-Fi, including in the last mile".
"The digital development of LDCs through science, technology and innovation is not just an opportunity, it is an imperative. A moral imperative," said ITU Secretary-General Doreen Bogdan-Martin at one of the key roundtable discussions at LDC5 today.
"I believe it's our responsibility to make connectivity meaningful and to make digital transformation sustainable," he added.
Through the remainder of the Conference, which runs through 9 March, ITU will highlight the importance of digital cooperation in accelerating the and achieving DPoA and the Sustainable Development Goals (SDGs), particularly through public-private partnerships such as the Partner2Connect Digital Coalition, which has so far mobilized more than 600 pledges worth nearly $30 billion.
Partnership for inclusive digitalization 
"There are so many young people … over 50 per cent of the LDCs are under the age of 19. That is the world's future workforce," Justin Spelhaug, Vice-President & Global Head/Tech for Social Impact of Microsoft Philanthropies told UN News.
"And it's important that companies like Microsoft and other private sector companies really lean into the development of these countries with the UN in partnership with governments to make a difference."
He highlighted the World Bank's Digital Development Partnership programme, which aims to increase access to technology, digital public goods, broadband and digital capacity building services in the world's least developed countries.
"The programme brings a couple of key things together and affordable business model to create greater access to technology. It brings digital public goods together under GitHub to provide governments with the services that they need, open source or other solutions," he said.
The partnership will also allow the UN to further its goals of creating a more prosperous world. Mr. Spelhaug believes that with the help of this programme, the next LDC conference will see a significant reduction in the number of countries in the category.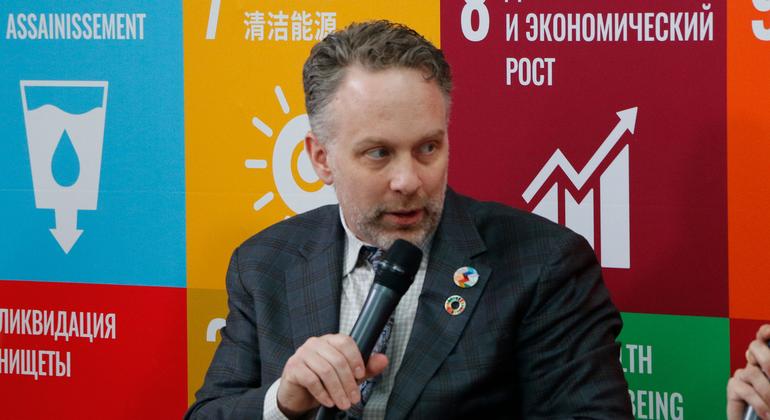 UN/Shuo Li
A new generation of partnerships for LDCs 
A dedicated three-day Private Sector Forum that kicked off on Sunday at LDC5 aims to help improve access to finance, create jobs, transfer technology and promote long-term sustainability in LDCs.
On Monday, the Forum also focused on improving digital connectivity as a driver of progress in the LDCs, as well as improving agricultural and rural development.
"In the spirit of leaving no one behind, the Private Sector Forum represents an important opportunity to mobilize private sector support for the least developed countries to achieve their fullest potential," said Rabab Fatima, Secretary-General of the LDC5.
"By fostering collaboration and partnerships, we can leverage the resources, expertise, and enterprising spirit of the private sector to help the least developed countries overcome the development challenges they face and build a more prosperous future for their citizens," said Ms. Fatima, who is also the High Representative for the Least Developed Countries, Landlocked Developing Countries and Small Island Developing States (UN-OHRLLS).
During the Forum, panel discussions and interactive sessions have focused on private sector partnerships in sustainable energy, agriculture, digital connectivity, climate change and sustainable tourism. Networking opportunities will allow participants to share best practices, exchange ideas and identify solutions to promote private sector engagement in LDCs.
New partnerships for LDCs will also be announced at the Forum by the international business community, government officials and UN representatives.
LDC5, being held under the theme, 'From Potential to Posterity', is a once-in-a-decade opportunity to accelerate sustainable development in the places where international assistance is needed the most – and to tap the full potential of the 46 least developed countries.
The action in Doha continues on Tuesday, 7 March when the Conference will turn its focus to LDC participation in global trade, as well as matters related to youth development and education.
The original article appeared here.