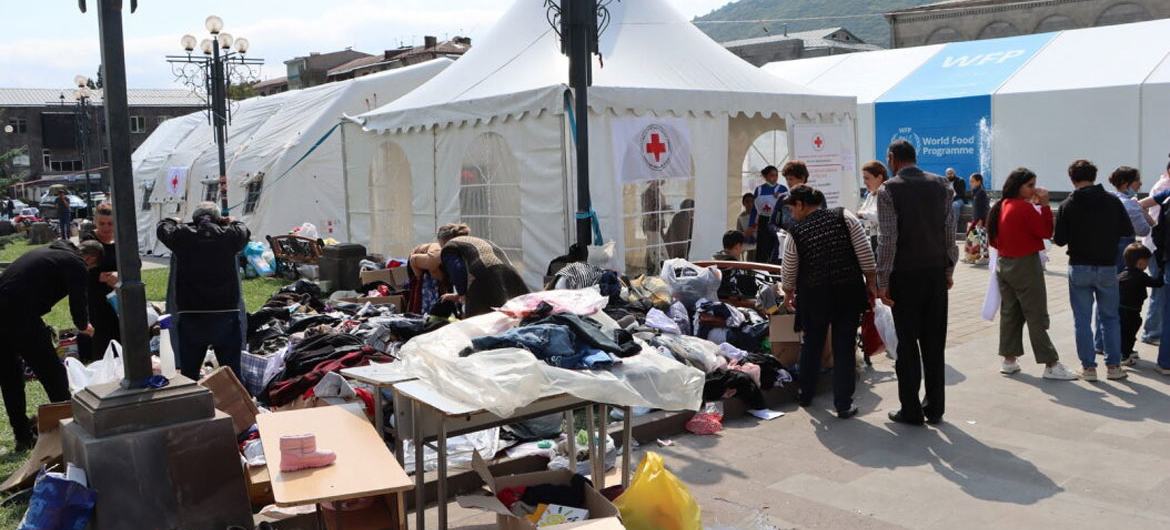 Karabakh crisis: UN response continues
© IOM | People fleeing Karabakh rest and receive humanitarian aid in Goris, Armenia.
United Nations, 5 October 2023
UN teams on the ground in Armenia are providing vital support to help address the needs of over 100,000 refugees who recently fled the Karabakh region.
The UN Refugee Agency, UNHCR, has continued its aid efforts by distributing essential relief items.
UN Spokesperson Stéphane Dujarric said a shipment of 180 foldable beds, hundreds of foam mattresses, beds, pillows, blankets, and more, transported by some 16 UNHCR-backed trucks, arrived on Thursday.
Dignity kits
The UN Population Fund (UNFPA) has also been actively distributing dignity kits to assist women and girls in maintaining proper hygiene after their displacement.
So far, approximately 13,000 kits have been distributed.
Additionally, the agency is actively supporting local service providers in preventing gender-based violence and providing training to partners on survivor-centred support.
Child protection
The UN Children's Fund (UNICEF) has conducted training for social workers specializing in child protection within emergency settings.
It has established the first of two planned support centres in the primary municipality receiving refugees, Goris.
UNICEF is also working to improve psychological support services and child protection case management.
Green energy
Likewise, the UN Development Programme (UNDP) is investing in green energy solutions to meet the needs of vulnerable refugees and their host communities.
These solutions include the implementation of solar panels, water heaters, and bio-toilets.
The original article appeared here.