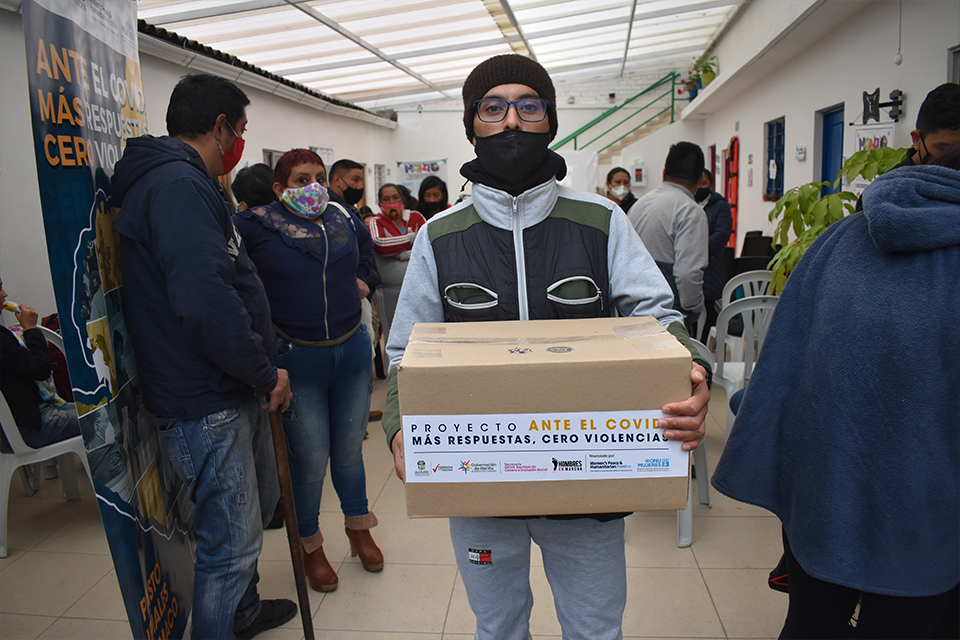 From where I stand: "If we as men are interested in gender equality, everything gets better"
UN Women, 11 August 2021
William Fernando Rosero is 28 years old, and his goal every day is to promote co-responsible masculinity. He is one of the 140 people involved in the project "Facing COVID-19: more responses, zero violence", organized by UN Women and the Women's Peace & Humanitarian Fund, which is making progress in Nariño in southern Colombia. Today, on International Youth Day, William tells all young men, "You are a fundamental support to advance gender equality."
"I live in Ipiales, Nariño. I work in performing arts, and with my foundation, Herencia Latina, we engage young people in the community, giving them tools to contribute the best of their potential to society. With this project, we have transformed imaginaries and focused on preventing violence against women and girls.
The initiative has been essential in teaching us, among other things, the importance of co-responsibility. Sometimes, as men, we do not realize how much women do – not only for their children, husbands, and brothers but also for society. The biggest challenge has been implementing these lessons at home.
Being co-responsible in my home and not leaving the housework exclusively on my partner's shoulders, especially tasks such as cooking and cleaning, and learning to work as a team, knowing that it is everyone's responsibility, has been a great learning experience.
The fact that more men, especially young men, are interested in gender equality means that things for society, in general, will improve. First, however, we need to educate children from a young age about these issues to make real change possible when they are young men.
Before, there was not much knowledge about how to educate men on equality. That is why men must become more aware and learn to identify and change those practices and behaviors that do not contribute to a better world, to a world of equality for all. Therefore, my plea is for us, men, to realize we need to unlearn harmful behaviors and let ourselves be guided and advised.
Finally, governments need to support youth and work together with youth organizations to create better opportunities for young people. Youth is an essential driver of change. So let's recognize the voice of young people, their actions, and their initiatives!
I look forward to learning more about the need for co-responsibility.
Original article here.
---