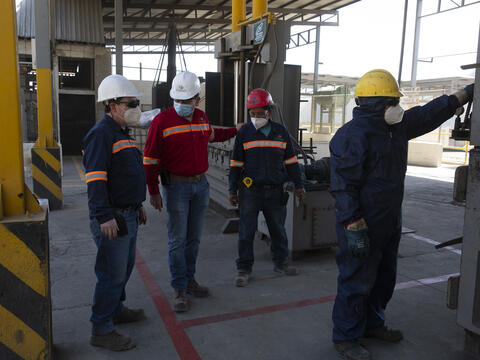 CTCN welcomes 12 new network members
CTCN, 18 January 2022
12 new institutions joined the Climate Technology Centre and Network (CTCN) in December. Through its Network, the CTCN mobilises policy and technical expertise to deliver technology solutions, capacity building and implementation advice to developing countries. The Centre also serves as a platform for Network members to share their solutions and experience via the CTCN Knowledge Portal, Network member hosted webinars, relevant trainings, networking and events such as the CTCN Regional Forums.
New Climate Technology Network members include:
Agornic International Co., Ltd. Agronic is a green technology firm committed to managing environmental friendly solutions more than 20 years' experiences in engineering design and manufacturing coupled with systematic integration and cutting edge AIoT solution. They develop and manufacture a variety of well thought-out single device, machines and sophisticated full plant solutions, specialized in agricultural grain and fibre processing equipment includes dryer, husk furnace, moisture, whiteness, dust collection, weighing, recycling facilities and biomass system.
DHI A/S. With more than 50 years of existence and continued growth, DHI is an independent, private and not-for-profit organisation based in Denmark, with 30 offices and about 1,100 full-time employees worldwide. They have helped clients in more than 140 countries solving their most difficult challenges in water environments.
EBP CHILE SPA. EBP Chile, established in 2012, is part of EBP Global, an international engineering, planning and consulting company. The areas of work include climate change; energy; natural resources. In these areas, they support their clients in all phases of their projects, from concept development to implementation support, and from strategic planning to the identification of innovative technological solutions.
Ernst & Young ShinNihon LLC. Ernst & Young ShinNihon LLC is an EY member firm in Japan. Ernst & Young ShinNihon's teams bring together professionals with experience in engineering, science, business, finance and operations, helping clients respond to the physical risks of climate change and benefit from opportunities in new markets and regulatory environments related to carbon and renewable energy.
FUNDACIÓ EURECAT. Eurecat is the leading Technology Centre in Catalonia. Eurecat's competences cover digital and industrial technologies, sustainability (energy, batteries & storage, waste, water, air, soil, environmental impact and circular economy), and biotech. Eurecat is founder and partner of the Climate Resilience Centre of Catalonia (CRC), created with the aim of developing projects focused on mitigation and adaptation to climate change, and with a firm commitment to the ecological transition in Catalonia, Spain and the Mediterranean basin, based on research, technology and innovation.
Green and Seed Corp. They have developed a technology called SFC (Seed Film Cultivation). SFC is precision agriculture using seed attached bio-degradable film(seedfilm). Seedfilm not only controls weeds, but also protects the warmth, moisture, and fertilizer of the farmland and provides the optimal environment for growing rice, resulting in high yields. SFC is expected to reduce water consumption by 70% and suppress most of the methane compared to conventional rice farming without sacrificing yield. Furthermore, SFC doesn't have to rely on irrigated fields.
IDOM Consulting, Engineering and Architecture. They are an association of professionals united in the ownership of the company, working together, facilitating the professional and human development of their people, while providing the highest quality of service for their clients.
INTEGRATION environment & energy. It is an award-winning internationally operating consulting firm headquartered in Germany, with a mission of facilitating development towards renewable energy transition and environmental sustainability globally. Since 1998, the company's multidisciplinary team of experts has been delivering integrative solutions to global clients, with the aim of improving energy efficiency, energy access as well as the environment in humanitarian, developing & developed country contexts.
Osiris Support Services Pvt Ltd. It is a company established in 2014 with the mission to provide comprehensive support and ensure system performance and sustainability under any conditions. Since 1999, they have built upon their specialized technical skills in desktop and server environment, branching out into additional areas of virtualization, disaster recovery, storage, active monitoring and consulting.
Setec energie environment (SEE). A member company of Setec Group, Setec Energie Environnement is specialized in the energy and environment sector and delivers services that range from strategic planning to realisation of feasibility studies and from site supervision to project management. Setec conducted multiple projects in developing countries related to waste management and circular economy, preservation of the environment, decarbonation and renewable energies, and is present in more than 30 countries.
Water Research Centre Limited. They operate across different sectors including water, environment, gas and resource management. Their clients include regulators, water and gas utility companies, governmental organisations, NGOs, trade organisations, industrial manufacturers and waste management companies. Building on a legacy in the international water and environment sector stretching back over 90 years, combined with the knowledge of approximately 170 staff, they bring a shared purpose of discovering and delivering new and exciting solutions.
Weather Risk Management Services Pvt Ltd. It is a private limited company broadly engaged in providing agricultural and climate management services to the farmers. WRMS has been working in the agriculture risk management space since 2004. Today WRMS is among India's most exciting and fast-growing smart farming solutions companies.
Join the Network
The CTCN actively seeks Network members from all geographic regions with an array of sector experience. The membership is cost-free. To facilitate the Network application process, the CTCN has recently launched an online Network application form.
Original article here.
---