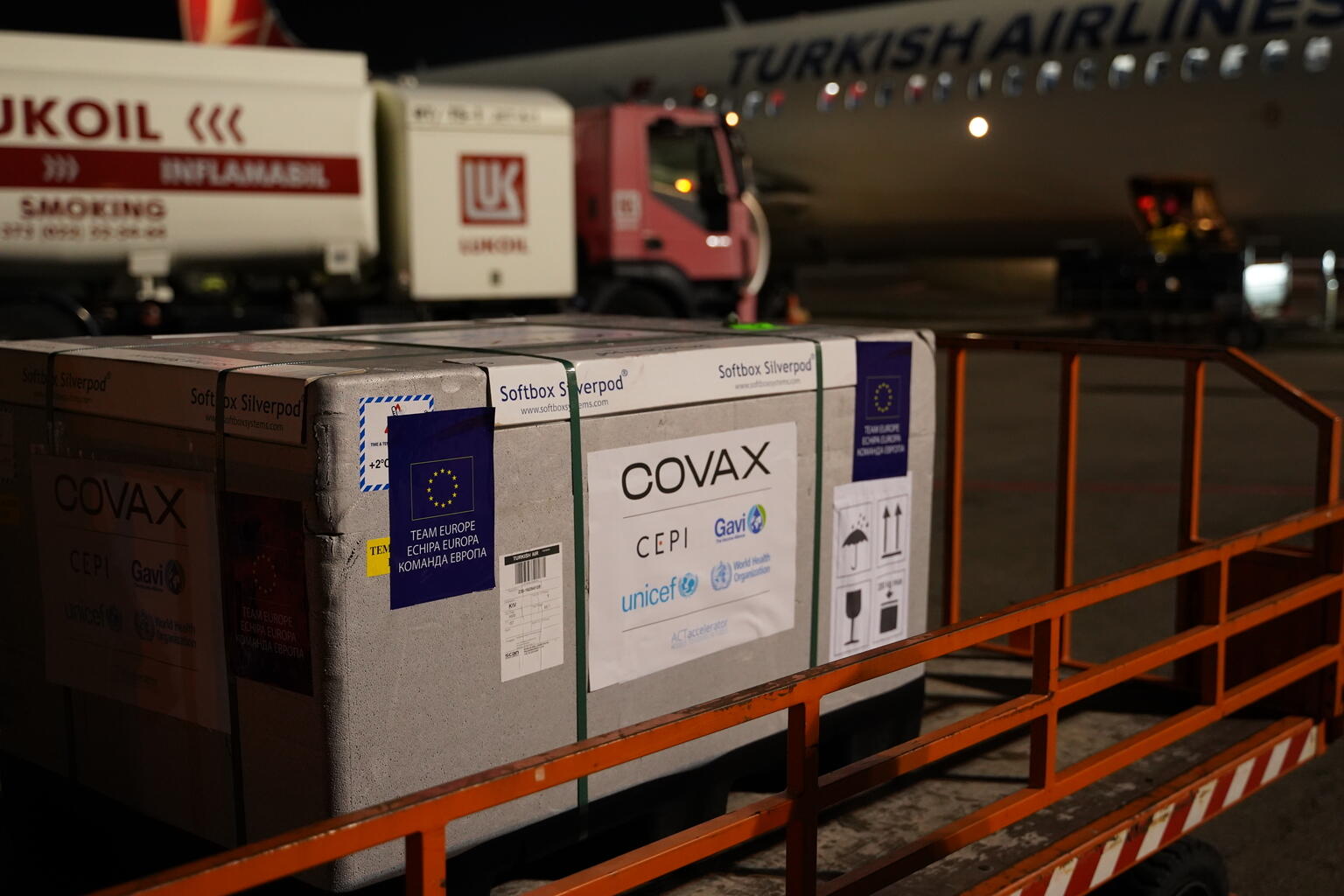 COVAX helps make equitable access to COVID-19 vaccines a reality in the WHO European Region
WHO/Europe, 23 April 2021
The COVAX Facility has delivered over 1 million doses of Pfizer–BioNTech and AstraZeneca COVID-19 vaccines to 14 participating economies in the Region so far. This global initiative is co-led by the Coalition for Epidemic Preparedness Innovations (CEPI), Gavi, the United Nations Children's Fund (UNICEF) and WHO. It is helping the lower- and middle-income economies in the Region to deploy COVID-19 vaccines in tandem with high-income countries, thereby contributing to the goal of ensuring equitable access to this global public good.
Supply of vaccine doses through COVAX is expected to increase substantially in the coming weeks, including more deliveries of these 2 vaccines and potentially others that are part of the broad portfolio of promising vaccine candidates.
In total, over 214 million doses of COVID-19 vaccines have been administered in the Region so far. All countries and territories in the Region have deployed COVID-19 vaccines, with the number of nationally authorized vaccines used per country ranging from 1 to 7. In some countries, this unprecedented achievement has already led to reductions in weekly hospitalizations and deaths caused by COVID-19.
"We have come far, but much more needs to be done so the benefits reach everyone, and to ensure that those most at risk are protected first," said Dr Hans Henri P. Kluge, WHO Regional Director for Europe. "Efforts should now be invigorated to expand manufacturing as well as to identify any barriers to vaccination uptake in each of the target population groups and address them through an evidence-informed, tailored response."
Global solidarity ensuring equitable access in lower- and middle-income countries
An adequate supply of safe and effective vaccines is vital to addressing inequities in access to vaccines across and within countries, irrespective of income level.
While progress is being made, some countries in the Region have yet to complete vaccination of health workers and older people while others have progressed beyond these priority population groups. Vaccination uptake among health workers across the 29 countries that report these data ranges widely, but an average of 33% have currently received the full series of doses.
COVAX aims to deliver 2 billion doses of COVID-19 vaccines by the end of the year, which should be enough to protect high-risk and vulnerable people, including frontline health workers. Its goal is to ensure equitable access for all participating economies across the globe, regardless of size or income level.
So far, COVAX has shipped over 40.5 million COVID-19 vaccines to 118 participants. This includes both self-financing and funded countries and territories. Within the Region, COVAX has delivered initial batches of Pfizer–BioNTech and AstraZeneca COVID-19 vaccine doses to Albania, Andorra, Armenia, Azerbaijan, Bosnia and Herzegovina, Georgia, North Macedonia, Montenegro, the Republic of Moldova, Serbia, Tajikistan, Ukraine and Uzbekistan, as well as Kosovo (in accordance with United Nations Security Council Resolution 1244 [1999]).
Team Europe, which brings together the European Union and its Member States, is one of the lead contributors to COVAX, with over €2.2 billion pledged to help secure 1.3 billion doses of vaccines for 92 low- and middle-income countries by the end of 2021.
Preparation for and monitoring of vaccine deployment
Since mid-2020, WHO/Europe has been supporting Member States to prepare for deployment of COVID-19 vaccines and vaccination, including by providing guidance on prioritization of target groups in the context of limited vaccine supply and other key programmatic considerations. The first countries began to deploy vaccines in late December 2020.
Monitoring of COVID-19 vaccine uptake across the Region was launched in January 2021, and the WHO/Europe online COVID-19 vaccine monitor now includes data for all 54 countries and territories. Monitoring was established to assess progress and trends in equitable access, vaccination uptake among priority population groups, and uptake of both doses in a 2-dose series. All of this information is needed to inform and guide vaccination strategies across the Region.
The online monitoring dashboard brings together data collected weekly by WHO/Europe and the European Centre for Disease Prevention and Control (ECDC) via the European Surveillance System (TESSy), and complementary monthly data collected by WHO on COVID-19 vaccination programmatic indicators, such as uptake among health workers and by age groups.
Ressources
WHO/Europe COVID-19 vaccine monitor
Monitoring COVID-19 vaccination: Considerations for the collection and use of vaccination data
UNICEF COVID-19 Vaccine Market DashboardNews – Republic of Moldova first country in Europe to receive COVID-19 vaccine through COVAX Facility
News – COVAX reaches over 100 economies, 42 days after first international delivery
Original article here.
---