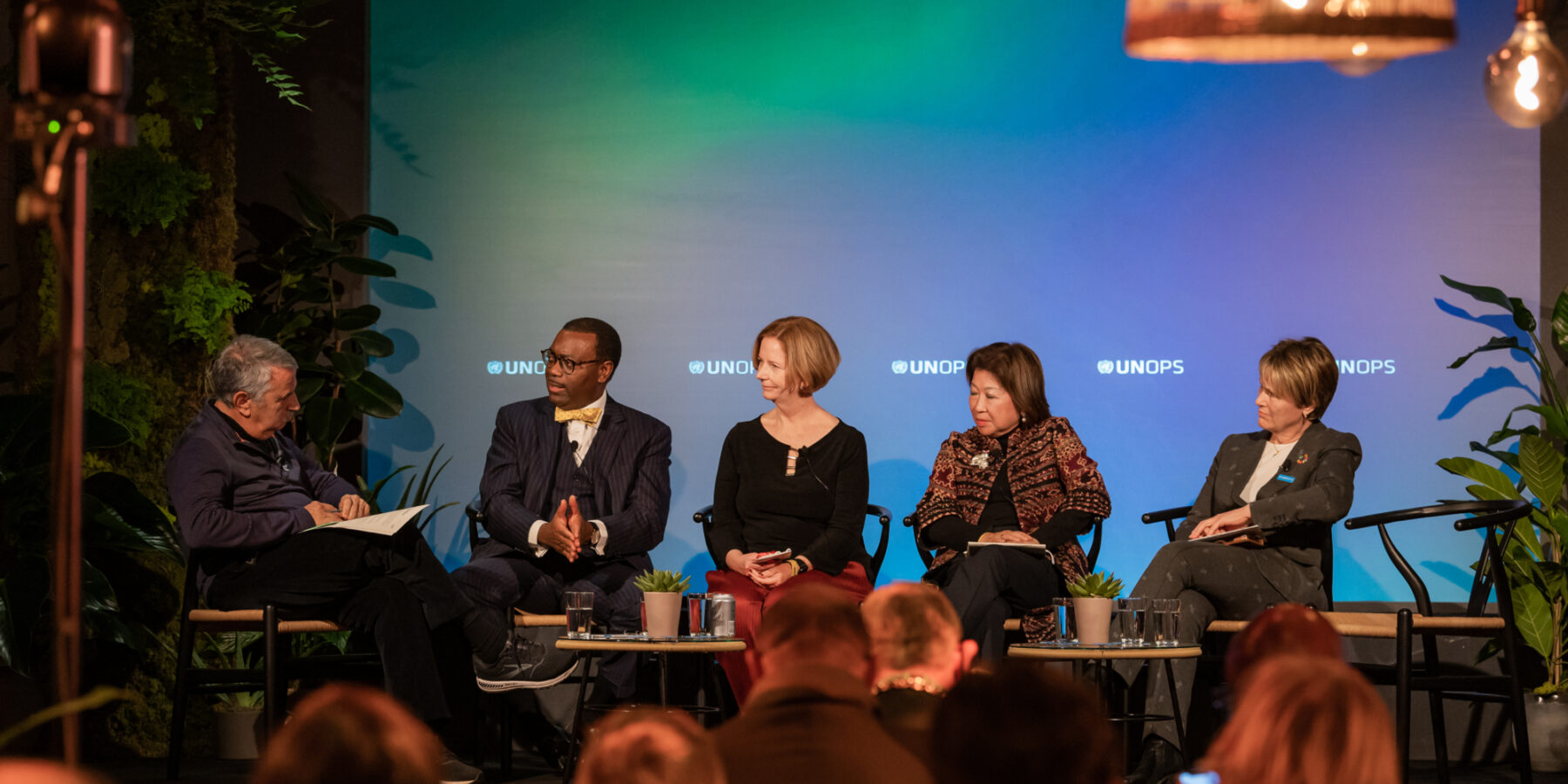 UNOPS AND COP26: TOGETHER FOR PEOPLE AND THE PLANET

12 November 2021, UNOPS
In support of the 26th United Nations Climate Change Conference (COP26), UNOPS joined a range of events and activities in Glasgow to help accelerate climate action.
UNOPS participation in COP26-associated events was spearheaded by a special UNOPS-hosted session held at The New York Times Climate Hub.
Moderated by three-time Pulitzer Prize winner and columnist for The New York Times, Thomas Friedman, the session – 'Tackling the climate crisis: What role for infrastructure?' – was joined by UNOPS Executive Director Grete Faremo and a distinguished panel of leaders and experts from around the world – the President of the African Development Bank, Dr. Akinwumi Adesin; the World Bank's Managing Director of Development Policy and Partnerships, Mari Elka Pangestu; and former Australian Prime Minister and Chair of Wellcome Trust, Julia Gillard.
The panel explored how we can think, plan and act ahead to build equity and resilience into tomorrow's infrastructure.
Read a summary of the discussions and watch a recording of the session here.
UNOPS work to advance sustainable development and climate action was also visible throughout the climate conference. With the President of Sierra Leone, Julius Maada Bio, in attendance, the Sierra Leone Rural Renewable Energy Project was presented at the country's pavilion. Funded by the United Kingdom's Foreign, Commonwealth & Development Office, the UNOPS-implemented project is a forward-thinking initiative that aims to strengthen energy infrastructure in rural Sierra Leone and improve access to essential services for over 300,000 people.
Partnering for climate action
In partnership with the UN Environment Programme, Asian Development Bank and Arup, UNOPS co-hosted a COP26 side event on catalyzing resilient infrastructure in Southeast Asia. With an urgent need to rapidly scale up infrastructure investments in the region to maintain growth, eradicate poverty and respond to climate change, UNOPS led a conversation on the central role of infrastructure in addressing climate change, including mitigation and adaptation efforts.
"We need a transformation in our approach to embed sustainability, resilience and inclusivity into the standard way we plan, deliver and manage our infrastructure globally. This needs to be driven by policy, motivated by financing and supported with the right technical knowledge," said Karki Komal, UNOPS Country Manager in Nepal.
To support the transition to clean energy, the UNOPS-managed Southeast Asia Energy Transition Partnership (ETP) held several events throughout COP26. These events focused on the challenges and opportunities associated with transitioning to renewable energy and meeting ambitious climate goals in emerging Asian economies. Discussions focused on ways that international collaboration can help to generate investment opportunities and mobilize the necessary financial resources to support efficient and sustainable energy infrastructure.
"Joining a multi-stakeholder platform like ETP means that members benefit from extracting the tremendous benefits of working together," said Sirpa Jarvenpaa, Director of ETP.
"This includes a greater voice to influence, more innovation from shared experiences, rapid and unhindered decision-making, and a dedicated secretariat focused on results," she added.
UNOPS-hosted entities Cities Alliance, Scaling Up Nutrition and the Platform on Disaster Displacement also hosted or participated in a series of events and meetings as part of the climate conference programme. These events covered key issues relevant to climate action such as urban resilience, food systems transformation and displacement related to the adverse effects of climate change.
The UNOPS-managed Climate Vulnerable Forum and Vulnerable 20 Joint Multi-Donor Fund held several meetings focused on climate mitigation and adaptation, attended by donor country representatives and ministers from some of the countries that are most vulnerable to climate change.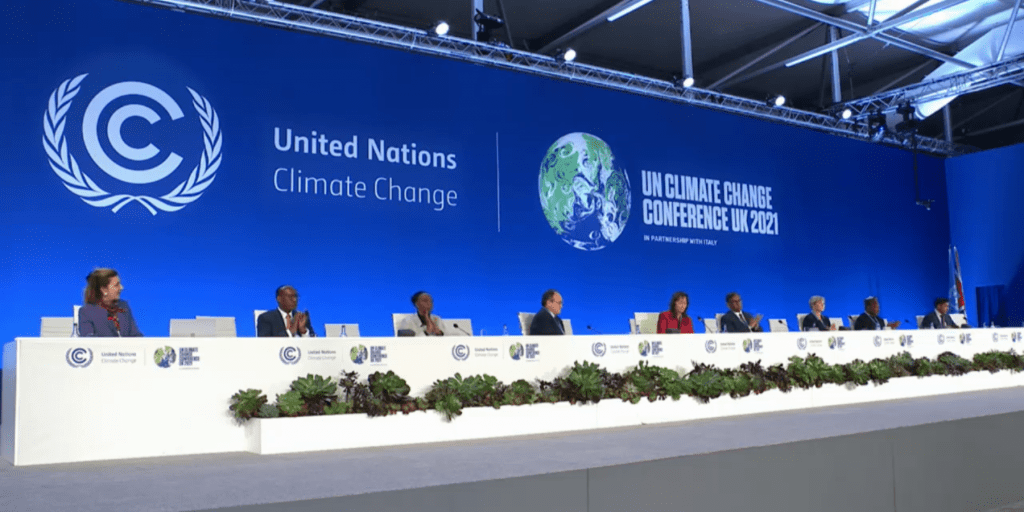 The UNOPS-managed Initiative for Climate Action Transparency (ICAT) also hosted and supported a series of events. These highlighted how transparent and enhanced data is crucial for countries to meet their climate commitments and development priorities.
"Transparency is the backbone of the Paris Agreement," said Dr. Henning Wuester, Director of ICAT. "It also presents an opportunity to allow countries to build a sound basis for making climate action more effective and thus sustainable for the long-term," he added.
Engaging the leaders of tomorrow
While in Glasgow, Ms. Faremo also joined an event attended by His Royal Highness, Charles, The Prince of Wales. In support of the Sustainable Markets Initiative, the Glasgow Chamber of Commerce hosted the event alongside C40 Cities – a global network of mayors taking urgent action to confront the climate crisis. The event aimed to promote the role of circular economies in the transition to a more sustainable future.
At a subsequent event co-hosted by the Glasgow Chamber of Commerce and the City of Glasgow College, Ms. Faremo highlighted the need to advance public-private partnerships to achieve the Sustainable Development Goals. She also shared her experiences as a leader within the United Nations and spoke to the importance of education in achieving the 2030 Agenda.
"There are very many challenges facing our world. That's why it is truly heart-warming to see the leadership and determination of young people […] in demanding stronger action to tackle the climate crisis and inequalities," said Ms. Faremo.
Read the full article here.
---