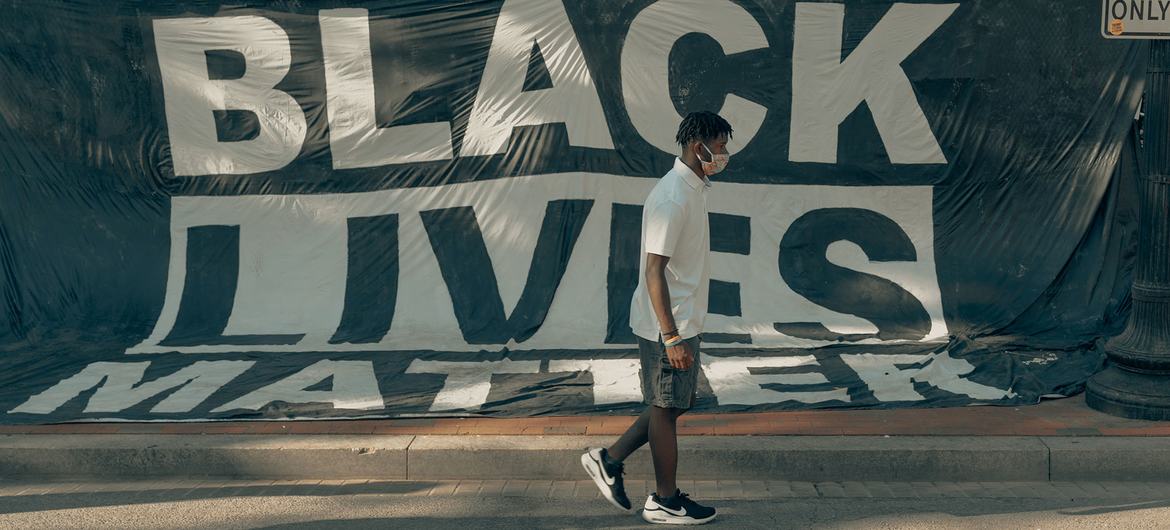 United States: UN rights experts gravely concerned over 'brutal deaths' at hands of police
© UNSPLASH/Clay Banks. The Black Lives Matter (BLM) social movement is dedicated to fighting racism and anti-Black violence, especially in the form of police brutality.
United Nations, 10 February 2023
Independent UN human rights experts on Friday expressed grave concern over the deaths early last month of two young Black men in the United States, at the hands of police officers.
Keenan Anderson died in Los Angeles after being repeatedly tased by police following a chase resulting from a traffic stop, according to news reports, and Tyre Nichols in Memphis, died after being severely beaten as he lay on the ground, by five officers in Memphis, Tennessee, who have since been charged with murder and other offences.
'Urgency to act'
"The brutal deaths of Keenan Anderson and Tyre Nichols are more reminders of the urgency to act," said Yvonne Mokgoro, Chairperson of the UN Human Rights Council-appointed International Independent Expert Mechanism to Advance Racial Justice and Equality in the context of Law Enforcement.
The experts have asked for detailed information on the deaths of Mr. Anderson and Mr. Nichols, from the US Government, "on the ongoing investigations and regulations applicable to the use of less-lethal weapons vis-à-vis applicable human rights standards", according to a statement issued by UN human rights office OHCHR.
"In both cases, the experts stressed that the force used appears to have violated international norms protecting the right to life and prohibiting torture or other cruel, inhuman or degrading treatment or punishment. It is also not in line with standards set out under the UN Code of Conduct for Law Enforcement Officials and the Basic Principles on the Use of Force and Firearms by Law Enforcement Officials."
Be 'guided by principles'
Juan Mendez, a member of the Expert Mechanism, said that "while we acknowledge the role of less lethal options to reduce the risk of death or injury inherent in police conduct, any use of force by law enforcement officials must be guided by principles of legality, precaution, necessity, proportionality, non-discrimination and accountability".
Morris Tidball-Binz, the Special Rapporteur on extrajudicial, summary or arbitrary executions said that the use of "less lethal" weapons like stun-guns, "continues to raise serious concerns when it comes to States' obligation to protect the right to life and the right to be free from torture and other ill-treatment. Such weapons can cause death, serious body injuries and permanent disability".
'Excessive use' of Tasers
"We observe that, in cases like these, police officers use Tasers as a routine protocol" to incapacitate those who aren't following orders, or individuals who are "going through mental health crises, who often do not appear to pose a serious danger to themselves or others", added Ms. Mendez.
"We remain highly concerned about the excessive use of tasers in law enforcement, especially in light of their inherent potential for misuse."
"Police and law enforcement bear special responsibilities to protect their citizens and to uphold their rights", said Alice Jill Edwards, UN Special Rapporteur on torture and other cruel, inhuman or degrading treatment or punishment.
"When this basic function is overtaken by unlawful and uncontrolled violence, it causes ordinary people to fear their own police. Only community-led and -designed solutions will do, in such circumstances."
Hiding behind the badge
Responding to the death of Tyre Nichols which drew worldwide condemnation, the experts stressed that as well as prosecuting the officers involved, it was time for US authorities to show "determination in questioning and reforming an institutionalised police culture that permits criminal assault under the guise of law enforcement and public safety."
Tracie Keesee, another member of the Mechanism, said the independent experts had called on authorities in the US to "ensure prompt accountability and reparation".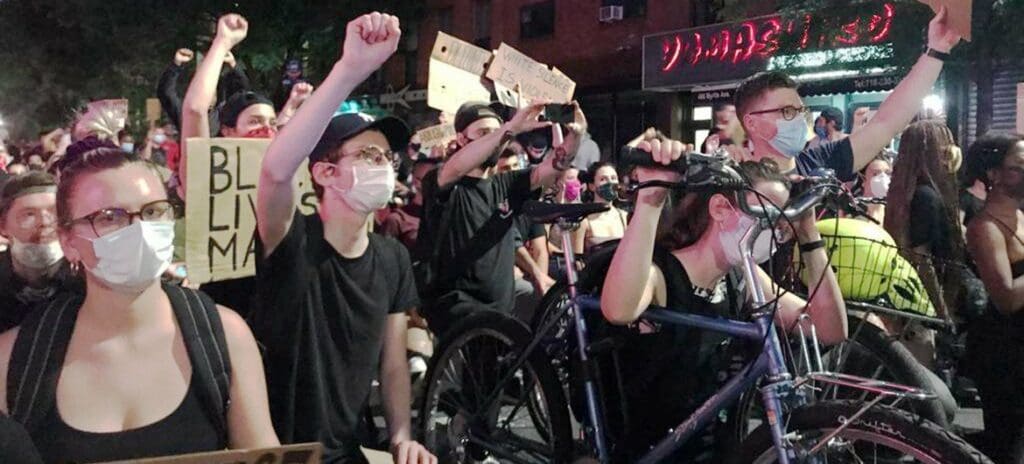 © Sarah Scaffidi. Protesters demonstrate against police brutality and racial injustice in Brooklyn, New York.
Call for a 'genuinely new approach'
Despite the charges against the five police officers who were swiftly fired from the Memphis force, accused of murdering Mr. Nichols, "the horrifying footage of his beating is an alarming reminder of the urgent need of genuinely new approaches to traffic safety, traffic stops, and public safety more broadly."
Following and invitation from the US Government received last December, to visit the country, members of the Expert Mechanism will be conducting a "much-needed official mission to the US in April", said Chairperson Mokgoro.
"We will engage with the Government and all relevant stakeholders to ensure that police brutality is addressed with determination and that victims and their families obtain justice", she added.
Special Rapporteurs and other independent human rights experts appointed by the Human Rights Council in Geneva, work on a voluntary basis and serve in their individual capacity. They are not UN staff and are not paid for their work.
The original article appeared here.