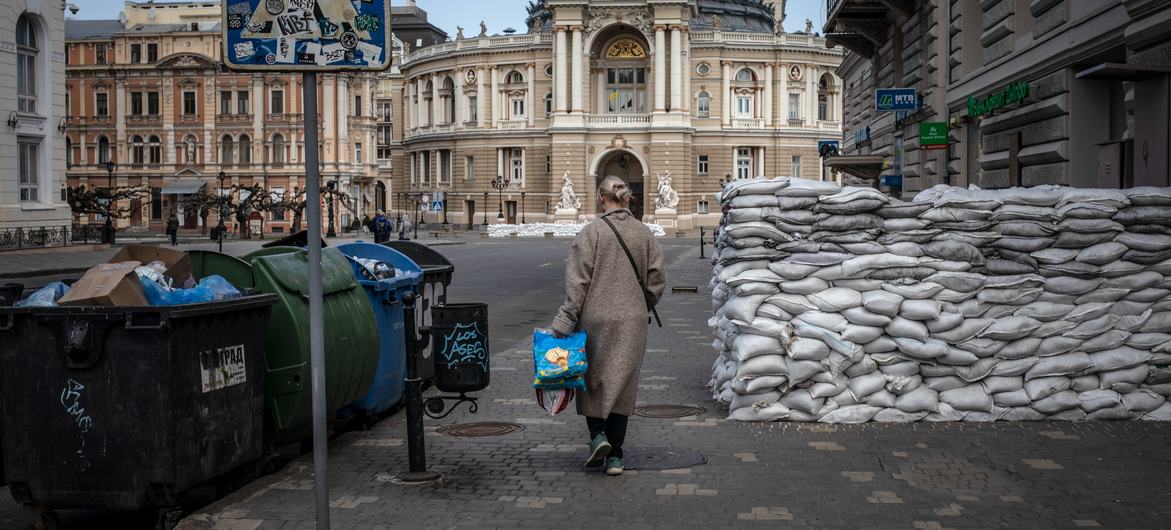 UN strongly condemns Russian strikes in Odesa, Ukraine
© UNICEF/Siegfried Modola: A woman walks past sandbags piled for defensive protection in Odesa, Ukraine (file).
United Nations, 24 July 2023
Senior UN officials have strongly condemned the deadly Russian missile strikes in the Ukrainian city of Odesa on Sunday which damaged several historic buildings.
Over the past week, Russia has carried out aerial attacks on Odesa and two other port cities, Chornomorsk and Mykolaiv, since terminating the landmark Black Sea Initiative on grain and fertilizer exports.
International media reported that at least one person was killed and more than 20 wounded in Sunday's attack, which damaged significant cultural sites in Odesa, including the Transfiguration Cathedral, the first and foremost Orthodox church in the city.
The Cathedral was founded in 1794 and is located in the Historic Centre of Odesa, which was in January inscribed on the World Heritage List maintained by the UN Educational, Scientific and Cultural Organization (UNESCO).
Culture in the crosshairs
UN Secretary-General António Guterres strongly condemned the attack, his spokesperson said in a statement.
"In addition to the appalling toll the war is taking on civilian lives, this is yet another attack in an area protected under the World Heritage Convention in violation of the 1954 Hague Convention for the Protection of Cultural Property in the Event of Armed Conflict," it said.
Mr. Guterres also expressed concern about the war's increasing threat to Ukrainian culture and heritage. UNESCO has verified damage to 270 cultural sites, including 116 religious sites, since the start of the Russian invasion on 24 February 2022.
The Secretary-General urges the Russian Federation to immediately cease attacks against cultural property protected by widely ratified international normative instruments. The Secretary-General also continues to urge immediate cessation of all attacks against civilians and civilian infrastructure," the statement concluded.
'Outrageous destruction'
UNESCO was deeply dismayed by the "brazen attack", which it condemned in the strongest terms. A mission will be deployed to Odesa in the coming days to conduct a preliminary assessment of damages.
The agency said this "act of hostility" follows other recent attacks that impacted cultural heritage in areas of Lviv and Odesa that are protected under the World Heritage Convention.
"This outrageous destruction marks an escalation of violence against cultural heritage of Ukraine," said Audrey Azoulay, UNESCO Director-General. She urged Russia "to take meaningful action" to comply with its obligations under international law, including with regard to the protection of cultural property during armed conflict.
Furthermore, the attacks contradict recent statements by Russian authorities concerning precautions taken to spare World Heritage sites in Ukraine, including their buffer zones, the agency said, adding that intentional destruction of cultural sites may amount to a war crime.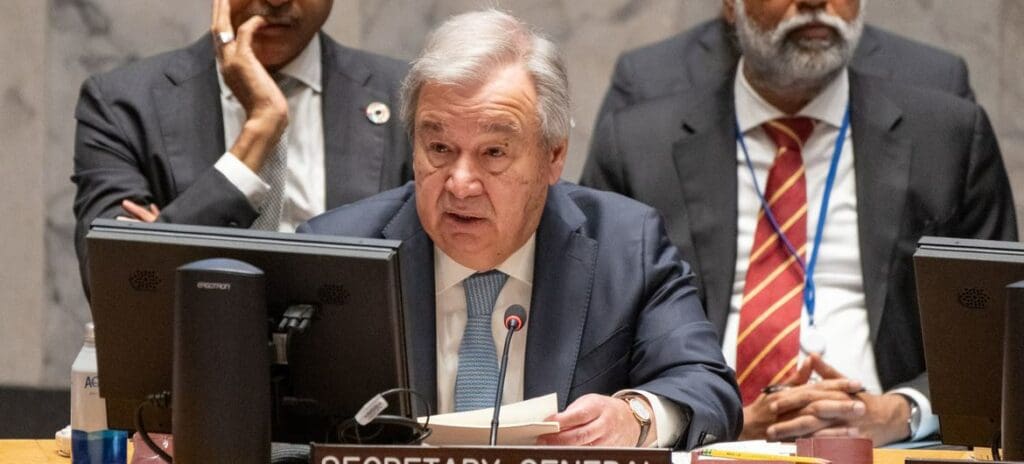 Policy options
Mr. Guterres announced that he will be convening a high-level meeting for AI, which will report back on the options for global governance, by the end of this year. He is also going to issue a new policy brief on A New Agenda for Peace, which will make recommendations on AI governance to Member States.
The policy brief will call for negotiations to be concluded by 2026 on a legally-binding instrument to prohibit lethal autonomous weapons systems that function without human control or oversight, which cannot be used in compliance with international humanitarian law.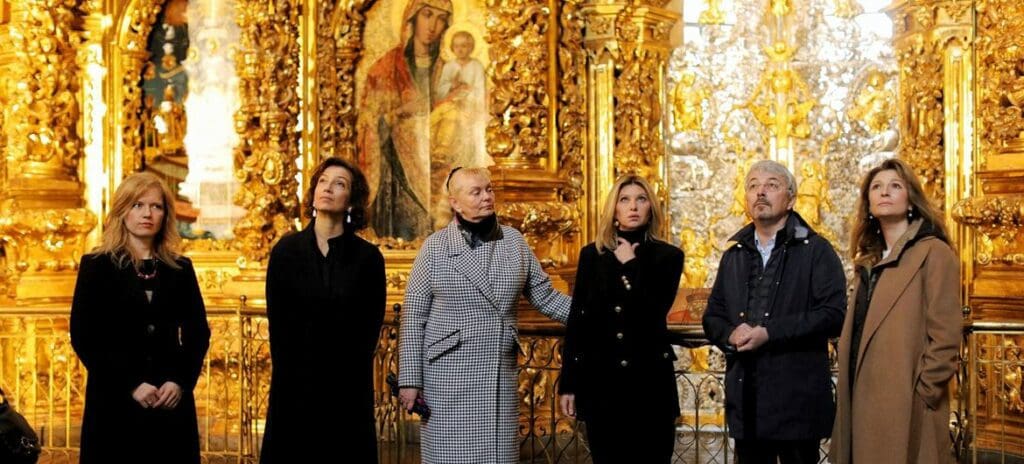 Protecting cultural institutions
In response to the war, UNESCO is working to promote the protection of cultural institutions in Ukraine, along with other actions such as denouncing violence against journalists and supporting the maintenance of education.
Ms. Azoulay was in Odesa in April where she met with World Heritage site managers and stakeholders from the cultural sector. She took stock of emergency actions by UNESCO to protect cultural heritage threatened by the conflict.
Speaking at the time, she said nearly $7 billion will be required over the next decade to rebuild the cultural sector in Ukraine.
The original article appeared here.