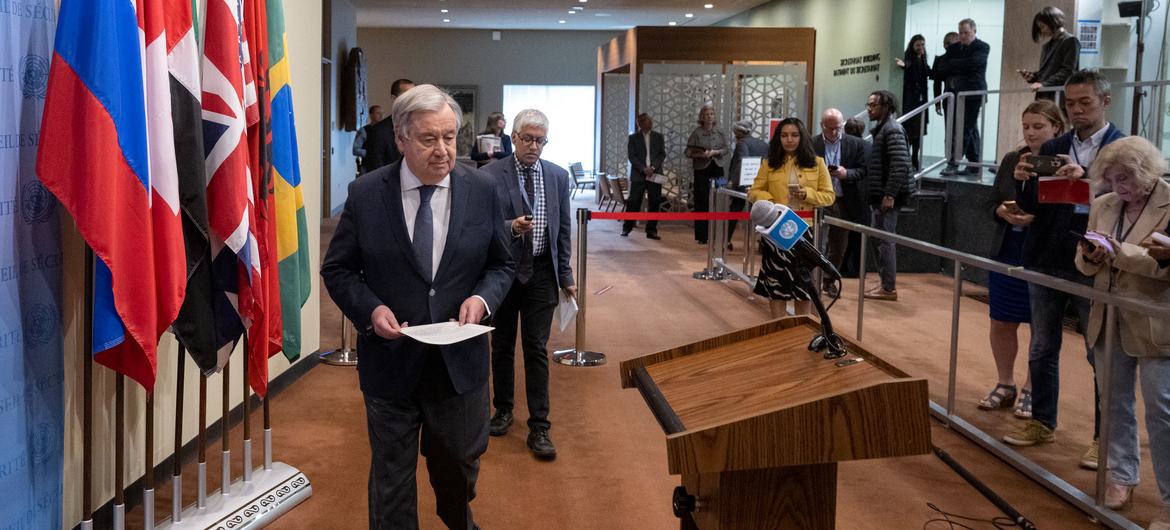 UN coordinator calls for urgent 'humanitarian pauses' in Sudan, as death toll mounts
UN Photo/Eskinder Debebe. Secretary General António Guterres spoke to correspondents in New York on Thursday 20 April 2023, about the crisis in Sudan, calling for an immediate end to the fighting.
United Nations, 21 April 2023
The UN Humanitarian Coordinator in Sudan issued a strong statement on Friday calling on both sides in the military power struggle to "implement humanitarian pauses" allowing civilians and aid workers to access essential supplies.
"I am horrified by the toll the clashes are having on civilians", said Abdou Dieng. "At least 331 people have been killed nationwide, including five aid workers, and nearly 3,200 have been injured."
The fighting between troops from the national army and a powerful rival militia known as the Rapid Support Forces (RSF) erupted six days ago, and has had a devastating impact on civilian life and the major on-going humanitarian aid operation across Sudan.
Latest news reports indicate that bombing, shelling and gunfire have continued unabated, especially in the capital Khartoum, and the UN migration agency, IOM, reported on Friday that one of its staff members had become a victim of the violence.
UN migration agency staffer killed
"It is with a heavy heart that I confirm the death of a dedicated IOM Sudan staff member this morning after the vehicle he was traveling in with his family south of El Obeid was caught in a crossfire between two warring parties", said Director General, António Vitorino.
He said the male staffer leaves behind a wife and newborn child, "and our team in Sudan in mourning."
"The safety and security of all IOM staff is my number one priority. We continue to work with our UN partners to update our security response", he assured.
Three workers from the World Food Programme (WFP) lost their lives in North Darfur as the military showdown first began on Saturday.
Mr. Vitorino said the latest outbreak of violence has forced IOM to suspend its humanitarian operations in Sudan.
IOM has operated in Sudan since 2000, responding to the complex humanitarian needs in the country where an estimated 3.7 million people are internally displaced", the IOM chief continued.
Some 15.8 million people in Sudan, one-third of the population, were in need of humanitarian assistance before this week's fighting began.
Food, water, healthcare crisis
Mr. Dieng said that even short agreed pauses in the intense fighting between the rival factions, which have so far ignored all calls for a ceasefire, would allow civilians access to essential food and water.
"Access to health facilities is also paramount. Many hospitals have had to close. And in those that are functioning, widespread blackouts and lack of electricity place patients at high risk."
Several hospitals have simply run out of blood and other lifesaving supplies.
"Assaults on hospitals, humanitarian staff and facilities must stop", said the Humanitarian Coordinator.
"As we are ending the holy month of Ramadan and celebrate Eid al-Fitr, a time of peace and reconciliation, I call on all parties to the conflict to immediately end the fighting and work towards a peaceful resolution."
On Thursday, UN Secretary-General António Guterres made an urgent call for a three-day ceasefire over Eid, as the "first step" towards a permanent cessation of hostilities, noting that humanitarian operations had become "virtually impossible".
The UN alone has a 4,000-strong team of humanitarian workers, 3,200 of whom are Sudanese nationals.
According to the latest statement from UN aid coordination office OCHA, there have been reports of military strikes against health facilities, hijacking of ambulances with patients and paramedics still on board, looting of health facilities, and military forces occupying health facilities.
Severe shortages grow
In hospitals, there are severe shortages of specialized medical staff, oxygen supplies and blood bags, according to the World Health Organization, WHO, while lack of electricity and blackouts place hospital patients at high risk.
"There are also rapidly rising mental health and psychosocial support needs, especially among children, as the conflict continues", noted OCHA.
As of Friday morning, heavy gunfire, air strikes and shelling have been reported in different parts of the country, OCHA added, especially in North, Central and South Darfur states, North Kordofan and in the capital, Khartoum.
On 20 April, there were unverified reports of intensified clashes in El Obeid, North Kordofan State, as well as unrest and rising tensions in Gedaref, in eastern Sudan.
Solidarity with Sudan: UN Women
The head of the UN Women, Sima Bahous, also issued a statement expressing grave concern over the effect of the relentless fighting on Sudanese women and girls.
"As in all crises, this will surely have dire and disproportionate impacts on the lives of Sudanese women and girls. We stand in solidarity with the people of Sudan and remain committed to supporting them.

"The resilience of Sudanese women is a source of hope, their role in the pursuit of peace essential, their strength as humanitarian workers, carers and protectors an inspiration", added Ms. Bahous.
"We must heed their calls for a ceasefire and peace and commit to supporting them in everything they do."
She noted that reports of sexual and gender-based violence were already surfacing, and feared "they will only grow more frequent."
She called on Government troops and militia to "ensure that no woman or girl is affected by these crimes".
She insisted that "every instance" of sexual and gender-based violence must be investigated and prosecuted without exception.
"The UN Secretary-General has called for an immediate halt to the fighting to coincide with Eid-Al-Fitr. This will allow the continued delivery of essential humanitarian assistance and a return to dialogue. He has demanded respect for international law. I join his call and urge all parties to commit to a peaceful resolution."
The original article appeared here.