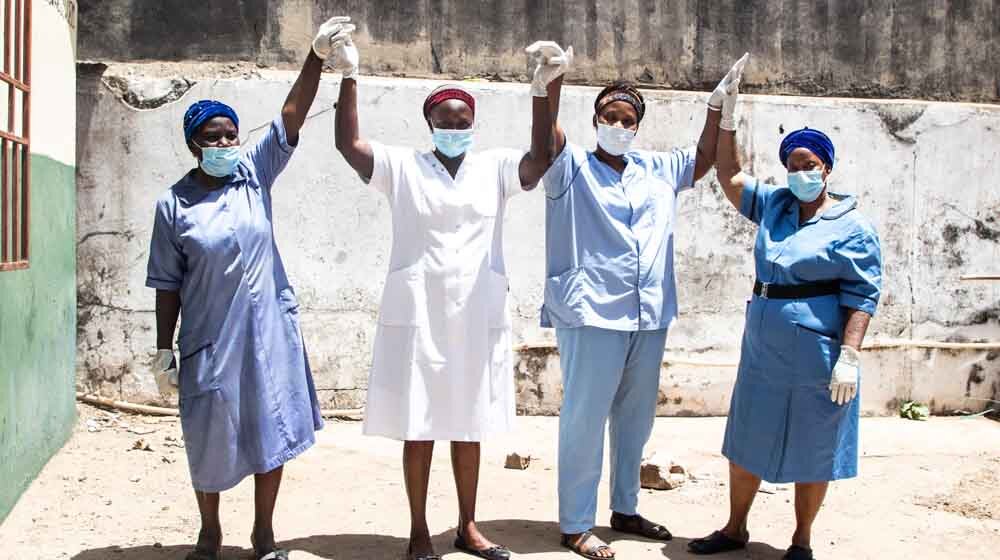 UN collaboration ensures critical PPE supplies reach healthcare workers at the forefront of the COVID-19 response

UNFPA, 17 February 2021
COVID-19 has been the fastest-moving global public health crisis in a century. Lockdown restrictions drastically impacted the production of health supplies and there was a general lack of availability of containers, sea routes, and flights to transport goods. Widespread global demand led to critical shortages, disproportionately affecting many low and middle-income countries. The critical sexual and reproductive supplies in the lives of women and girls were not an exception. These included the manufacturing of condoms, other modern contraceptives, and maternal health supplies, which are also part of the Inter-agency Reproductive Health (IARH) kits UNFPA delivers to humanitarian settings.
In the early days of the pandemic, the health supply chain faced many challenges. Beyond stockouts and bottlenecks, some manufacturers were working at a lower capacity due to restrictions, and others were introducing products of sub-standard quality. Prices also increased due to insufficient raw materials. Without appropriate protection, health workers were at risk of catching the virus. A rapid procurement and delivery of supplies were key to ensure they could continue to care for their patients and to help make sure health clinics could stay open for routine vaccinations, maternal and neonatal care, and sexual and reproductive health services.
Finding solutions to keep health systems running
In response to a disrupted supply chain, UNFPA proposed combining procurement efforts across agencies for a joint market approach. UNICEF, the UN's largest procurer of goods and services, agreed to lead this collaborative exercise on behalf of UN Agencies and interested NGOs to meet immediate demand and support countries with limited buying power to access essential supplies.
In an unprecedented joint procurement collaboration with 11 UN agencies and two international NGOs*, the participating agencies contributed to securing access to a sustainable supply of affordable PPE.
UNFPA and other agencies reached 37 countries with over US$ 8.6 million worth of supplies in 2020. This comprehensive response included masks, gowns, goggles, face shields, and gloves. The availability of these products ensured that frontline workers and patients received proper care. Women and girls were able to access sexual and reproductive health services, including antenatal care, family planning supplies, and social services related to gender-based violence.
United to deliver as one
Behind the scenes, there was a group of experts in the Procurement Hub in Copenhagen, where UN agencies work to source, buy, and contract supplies. The UNFPA Quality Assurance and Strategic Procurement Cluster Teams along with experts from 8 agencies assessed companies and products, including reviewing almost 400 items for acceptable quality, safety, and performance. From this, 15 long-term agreements were signed covering 34 products for PPE. These agreements were pivotal for stabilizing the supply chain, providing security, and easing planning and forecasting.
Working as one with manufacturers and industry leaders resulted in one of the largest worldwide tenders, and underscored the role and mandate of the United Nations. By pooling resources and expertise, and leveraging their combined procurement spend, UN agencies were able to help meet the urgent demand for quality and affordable PPE.
UNFPA will continue to work together with our partners to understand the market challenges, share joint forecasts, and assess solutions to increase access to quality-assured supplies. Sexual and reproductive health supplies are essential to guarantee access to universal health care for all.
*The following UN agencies and NGOs participated in the joint tender: IAEA, IFRC, IOM, MSF, PAHO, UNDP, UNFPA, UNHCR, UNICEF, UNOPS, UNPD, UNRWA, and WHO.
*Procurement values do not include PPE procurement from other sources.
---