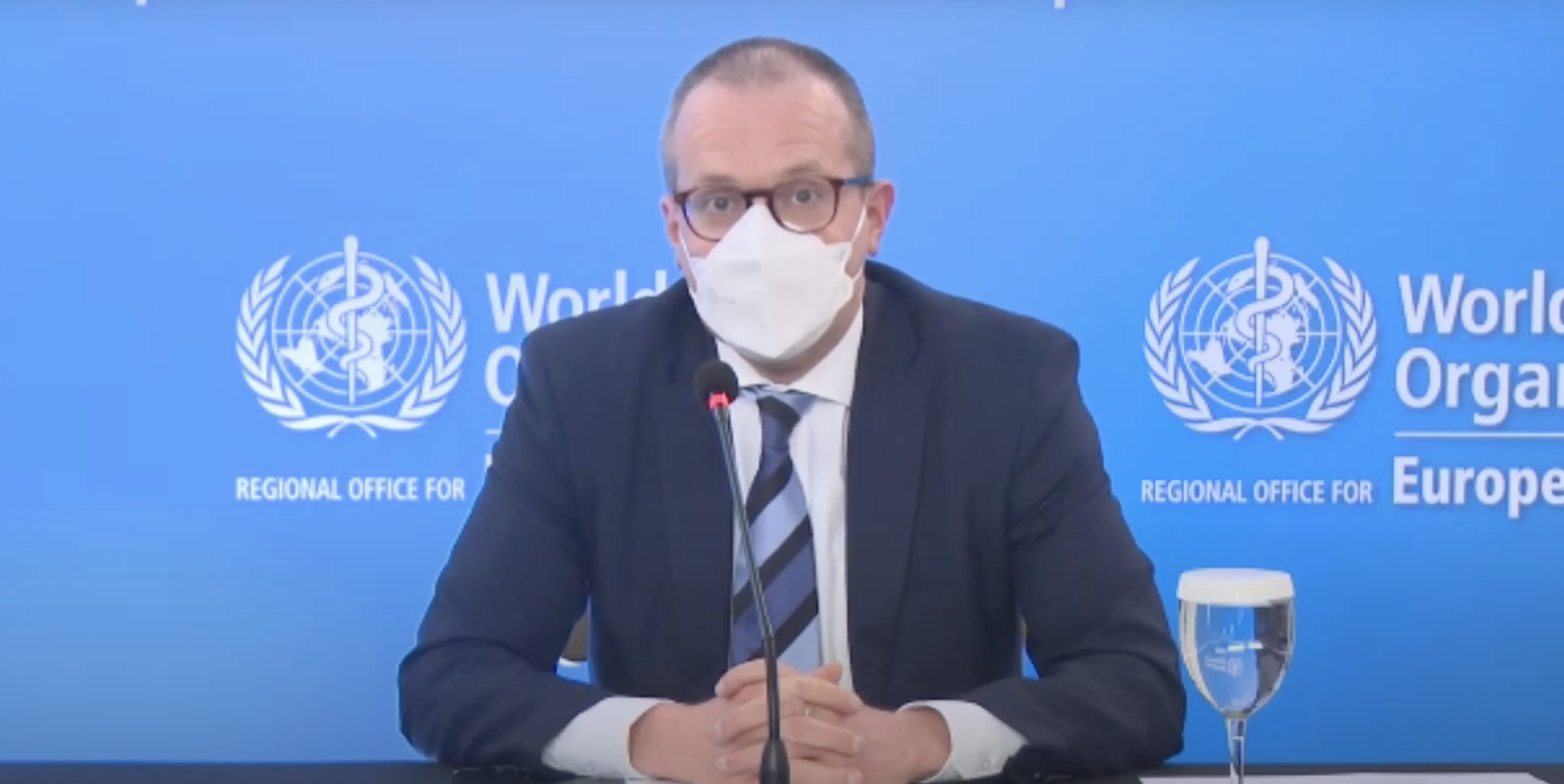 Statement: Surging pandemic surpasses 1 million deaths in the WHO European Region
WHO/Europe, 15 April 2021
Press statement by Dr Hans Henri P. Kluge, WHO Regional Director for Europe:
"Good morning and good afternoon,
Among the silver linings of COVID-19 is the fact that it has emphasized the urgent need to ensure equitable access to health care.
This morning, I had the pleasure to open, with the Minister of Health of Greece, the Athens Quality of Care Office in Athens, here in the capital of Greece, hosted by the Greek authorities. The centre will serve the needs of the countries of the south-eastern part of the WHO European Region and the Mediterranean basin, focusing on technical assistance, support and leadership on quality of care and patient safety. This is an enormous milestone for Greece and for WHO – as well as for the millions of people who will benefit in the coming years.
Before moving on to COVID-19, underlining that we cannot take our eyes off other health threats – later today, WHO/Europe is launching a landmark report on current trends of alcohol consumption, harms and policy.
1 million
Last week, we surpassed 1 million confirmed COVID-19 deaths in the WHO European Region.
The situation in our region is serious; 1.6 million new cases are reported every week. That's 9500 every hour, 160 people every minute.
It is only among the oldest, that we are seeing declining incidence. Over the past 2 months, the trend among people more than 80 years of age, has diverged from the trend seen in every other age group, possibly thanks to high vaccination uptake in this high-risk group. Since February, the proportion of COVID-19 deaths in Europe, among those older than 80, has gradually fallen to close to 30%, the lowest level since the beginning of the pandemic.
Hospitalization, nonetheless, remains at high levels, with continued reports of intensive care capacity having been exceeded, from all parts of the Region – also in Greece. This April, COVID-19 admissions to hospitals and intensive care in France reached the highest levels since this time last year.
There are early signs that transmission may be slowing across several countries. Let me be clear, early signs of decline are not equal to low rates of transmission. Transmission must be driven down to low rates and kept low, by harnessing our energy and resilience to beat the virus.
The availability of all public health and social measures is critical, including the roll-out of vaccines. Adjusting social measures must be done, not based on vaccination targets, but on the basis of epidemiology and the ability of our health services and workforce to cope with COVID-19 and to maintain basic public health services.
Safety is paramount
Globally there has been a very small number of cases of rare blood clotting disorders among the 200 million people that have received the AstraZeneca vaccine.
WHO takes safety events extremely seriously and our Global Advisory Committee on Vaccine Safety and the Strategic Advisory Group of Experts on immunization continue reviewing the evidence. WHO will provide guidance to Member States shortly. We urge Member States to report any adverse events that may occur following vaccination, as early as possible.
For now, the risk of suffering blood clots is much higher for someone with COVID-19 than for someone who has taken the AstraZeneca vaccine.
Let there be no doubt about it, the AstraZeneca vaccine is effective in reducing COVID-19 hospitalization and preventing deaths. WHO recommends it to all eligible adults to gain protection from the SARS-CoV-2 virus, as quickly as possible.
We are also aware of reports of thromboembolic events with low platelets following vaccination with the Johnson & Johnson COVID-19 vaccine. WHO is monitoring these reports closely and will communicate its findings in due course.
To date, some 171 million doses of 7 COVID-19 vaccines and products have been administered in the Region. Nearly 13% of the European population have received 1 dose, while close to 6% have completed their series.
In Greece, where I am now, 1.6 million people or 16% of the population, have received at least 1 dose, while 7% are fully covered.
I congratulate my Greek counterparts on their extensive preparations to ensure that the country was ready to effectively receive and deploy vaccines. As part of the European Union, Greece has demonstrated solidarity by supporting COVAX, acknowledging that the economy and prosperity of one country is intricately bound to another country's prosperity, and in this case, bound to defeating the virus.
Equity within borders is very important.
It is not only about equity between countries, it's also about equity within a country, making sure that vaccine access and utilization doesn't further marginalize the underserved.
Here, Greece has led by example. The country's entire refugee and migrant population, more than 100 000 people, are part of the national vaccination strategy, as they should be – alongside the general population. Congratulations, Mr. Minister. Mass vaccination campaigns in Greece's refugee camps are scheduled next month.
Once again, only vaccinating a chosen few, and excluding population segments, undermines our fight against the virus, everywhere.
Before handing over to the health minister, I'd like to thank the minister for the warm welcome – and for your leadership and resilience in the past months.
To those marking the month of Ramadan, I wish you and your loved ones a blessed holiday, and urge you to celebrate safely.
Ramadan Kareem. Thank you."
Original article here.
---