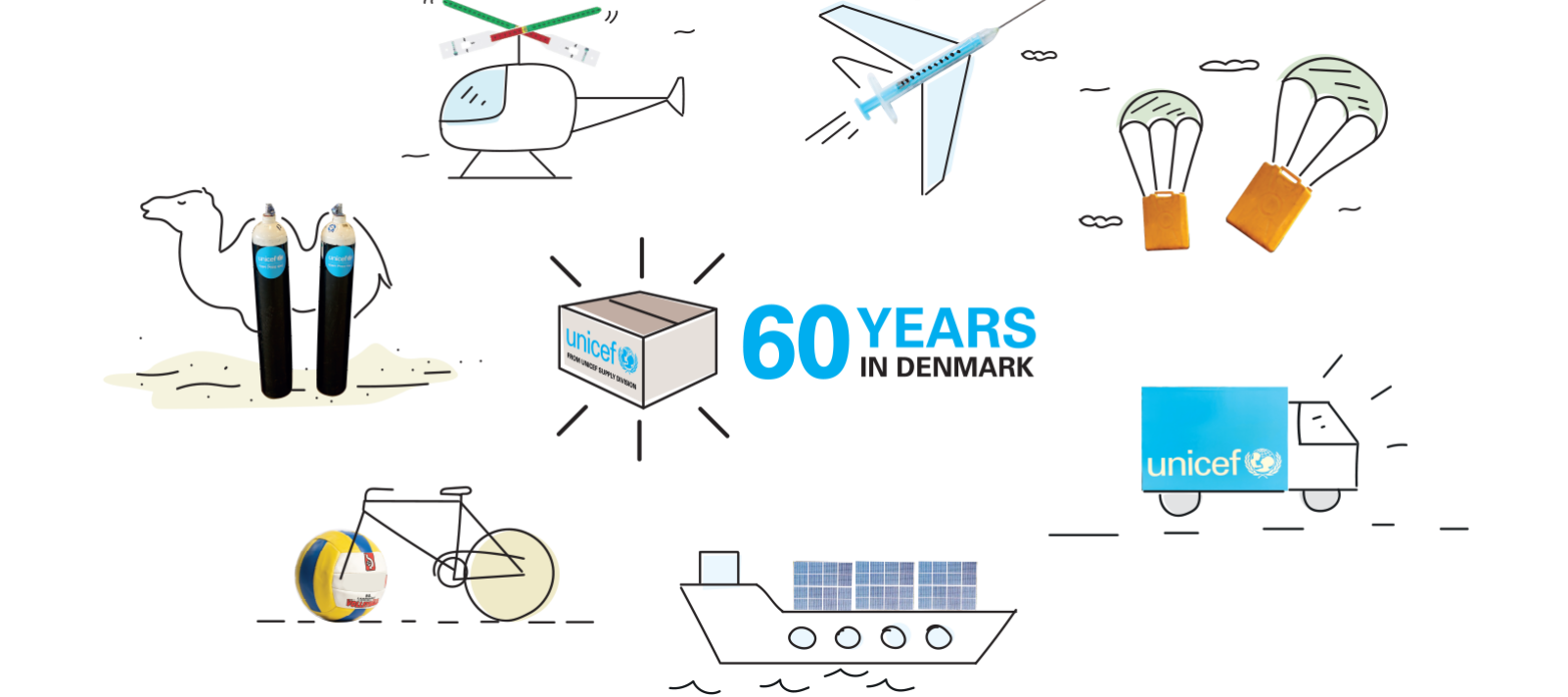 Sixty years of the UNICEF Global Supply and Logistics Hub for children
UN City Copenhagen, 05 October 2022
Sixty years of UNICEF supply and logistics operations from Denmark and for every child
Sixty years ago, a major step was taken to guarantee that vulnerable children around the world have a better chance to access the supplies they need. In 1962, the Government of Denmark supported the construction of UNICEF's global humanitarian warehouse in Copenhagen.
Since 1962, UNICEF's global warehouse hub in Copenhagen has been inspired by the goal of equitable access to life-saving supplies. With its robot technology and brisk packing lines, the UNICEF Global Supply and Logistics in Copenhagen embodies the expertise, adaptation and innovation that have driven Supply Division – UNICEF's Global Supply and Logistics headquarters – for six decades.
Today, the hub covers 20,000 m² and stocks over 1,200 different supply items for children. Its storage bays soar eight storeys high and hold 36,000 pallets. Paperless, real-time technology tracks each supply item when it arrives and is quality assured, to when it is packed and loaded into a 40-foot shipping container. Warehouse staff is skilled in every detail of warehouse operations, from taking inventory, driving forklifts, and packing kits – to installing warehouse tents during emergency deployments.
UNICEF and supplies for children have been synonymous since 1946, providing food and clothing for children in post-war Europe. After 1950, UNICEF's direction broadened to focus on the well-being of children in developing countries and in emergency situations everywhere.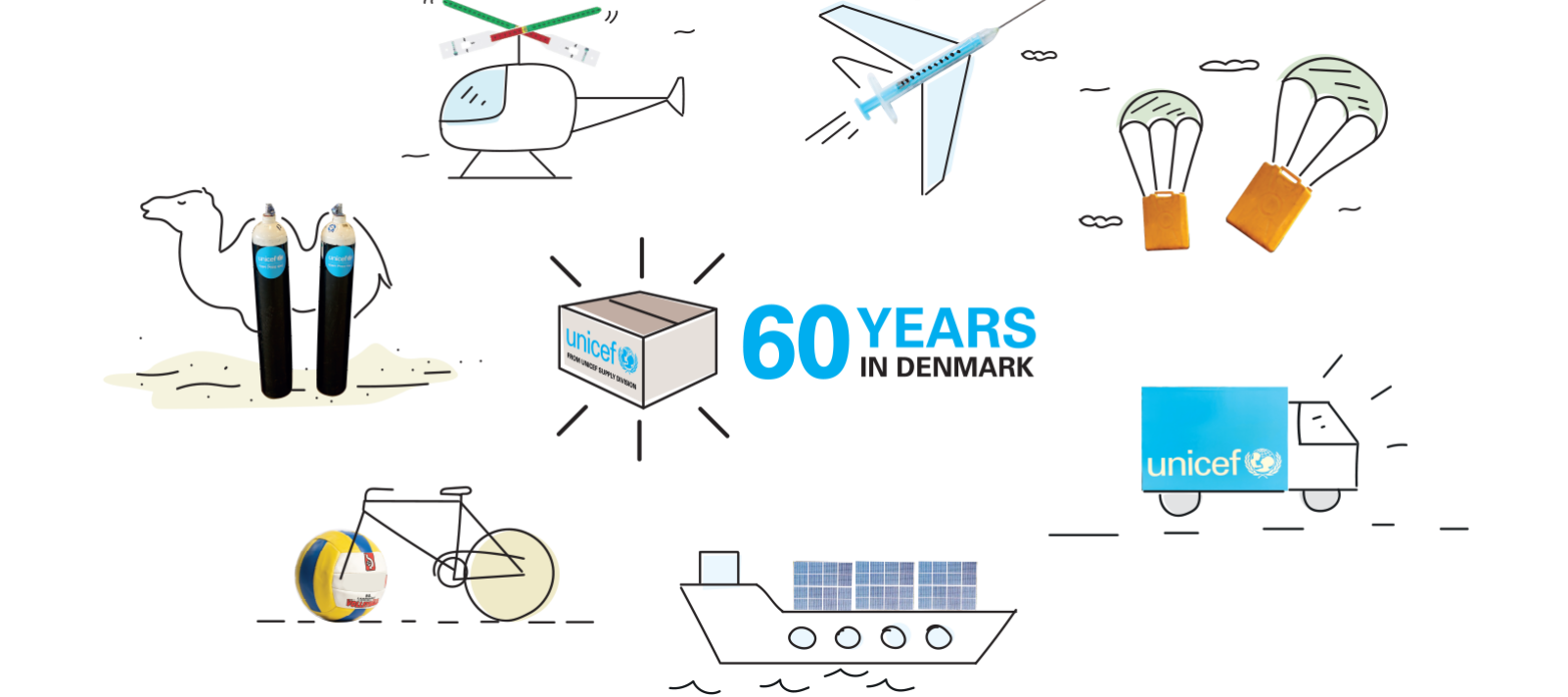 On 5 October 1962, UNICEF relocated its fast-expanding Packing and Assembly Centre (UNIPAC) from New York to a disused armament factory in Copenhagen's Freeport. Access to international shipping lanes and world-class transport infrastructure made Copenhagen an ideal new home for UNICEF's supply operations. UNIPAC assembled and shipped kits that helped train doctors, nurses, and teachers in Africa, Asia, and Latin America. Kits for midwifery, tuberculosis control, and teaching science were in high demand. From the start, UNIPAC generated considerable savings through bulk purchases, consolidated shipments, and efficient distribution.
By 1975, UNIPAC had expanded into more than 20 separate buildings in Freeport. When the biggest warehouse, Shed 24, became vacant, UNIPAC consolidated into one facility. In 1984, the Danish Government built a new office and in 1992, added a second.
In March 2012, UNICEF moved to its current state-of-the-art warehouse – the world's largest humanitarian warehouse for children.
Kit packing is still a vital warehouse function. UNICEF packs and delivers a range of standard and customized kits to fill critical gaps in public health and education services. In a single day, the warehouse packing line can produce 2,000 school-in-a-box kits, each one capable of transforming a safe space in a refugee camp into a classroom for 40 children.
The UNICEF Global Supply and Logistics Hub in Copenhagen is complemented by global hubs in Accra, Brindisi, Dubai, Shanghai, and Panama City. By managing supply forecasts and replenishment, the warehouse helps maintain optimum stock levels to meet the needs of 250,000 people for three months in any sudden-onset emergency.
Despite their size and spread, only 5 percent of supplies pass through Copenhagen and the global hubs. Most deliveries are shipped from suppliers directly to the destination country.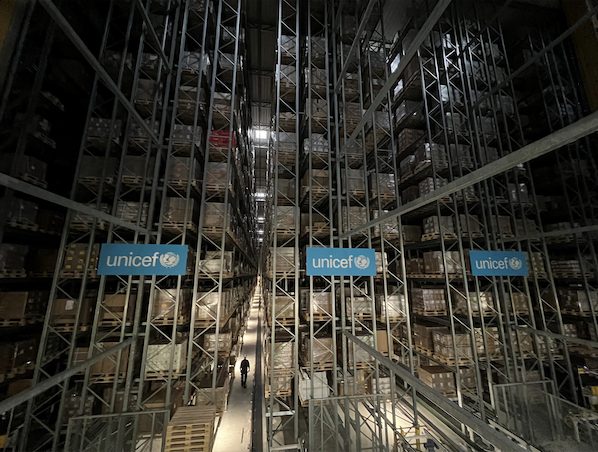 Through 60 years of learning and acquiring knowledge and expertise, UNICEF has gained considerable experience and purchasing power. For example, UNICEF procures vaccines to immunize 46 percent of the world's children under 5 years old. At this scale, Supply Division can leverage UNICEF's market influencing capacity and expertise to make vaccines and other life-saving products more affordable.
Product innovation ensures that supplies that keep children learning, healthy, and safe are appropriate and useable regardless of the context of where they live.
Through innovative financial partnerships, Supply Division helps countries to build end-to-end supply chain solutions and expand access. Supply Division serves as the convenor of industry and practitioners in vaccines, medicines, and nutrition products – creating a space to galvanize partnerships and build capacity to facilitate equitable access to essential supplies.
Supply Division's strength is founded on its agile, diverse, and connected Supply Community – today, 1,272 strong. Investing in multidisciplinary talent ready to meet the challenges of fast-changing global supply networks is critical to reaching every child in the next 60 years.