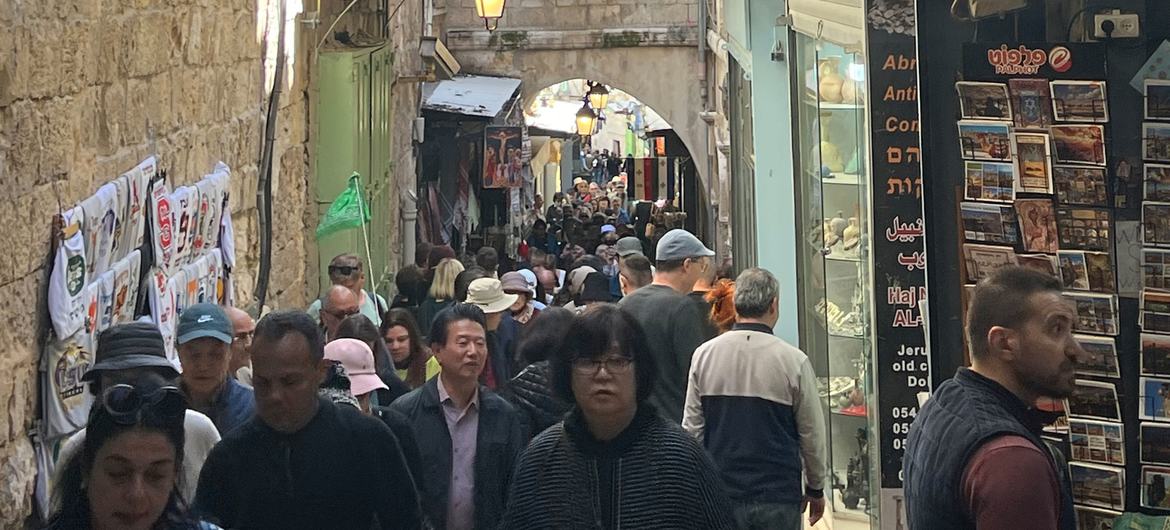 Israel-Palestine: UN envoy calls for greater effort towards peace amid mounting violence
© UN News/Maher Nasser. People walk through Jerusalem's Old City.
United Nations, 25 March 2023
The current trajectory of escalating unrest between Israelis and Palestinians is neither sustainable nor inevitable, UN Middle East envoy Tor Wennesland told the Security Council on Tuesday, delivering his latest report.
Mr. Wennesland expressed deep concern over recent violence and inflammatory actions, particularly the violent confrontations inside al-Aqsa Mosque in Jerusalem earlier this month.
He urged the sides, regional States and the international community, to show leadership, re-engage and work towards peace and the vision of a two-State solution.
"There must be an end to the unilateral measures, provocations and incitement that enable violence and prevent progress toward resolving this conflict and ending the occupation," he said.
Mounting deaths
Mr. Wennesland, officially the UN Special Coordinator for the Middle East Peace Process, was briefing ambassadors during their quarterly open debate on the region.
He reported that overall, 17 Palestinians were killed and 200 injured by Israeli forces during demonstrations, clashes, search-and-arrest operations, attacks and alleged attacks against Israelis, and other incidents.
Another 39 Palestinians were injured by Israeli settlers or other civilians in shooting attacks, stone-throwing and other incidents.
Meanwhile, four Israeli civilians were killed and 31 injured, by Palestinians in shooting and ramming attacks, clashes, the throwing of stones and Molotov cocktails, and other incidents.  A foreign national also was killed, and seven others injured.
Clashes at Holy Sites
Mr. Wennesland reported that although the recent period of overlapping religious holidays for Muslims, Christians and Jews was mostly calm, it was marked by "shocking incidents of violence at Holy Sites and tensions across the Occupied Palestinian Territory and in Israel, with a brief escalation spilling over into the region."
He said the confrontations that erupted at Al-Aqsa Mosque came in the wake of provocative calls and incitement from several parties. Militants in Gaza and Lebanon fired dozens of rockets towards Israel in response, which he condemned. The Israeli Defense Forces subsequently carried out strikes in Gaza and southern Lebanon.
Just days later, clashes occurred between Israeli police and Orthodox Christians attempting to enter the Church of the Holy Sepulchre for the Holy Fire ceremony, exceeding an attendance limit enforced by Israeli authorities.
West Bank violence
Other violence in the occupied West Bank and in Israel continued during the reporting period, he said.
Israeli military operations resulted in many Palestinian casualties, including four deaths during a raid in Jenin in March. Hamas and Palestinian Islamic Jihad claimed two of those killed as members of their armed wings.
Incidents also included the 7 April killing of two British-Israeli sisters in a shooting attack in the West Bank by perpetrators in a car with Palestinian plates. Their mother, who was critically wounded, died three days later.
Levels of settler-related violence also remained high during the quarter, while demolitions and seizures of Palestinian-owned property continued to be a serious concern.
Support the Palestinian Authority
Mr. Wennesland noted that amidst the deteriorating situation on the ground, the Palestinian Authority continues to face significant fiscal and institutional challenges. UN entities that provide support to the Palestinian people are also facing significant funding shortfalls, which is impacting basic service delivery.
He called for the parties and the international community to strengthen Palestinian institutions, improve governance and shore-up the fiscal health of the Palestinian Authority.
Concluding his remarks, Mr. Wennesland urged Israelis, Palestinians, countries in the region and the international community to show leadership, re-engage and work together in pursuit of peace.
He said the goal is to end the occupation and resolve the conflict in accordance with international law, relevant UN resolutions and previous agreements to achieve the two-State solution.
The original article appeared here.