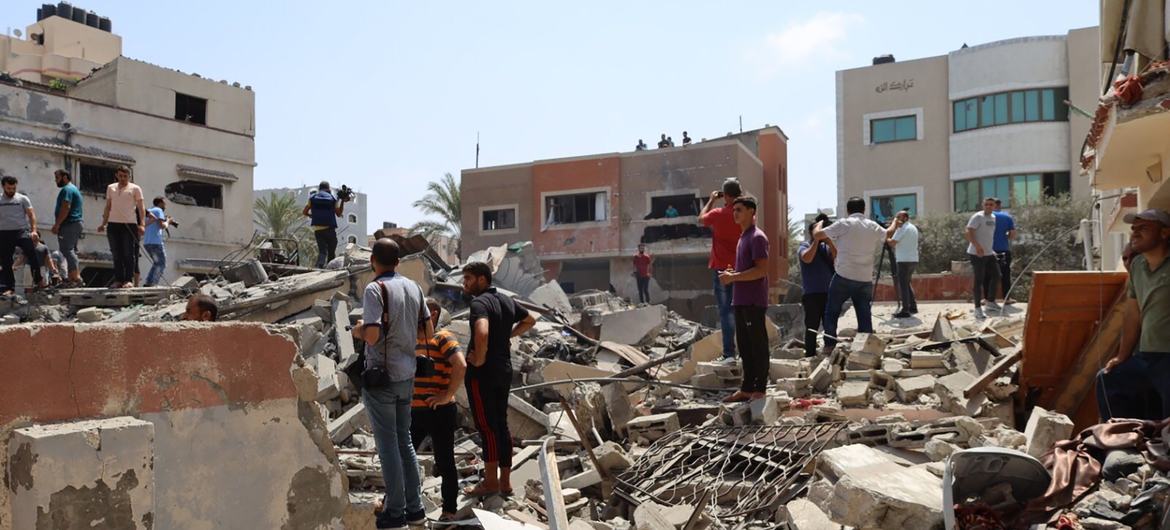 Israel-Palestine: UN chief condemns killing of civilians as deadly Gaza violence escalates
Ziad Taleb. Destruction in Gaza following conflict between Israeli forces and militants during August 2022.
United Nations, 10 May 2023
The UN Secretary-General said on Wednesday he was following the latest exchanges of fire between Israeli forces and militants in the Gaza Strip with "deep concern" over the escalating conflict, and "risk of further loss of life."
In a statement released by his Spokesperson, António Guterres said that he condemned the civilian loss of life, that occurred during Israeli airstrikes on Tuesday aimed at the militant Islamic Jihad group, three of whose leaders were killed.
In total, 13 Palestinians were killed during Tuesday's early morning attacks, including five women and four children.
Killing of civilians must end
Mr. Guterres said that the deaths of the women and children were "unacceptable and must stop immediately", the statement continued.
"Israel must abide by its obligations under international humanitarian law, including the proportional use of force and taking all feasible precautions to spare civilians and civilian objects in the conduct of military operations."
According to news reports, in response to Tuesday's strikes, Palestinian militants in the occupied Gaza enclave bordering Israel, had fired more than 460 rockets, while Israel had hit more than 130 targets inside Gaza.
Local medical authorities reported that six people had died on Wednesday, with more than 40 injured.
Some Israelis were reportedly hurt while rushing to seek shelter from rockets, but most were intercepted or fell on open ground.
End indiscriminate rocket-fire
In his statement, the Secretary-General also condemned "the indiscriminate launching of rockets from Gaza into Israel, which violates international humanitarian law and puts at risk both Palestinian and Israeli civilians."
Mr. Guterres urged all parties to the latest uptick in violence to "exercise maximum restraint" and work towards ending the fighting immediately.
"He reiterates his commitment to supporting Palestinians and Israelis to resolve the conflict on the basis of relevant United Nations resolutions, international law and bilateral agreements."
The original article appeared here.