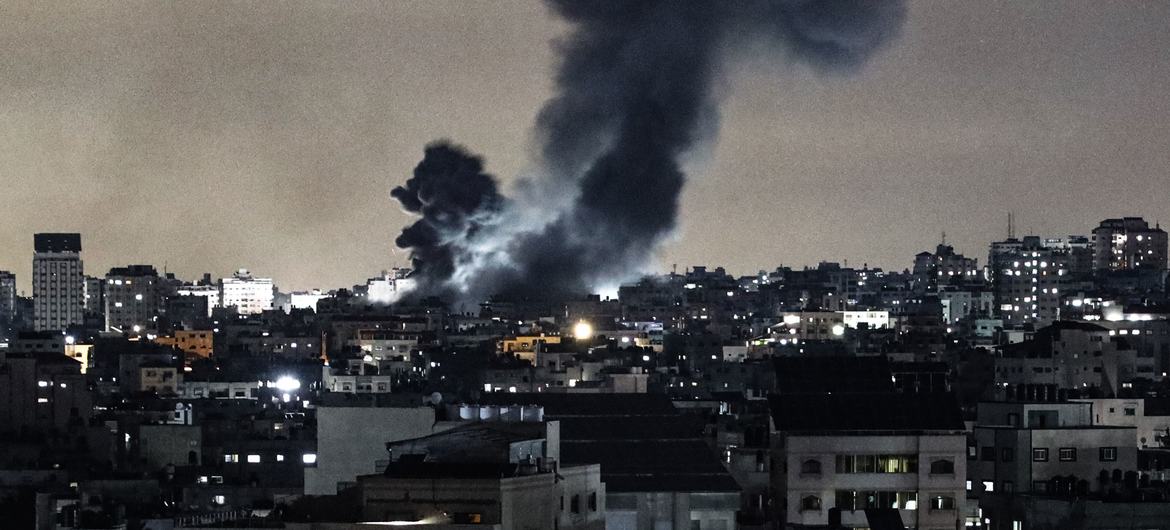 Israel-Palestine crisis: UN humanitarians plead for 'access, access, access'
© UNICEF/Eyad El Baba | A night-time bombardment of Gaza City.
United Nations, 7 November 2023
A month since Hamas terrorists killed 1,400 people in Israel, taking over 240 hostage, and as the Israeli offensive into Gaza continues which has led to thousands of civilian deaths, UN humanitarians on Tuesday issued a heartfelt appeal for access to the enclave.
"Every day, you think it is the worst day and then the next day is worse," UN health agency spokesperson Christian Lindmeier said, quoting a colleague in Gaza, which remains under almost complete blockade. "Access, access, access is necessary."
160 children killed daily

The level of death and suffering is "hard to fathom", Mr. Lindmeier told journalists in Geneva. On average, 160 children are killed every day in the enclave and the total death toll has passed 10,000, according to figures from the Ministry of Health in Gaza.
Meanwhile, in the Hamas-run enclave, Israeli bombardments have intensified and military operations on the ground are continuing against fighters linked to the 7 October attacks.
In Israel, people are "frightened, traumatized and anguished for their loved ones", the UN World Health Organization (WHO's) Mr. Lindmeier said, before reiterating wide-ranging calls on Hamas to release the hostages.
Many of those held captive need urgent medical attention, he stressed.
Diplomatic efforts
Echoing previous UN appeals, Mr. Lindmeier insisted that what is needed now is "the political will to at least grant a humanitarian pause and access to alleviate the suffering of the civilian population as well as the hostages in Gaza".
Diplomatic efforts towards this objective have continued. UN rights chief Volker Türk began a five-day visit to the region in Cairo on Tuesday to engage with Government officials, civil society, victims and UN colleagues, stressing that "human rights violations are at the root of this escalation and human rights play a central role in finding a way out of this vortex of pain".
He is set to visit Rafah on the Egypt-Gaza border before travelling to Jordan's capital Amman.
UN humanitarian affairs coordination office (OCHA) spokesperson Jens Laerke confirmed to reporters in Geneva that the UN has been invited to the international conference on humanitarian aid for Gaza's civilians hosted by the French Government in Paris on Thursday, and that it would be announced in due course who will take part on behalf of the Organisation.
'Inhumane living conditions'
Meanwhile, the UN agency for Palestine refugees (UNRWA) said on Tuesday that over two in three Gazans have been displaced in one month.
"This comes with constant fear and inhumane living conditions for almost 1.5 million people", UNRWA said, including daily struggles to find bread and water as well as regular telecommunications blackouts cutting people off from loved ones and from the rest of the world.
Over 717,000 people are sheltering in 149 UNRWA installations across the enclave, including in the north, which has been cut off from the rest of the Strip by Israeli military operations.
Hundreds of trucks waiting
"Nothing justifies the horror being endured by civilians in Gaza," Mr. Lindmeier insisted, stressing their desperate need for water, fuel, food and safe access to health care to survive.
He reiterated the UN's calls for "unhindered, safe and secure access" for some 500 trucks of aid a day, not only across the border but also "all the way through to the patients in the hospitals", where surgeries including amputations were being performed without anaesthesia.
Hundreds of truckloads of aid are waiting for access at the Egypt-Gaza border and humanitarians on the ground in Gaza are on standby to facilitate the distribution of relief items, he said.
'Real heroes'
Mr. Lindmeier also said that he was proud of the workers keeping the health system going in Gaza against all odds; "real heroes" who are "working under constant stress with no respite".
WHO is mourning the 16 health workers who have been killed while on duty, he said, stressing that any attacks on health care are forbidden by international humanitarian law.
The original article appeared here.