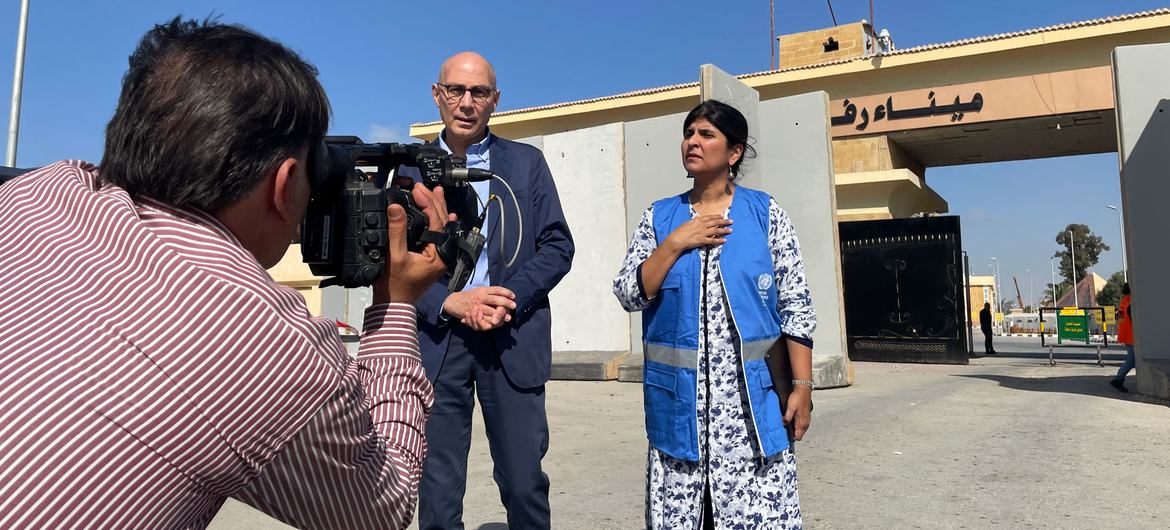 Israel-Palestine crisis: Amid war crimes fears, UN rights chief renews calls to stop violence, free hostages 
© OHCHR | The UN human rights chief, Volker Türk, (left) stands outside the Rafah crossing point into Gaza with Spokesperson, Ravina Shamdasani.
United Nations, 10 November 2023
The UN rights chief Volker Türk reiterated increasingly urgent calls on Friday for a humanitarian ceasefire to allow lifesaving relief to reach Gaza, the release of all hostages taken from Israel and a "sustainable" end to the "nightmarish" situation for those trapped in the enclave.
"Water is scarce and fear is pervasive" in Gaza, Mr. Türk told journalists in Amman, recounting a conversation he had minutes earlier with a colleague in Gaza who had to flee Israeli bombardments with his family. "His children, aged nine and seven, are asking him questions he does not know how to answer: 'Why is this happening to us? What did we do?'"
Later on Friday, the UN relief agency for Palestine refugees UNRWA, confirmed that more than 100 of its staff members have been killed since the Israeli bombardment began.
Mr. Türk's comments came amid fresh reports on Friday morning that a yard at the Al Shifa Hospital in Gaza City, where thousands of displaced Palestinians were sheltering, was struck by bombardments.
"Stop the violence, guarantee the safety of humanitarian workers, provide safe access to ensure that humanitarian assistance can be delivered to all those in need, make sure people have enough to eat, clean water to drink and medical care and shelter, free the hostages, serve accountability and bring to justice in line with international humanitarian law the perpetrators of serious violations," the UN rights chief insisted.
Justice for victims of Hamas attacks
Speaking about the massacres perpetrated by Hamas in southern Israel on 7 October, Mr. Türk said that these attacks "should outrage each and every one of us".
"There needs to be justice, accountability and remedy for the victims of these atrocious crimes", he insisted.
He called for the 240 hostages to be brought back home and for the "indiscriminate firing of rockets into Israel" by Palestinian armed groups to cease.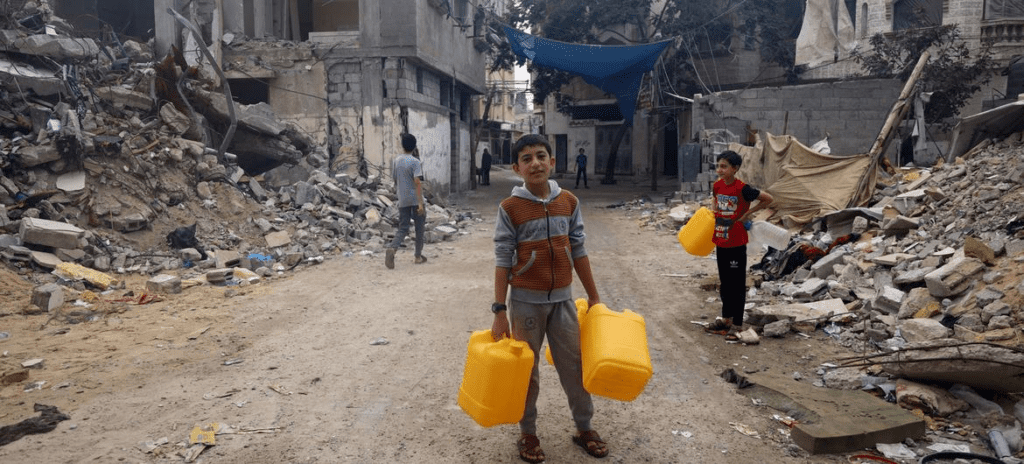 © UNICEF/Eyad El Baba | A boy collects water in a bombed neighbourhood in Gaza.
Children 'suffering terribly'
The UN rights chief was wrapping up a five-day visit to the Middle East and spoke of his visit to El Arish Hospital in Rafah, Egypt, where he saw young children who had been seriously injured in Gaza.
"These were the 'lucky' children who suffered terribly but are still alive and receiving proper medical treatment", he said, recalling that according to the enclave's health authorities, some 4,400 other children have been killed in Gaza in the past month and over 26,000 injured, while people with disabilities had lost caregivers and were stranded under the bombs.
Stop 'agony' of Gaza civilians
"The complete siege now lasting over one month has made it an agony for residents in Gaza to find basic necessities, and frankly to survive", Mr. Türk said, insisting that "all forms of collective punishment must come to an end".
To date, a total of 821 aid trucks have been allowed to enter Gaza from Egypt through the Rafah crossing since deliveries resumed on 21 October. Prior to the current crisis, 500 trucks a day on average crossed into the enclave.
Call to investigate attacks
The UN's humanitarian affairs coordination office OCHA said on Friday that there is no aid access to hundreds of thousands of people who remain in northern Gaza. That dire assessment echoed earlier comments by the UN rights chief who described how the "extensive Israeli bombardment of Gaza, including the use of high and of high impact explosive weapons in densely populated areas", had razed "tens of thousands of buildings to the ground".
"Israel must immediately end the use of such methods and means of warfare, and the attacks must be investigated," he said.
'Nowhere is safe'
The UN rights chief reiterated that while civilians should be protected under international law "wherever they are", right now "nowhere in Gaza is safe" and Israeli Defense Forces-designated safe-zones raise questions over real security guarantees.
On Thursday, reacting to an announcement by the United States announced that Israel had agreed to halt military operations in northern Gaza to allow daily four-hour humanitarian pauses, UN spokesperson Stéphane Dujarric said that any plans for short-term pauses in the fighting in Gaza must be carried out in coordination with the UN and following agreement by all sides.
Over 100 UN staffers killed in Gaza
More than 100 staffers from the UN's Palestine refugee agency UNRWA have been killed in just a month, the agency's head Philippe Lazzarini confirmed on Friday morning in a tweet.
"Parents, teachers, nurses and doctors, support staff. UNRWA is mourning, Palestinians are mourning, Israelis mourning. Ending this tragedy needs a humanitarian ceasefire now", he wrote.
Respect laws of war
Speaking to the "particularly intense" strikes on hospitals and in the vicinity of hospitals in Gaza City, Mr. Türk stressed that international humanitarian law extends special protection to medical units and requires that they be protected and respected at all times.
"Any use by Palestinian armed groups of civilians and civilian objects to shield themselves from attack is in contravention of the laws of war. But such conduct by Palestinian armed groups does not absolve Israel of its obligation to ensure that civilians are spared – that the principles of distinction, precautions in attack and proportionality are respected," he said.
The UN rights chief also said that it was "extremely distressing" to see what is happening to UN staff in Gaza – the loss of life among UNRWA colleagues "is unprecedented".
Mr. Türk called "unacceptable" the fact that in UNRWA-run schools over 600 displaced people seeking shelter have been killed or injured. "There is a principle of inviolability of UN premises," he insisted.
West Bank: 'end the cycle of violence'
Turning to the occupied West Bank, Mr. Türk called on the Israeli authorities to ensure protection of Palestinians there as they face daily "violence from Israeli forces and settlers, ill treatment, arrests, evictions, intimidation and humiliation".
About 200 Palestinians had already been killed in the West Bank before 7 October and a further 176 have been killed since then, Mr. Türk said. Settler violence was destroying lives and livelihoods and fuelling displacement amid continued impunity.
Mr. Türk urged the Israeli authorities to implement the recommendations of his Office's "numerous human rights reports on the Occupied Palestinian Territory" issued throughout the years and heed calls for "meaningful investigations and accountability to end this cycle of violence and vengeance against entire communities".
"Where national authorities prove unwilling or unable to carry out such investigations, and where there are contested narratives on particularly significant incidents, there needs to be independent, international investigation," he said.
Step up
High Commissioner Türk, who has not as yet been granted access to Israel and to the Occupied Palestinian Territory as part of his visit to the region, said that he had spoken over the phone with human rights defenders from both sides.
Palestinian human rights defenders "emphasized the failures by the international community to step up to their obligation to ensure respect for international humanitarian law, and to use their influence to halt the unconscionable suffering of civilians in the midst of this madness," he said.
The UN rights chief strongly urged the international community to rise up to its responsibilities, stressing the need to apply universal standards "in each and every situation around the world".
"Member States with influence need to work harder than ever to bring the parties to a ceasefire, without further delay," he said.
The original article appeared here.