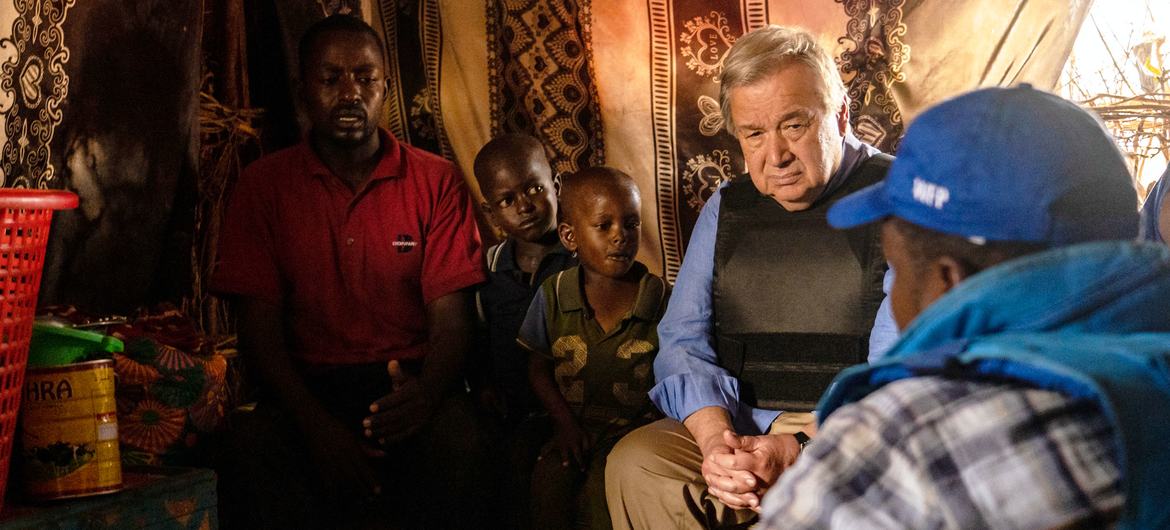 In Mogadishu, UN chief urges 'massive international support' for Somalia
UN Photo/Sourav Sarker. Secretary-General António Guterres meets a family of internally displaced people at a camp in Baidoa in southwestern Somalia.
United Nations, 11 April 2023
Continuing his tradition of carrying out solidarity visits to Muslim countries during the Holy Month of Ramadan, the United Nations chief today landed in Somalia, where he underlined the need for international engagement to alleviate the country's dire humanitarian situation and aid with state-building efforts.
"I am also here to ring the alarm on the need of massive international support, because of the humanitarian difficulties the country is facing, massive humanitarian support in relation to the build-up of a security capacity of Somalia, and massive humanitarian support in stabilisation and development of the country," Secretary-General António Guterres said in the Somali capital, Mogadishu.
"Although Somalis make virtually no contribution to climate change, the Somalis are among the greatest victims. Nearly five million people are experiencing high levels of acute food insecurity. 
"And of course, rising prices make matters worse. So, I call on donors and I call on the international community to step up their support," he added.
The UN chief made the comments at a joint press encounter with Somalia's President Hassan Sheikh Mohamud at Villa Somalia, the federal government's premises, soon after landing in Mogadishu. He last visited Somalia six years ago.
Later on Tuesday, accompanied by the Humanitarian Coordinator for Somalia, Adam Abdelmoula, who also serves as his Deputy Special Representative for the country, the Secretary-General met some of the Somalis affected by the country's humanitarian crisis during a visit to a camp for internally displaced people in Baidoa, the largest city in Somalia's South West state.
He met with two different families there. 
The first had travelled 105 kilometres by foot and donkey cart, to seek refuge in Baidoa last year, after all of its livestock perished during the ongoing drought. The second family had done the same after its livestock died and travelled some 70 kilometres to seek aid.
'Mobilise much more support'
"It is time for the international community to mobilise much more support, support for the Somalis to guarantee the security of their people and fight terrorism, support for the Somalis to solve the humanitarian drama that we can witness in a camp like this one.
"And support to the Somalis in creating the conditions to build the resilience of their population and to create a path of development for the people of Somalia," Mr. Guterres said after the meetings.
"In the Holy Month of Ramadan," he added, "we need to have generosity from the international community that is absolutely crucial to rescue these people that I've seen in this camp, and that live in such dramatic circumstances."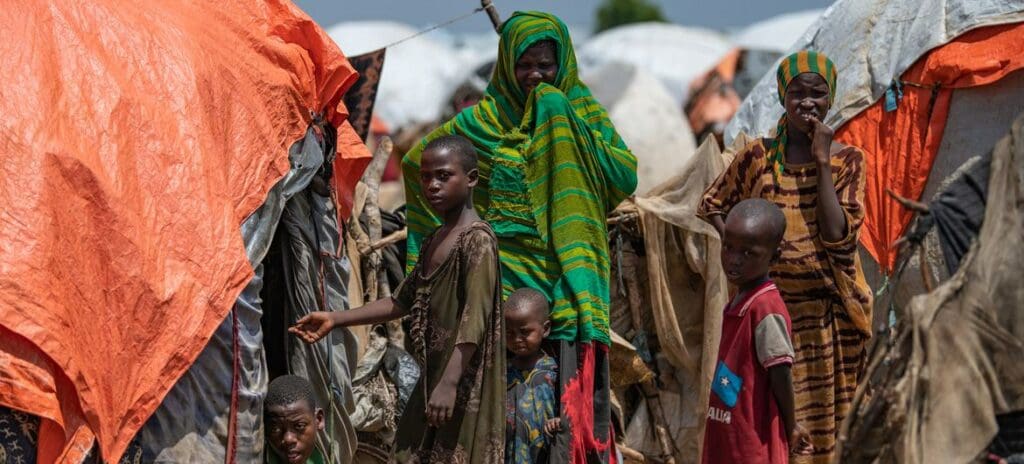 UN Photo/Sourav Sarker. Tens of thousands of people have been displaced in Somalia.
Millions need lifesaving aid
Currently, nearly half of Somalia's population – 8.25 million people – need lifesaving humanitarian and protection assistance due to climate shocks, which include five consecutive years of poor rainy seasons, and protracted conflict, according to the UN Office for the Coordination of Humanitarian Affairs (OCHA).
Of those, some 3.8 million are internally displaced, and nearly five million people are experiencing high levels of acute food insecurity. Around 1.8 million children are severely malnourished, and eight million people lack access to adequate water, sanitation, and hygiene. Two-thirds of all people in drought-affected areas have no access to essential healthcare.
The 2023 Humanitarian Response Plan to meet Somalia's needs requires $2.6 billion to assist 7.6 million people – but its funding stands at around 15 per cent, so far.
At the earlier joint media encounter in Mogadishu, the UN chief called on the international community to "urgently fund" the Plan.
"Somali people deserve the solidarity of the international community, and deserve it to prevent malnutrition and displacement, to save lives, to avert famine," he said. 

UN Photo/Sourav Sarker. Secretary-General António Guterres (left) meets Somalia's President Hassan Sheikh Mohamud in Mogadishu, Somalia.
Support for state-building
Prior to the press encounter, the Secretary-General met with the President and some member of his cabinet and advisors to discuss other matters, including wider state-building goals, along with his Deputy Special Representative for Somalia, Anita Kiki Gbeho, who also serves as the Officer-in-Charge on the UN Assistance Mission in Somalia (UNSOM).
"The President and I discussed the Government's valuable efforts to tackle terrorism and advance peace and security for everyone, and we underlined the importance of an ever-stronger collaboration between the Federal Government and [Federal Member] States," Mr. Guterres said.
 "Federal and [Federal Member] State authorities can count on our support for further advanced state-building," he continued, "and we are particularly encouraged by the recent agreement that was established in relation to the different matters of power sharing." 
The UN chief also called on the international community to step up support beyond the humanitarian sphere, to help Somalis "be able to launch a new process of stabilisation and development in the country and to build up its capacities to fight Al-Shabaab with even more efficiency than in the recent past." 
Over recent months, Somalia's security forces, reinforced by local militias, have conducted military operations against Al-Shabaab in the Federal Member States of Hirshabelle and Galmudug, and operations are expected to gradually move into other areas of Somalia.
Meeting civil society
Also on Tuesday, the UN chief met with representatives of Somali civil society organisations working in areas such as women's affairs and empowerment, climate change, persons with disabilities, youth and marginalized groups to hear first-hand about their work and how the world body can support them.
Later that evening with members of the Federal Government and representatives of the international community, he attended an iftar, the meal prepared for sunset to break the daily fasting observed by Muslims during Ramadan.
The UN chief began his tradition of paying solidarity visits – which include him fasting too – during Ramadan while he was the UN High Commissioner for Refugees, before taking up the UN's top job in 2017. He has previously said that joining Muslims fasting during Ramadan has, over the years, showed to him "the true face of Islam."
At his press encounter in Mogadishu today, he noted that Somalia embodies Ramadan's "timeless message of renewal and hope."
"In these challenging times, I want to commend your energy and resilience and reiterate the United Nations' unwavering support," Mr. Guterres said. "We stand in solidarity with the Somali people and the Somali Government – for peace, for security and for sustainable development."
The original article appeared here.