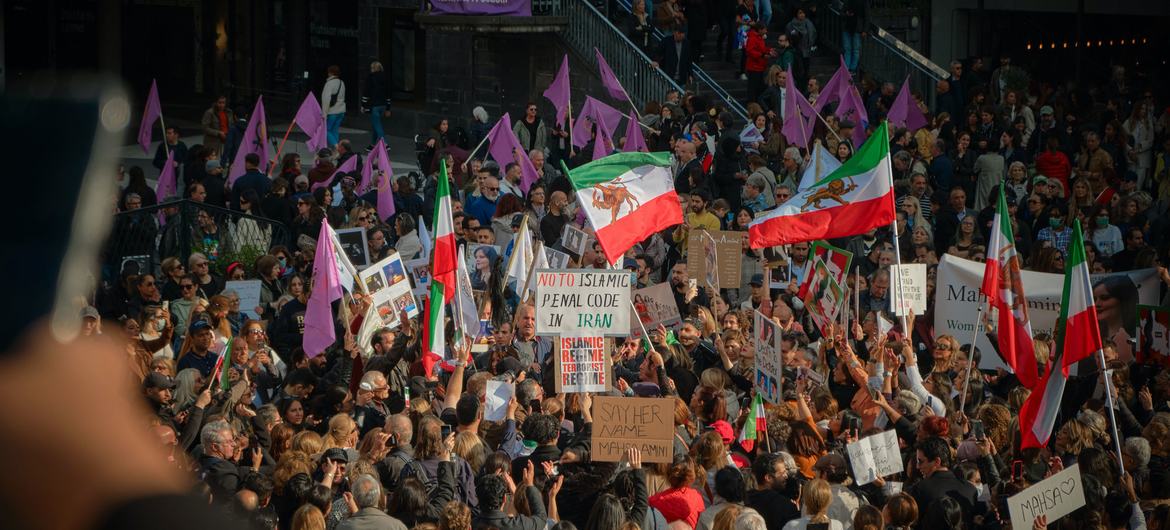 Imprisoned Iranian women journalists receive UN press freedom prize
Unsplash/Artin Bakhan. Protesters gather in Stockholm, Sweden, after the death of 22-year-old Mahsa Amini in the custody of Iran's so-called morality police.
United Nations, 2 May 2023
Three imprisoned Iranian women journalists – whose reporting helped spark the revolution surrounding the death of Mahsa Amini in police custody – are the recipients of an award that celebrates press freedom, the UN Educational, Scientific and Cultural Organization (UNESCO) announced on Tuesday. 
Niloofar Hamedi, Elaheh Mohammadi and Narges Mohammadi have been named as the laureates of the 2023 UNESCO/Guillermo Cano World Press Freedom Prize at a time when women journalists are increasingly under threat.
"Now more than ever, it is important to pay tribute to all women journalists who are prevented from doing their jobs and who face threats and attacks on their personal safety. Today we are honouring their commitment to truth and accountability," said Audrey Azoulay, the UNESCO Director-General.
Paying a hefty price  
The three journalists were selected following the recommendation of an international jury of media professionals.
"We are committed to honoring the brave work of Iranian female journalists whose reporting led to a historical women-led revolution," said Zainab Salbi, the jury Chair.
"They paid a hefty price for their commitment to report on and convey the truth.  And for that, we are committed to honoring them and ensuring their voices will continue to echo worldwide until they are safe and free."
Niloofar Hamedi writes for the leading reformist daily newspaper Shargh. She broke the news of the death of Mahsa Amini, the young woman who died in detention on 16 September 2022, three days after being arrested by Iran's morality police for allegedly failing to properly cover her hair.
She has since been held in solitary confinement in notorious Evin Prison, located in the capital, Tehran, since last September.
Elaheh Mohammadi covers social issues and gender equality for the reformist newspaper, Ham-Mihan. She reported on Ms. Amini's funeral and has also been detained in Evin Prison since September 2022. She had previously been barred from reporting for a year in 2020 due to her work.
Ms. Hamedi and Ms. Mohammadi are joint winners of both the 2023 International Press Freedom Award by Canadian Journalists for Free Expression (CJFE), and the 2023 Louis M. Lyons Award for Conscience and Integrity in Journalism, presented by Harvard University in the United States. They were also named as two of Time Magazine's 100 Most Influential People of 2023.
Narges Mohammadi has worked for many years as a journalist for a range of newspapers and is also an author and Vice-Director of the Tehran-based civil society organization Defenders of Human Rights Center (DHRC). She is currently serving a 16-year sentence in Evin Prison.
Ms. Mohammadi has continued to report in print from prison. She has also interviewed other women prisoners, and these interviews are included in her book White Torture. Last year she won the Reporters Without Borders' (RSF) Courage Prize.
Ensuring press freedom 
UNESCO has a mandate to ensure freedom of expression and the safety of journalists around the world.
Globally, women journalists and media workers face increasing attacks, whether in real life or online, including stigmatization, sexist hate speech, trolling, physical assault, rape and even murder.
The agency advocates for their safety and collaborates with partners to identify and implement good practices and share recommendations aimed at countering these attacks.
About the award 
The UNESCO/Guillermo Cano World Press Freedom Prize was established in 1997.
It is presented annually to a person, organization or institution that has made an outstanding contribution to press freedom, and especially when this has been achieved in the face of danger.
The award is named in honour of Colombian journalist Guillermo Cano Isaza, who was assassinated in front of the offices of his newspaper, El Espectador, in Bogotá, on 17 December 1986.
Previous laureates include Maria Ressa of the Philippines, joint winner of the 2021 Nobel Peace Prize alongside fellow journalist Dmitry Muratov of Russia.
The original article appeared here.