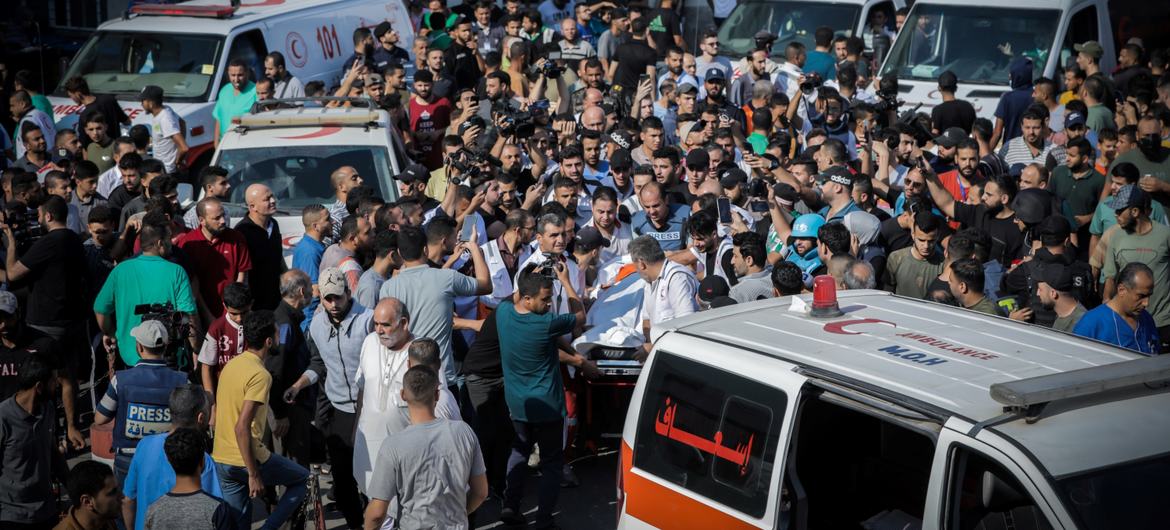 Humanitarians call for urgent aid access to Gaza   
WHO occupied Palestinian Territory | Al-Shifa Hospital in Gaza. WHO warns that hospitals in the Gaza Strip are at a breaking point.
United Nations, 12 October 2023
Gaza is on the brink of running out of food, water, electricity and critical supplies, UN humanitarians warned on Thursday.
No aid can come in from the outside for the 2.3 million residents of the sealed-off enclave, and some 220,000 displaced people are sheltering in schools run by the UN agency for Palestine refugees, UNRWA.
Stocks depleting fast
Humanitarians are continuing to support Gaza's population as best they can. The UN World Food Programme (WFP) said that together with UNRWA it delivered fresh bread from "bakeries still able to operate" and food to over 175,000 displaced people across 88 shelters on Wednesday, with plans to "reach over 800,000 people across Palestine".
The humanitarian affairs coordination office (OCHA) reported that mass displacement has been continuing, increasing by 30 per cent in just the previous 24 hours, said UN Spokesperson Stéphane Dujarric, briefing reporters in New York.
This brings the cumulative figure to more than 338,000, "of whom over two thirds are taking shelter in schools run by UNRWA", the UN Relief and Works Agency, he added. Nearly 218,000 internally displaced people (IDPs) are sheltering in 92 of their schools.
More than 2,500 units of housing have been destroyed or severely damaged and rendered uninhabitable, while nearly 23,000 others have sustained moderate to minor damage.
At least 88 education facilities have been struck, including 18 UNRWA schools, two of which were used as emergency shelters for displaced people, as well as 70 Palestinian Authority schools.
"This means that for the sixth consecutive day, more than 600,000 children have had no access to education in a safe place in Gaza", said the Spokesperson.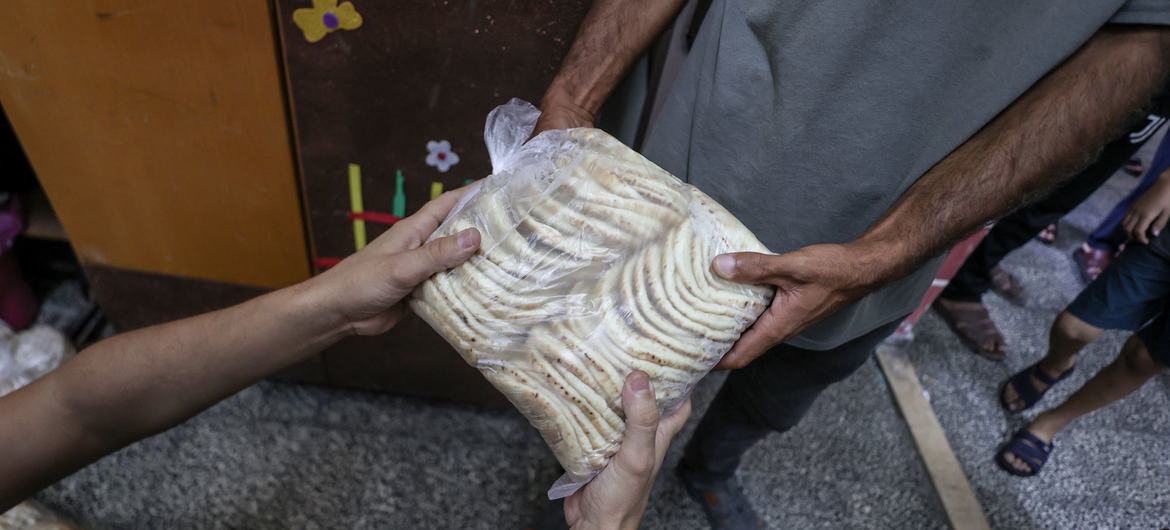 © WFP/Ali Jadallah | Bread is distributed in a school in Gaza that is a designated shelter in times of emergency.
Meanwhile, WFP stressed that its food assistance stocks were running out and called for urgent aid access.
More humanitarians killed
UNRWA further announced on Thursday that 12 of its personnel have been killed since 7 October in the Gaza Strip. 
The UN agency wrote on social platform X, "we mourn this loss and are grieving with our colleagues and the families", reiterating that "UN staff and civilians must be protected at all times."
The UN health agency WHO, warned late on Thursday that hospitals in Gaza are "at a breaking point."
Hospitals have just a few hours of electricity each day and are being forced to ration depleting fuel reserves to sustain just "the most critical functions" in overcrowded treatment areas.
Acute shortages of medial supplies are compounding the crisis, limiting the response capacity, WHO added.
Rights experts call for hostages release
UN-appointed independent rights experts on Thursday added their voice to calls for Hamas to release people taken hostage during its attack on Israel – while also calling for the targeting of civilians in the Palestinian enclave to stop. 
The experts, who include Francesca Albanese, Special Rapporteur on human rights in the occupied Palestinian territory, called for urgent accountability for the "horrific crimes committed by Hamas".
'No justification'
The rights experts also condemned Israel's "indiscriminate" attacks against Palestinian civilians in Gaza and a further tightening of the "unlawful blockade" against the enclave. 
"There is no justification for violence that indiscriminately targets innocent civilians, whether by Hamas or Israeli forces. This is absolutely prohibited under international law and amounts to a war crime," the experts said. 
The rights experts warned of a severe humanitarian crisis in the enclave and of the "inescapable risk of starvation" faced by its population, adding that "intentional starvation is a crime against humanity".
According to media reports on Thursday, the current conflict, which is expected to escalate further, has claimed at least 2,400 lives. More than 100 Israelis and foreign nationals, including children and older persons, are being held hostage in Gaza. 
Water crisis
A water crisis is worsening across Gaza and in UNRWA emergency shelters "due to damaged infrastructure, lack of electricity needed to operate pumps and desalination plants, as well as limited supply of water in the local market", Mr. Dujarric said.
"Water supplies cannot be replenished due to the total blockade on the Strip by the Israelis authorities. Fuel cannot be brought in, and Israeli water suppliers can no longer deliver water in Gaza."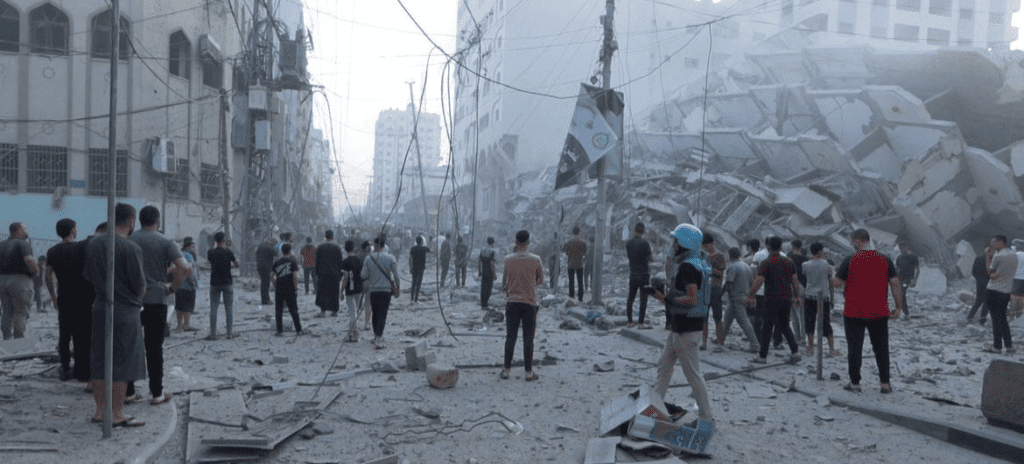 UN News/Ziad Taleb | Many parts of Gaza lie in ruins following airstrikes.
The UN's sexual and reproductive health agency UNFPA said late on Thursday that it is "deeply concerned" for the safety and wellbeing of women and girls who have been caught up in the violence in Gaza.
Gaza is home to 50,000 pregnant women, who are currently unable to access essential health services. Some 5,500 of these women are due to give birth in the coming month.
Dozens of births a day imminent
That is equal to 166 births per day, taking place with inadequate access to healthcare or even clean water, the agency said.
"UNFPA is prepositioning supplies to be ready to deliver if siege conditions are lifted. We have provided medicines essential for safe delivery to the health authorities in Gaza and we are providing dignity kits to UNRWA shelters."
One agency staff member based inside Gaza and continuing to provide services, spoke for many UN workers caught up in the violence along with hundreds of thousands of civilians, noting that "my only goal is to breathe. To stay alive."
The original article appeared here.