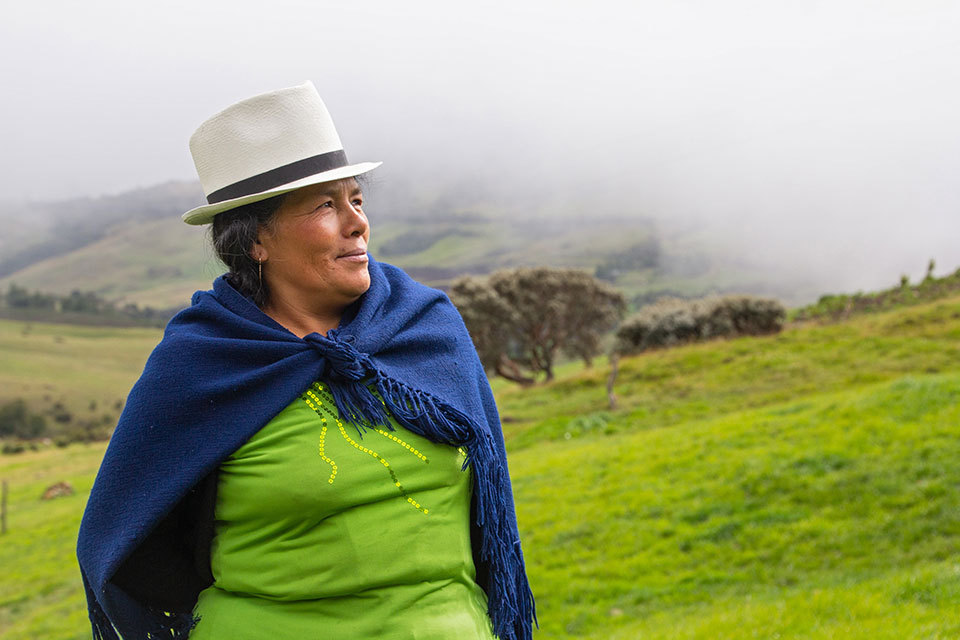 How women in Ecuador are restoring a fragile ecosystem
in the face of climate crisis
© UN Women/Jerónimo Villarreal
UN Women, 7 May 2021
Many threats loom over Ecuador's páramo ecosystem in the Andes: the expansion of the agricultural frontier, desertification, and overgrazing, which has left large swaths of land barren and inert. The health of the fragile ecosystem here is closely linked with the life and well-being of the men and women who live there. If unprotected, the paramo may no longer be able to produce the fresh water flowing into rivers that feed the Amazon.
Many men in these communities have abandoned the wasted land. But the mothers, daughters, and sisters stay on, caring for their families and tending to the land. Most of them are indigenous; beyond the cultural traditions that bind them to the páramo, they haven't had access to education or sufficient employment opportunities over generations.
A return to the roots
In Azuay province, in the central highlands of Ecuador, about 86 women from the five communities of Nazari, Puculcay, Morasloma, Bayán and Hornillos meet regularly. They talk, listen and learn from each other, exchanging knowledge and experiences about the management of their land and natural resources.
"We have to protect water sources, because without water we cannot live," says Zoila Dolores Piedra Guamán, a farmer and homemaker from Puculay.
Luz María Yumbo Quezada, from the Bayán community. © UN Women/Pablo Carrasco
Luz María Yumbo Quezada, from Bayán community adds, "We have already destroyed the mountain to make pasture. Now, we have to plant trees and cultivate the land with bokashi and biol [organic fertilizers]." Guamán and Quezada learned sustainable agricultural practices as part of a project implemented by UN Women and the Azuay provincial government (GAD-P Azuay), with funding from the Municipality of Madrid.
"We learned to make organic fertilizers such as bokashi so that the plants grow better, and to take care of the meadow, because that is where the water, our source of life, comes from," says Mélida Yolanda Naguamal, a 22-year-old who aspires to become a nurse.
"Those of us who have learned the wonders of making these sustainable gardens must continue with that; we must continue planting vegetables ourselves," says Quezada.
Mélida Yolanda Naguamal is a 22-year-old project participant who aspires to become a nurse. © UN Women/Pablo Carrasco
The UN Women project lasted from March 2018 to March 2019, aiming to improve women's resilience, sustainable agricultural production and landscape management in the Andes, building upon the indigenous knowledge they have.
"The páramo project shows us that without women, it's not possible to talk about solutions to climate change and sustainable development," says UN Women Representative in Ecuador, Bibiana Aido.
"One of the main objectives of the project was to generate a pilot experience that could be replicated in other critical ecosystems, both in the highlands and in the Amazon region, in terms of environmental sustainability and gender equality – two major goals in the 2030 Agenda for Sustainable Development," she adds. Since the completion of the project, the women have continued to practice sustainable farming and teaching others in their community how to grow food while taking care of the fragile ecosystem. The communities are now reaping the benefits.
Strengthening women's autonomy and leadership
Alongside the climate crisis, violence against women is a formidable challenge in Azuay, where 79 percent of women have reported having experienced gender-based violence at least once in their lifetime, according to the latest data from the National Institute of Statistics and Census. There was also evidence of sexual violence in the communities. In addition to the health and economic crisis such violence often brings, it had affected women's self-esteem and agency. Empowering women to protect the ecosystem and sustain themselves also meant breaking down gender stereotypes and supporting them to stand up for themselves and participate in decision-making in their homes and communities.
"From the leadership workshop, I learned to participate more in the spaces that I represent, to speak without fear, and to not be afraid to make mistakes," says Edita Ortega, who is now a member of the Bayán Parish Council.
Today, women in the five communities that participated in the project are openly promoting sustainable agricultural production, participating in political activities, and have increased autonomy over their resources and their bodies. As a result, they are better equipped to manage the land and natural resources in the páramo.
"We have already had some meetings with men from the community and we tell them to listen to us, because we have the right to listen and to be heard. I am ready to work for my people," adds Ortega.
"I dream of seeing the páramo recovered. I am hopeful that someday this land will be like it used to be, with healthy plants and products and grains harvested here," says Quezada.
Original article here.
---