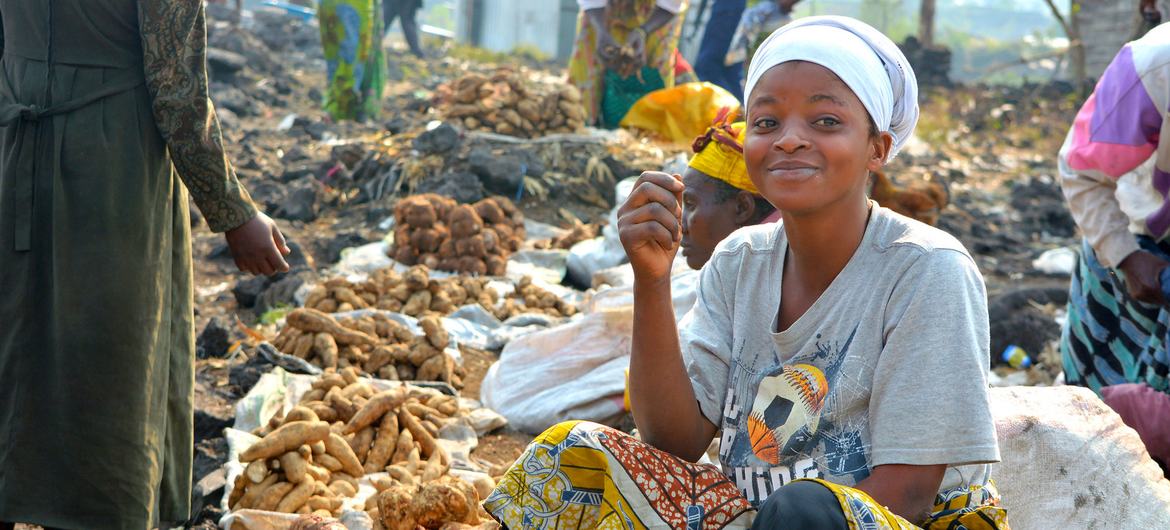 End 'alarmist narratives' on population growth and recognize women's rights: UNFPA
UN Women/Carlos Ngeleka. A woman sells food at a market in the Democratic Republic of the Congo.
United Nations, 19 April 2023
Women's bodies must not be held captive to government policies or "alarmist narratives" concerning population growth, the UN sexual and reproductive health agency (UNFPA) said in major new report published on Wednesday.
In its 2023 State of World Population report, UNFPA said that while reaching the milestone of eight billion people on Earth was a reminder of "our unprecedented gains", concerns over the number were "causing anxiety, and driving more governments to try to influence fertility rates."
However, the agency notes that thriving and inclusive societies can be built, regardless of population size, if countries are prepared to radically rethink how we talk about, and plan for, population change.
"The relationship between reproductive autonomy and healthier lives is an uncontested truth", said UNFPA's Executive Director, Natalia Kanem, in her foreword to the report.
Empowerment yields dividends
"As women are empowered to make choices about their bodies and lives, they and their families thrive – and their societies thrive as well."
However that was not the message most received at the news of the eight billion milestone last November. "Instead, many headlines warned of a world teetering into overpopulation", leaving the rights and potential of individuals, to "fade too easily into the background"
"Over and over, we see birth rates identified as a problem – and a solution – with little acknowledgement of the agency of the people doing the birthing", Ms. Kanem added.
Stating the facts
The key statistics, clearly demonstrate the lack of agency experienced by millions of women worldwide. Around 24 per cent of women and girls, are unable to say no to sex, while 11 per cent are unable to make decisions over contraception.
A survey of eight countries for the report, shows that people exposed to media or conversations over population growth, were more likely to see it as "too high".
The demographics paint a more nuanced picture, said UNFPA. Two-thirds of people are now living in "low fertility contexts", while just eight countries will account for half the projected growth in population by 2050.
Too often, the reproductive goals of individuals, are being thwarted, due to unplanned pregnancies, lack of access to contraception, or quality obstetric care, infertility, and economic instability, said UNFPA.
Furthermore, blaming fertility rates for climate change, will totally fail to hold the greatest carbon emitters to account. Out of eight billion, 5.5 billion simply don't make enough money to influence carbon emission increases.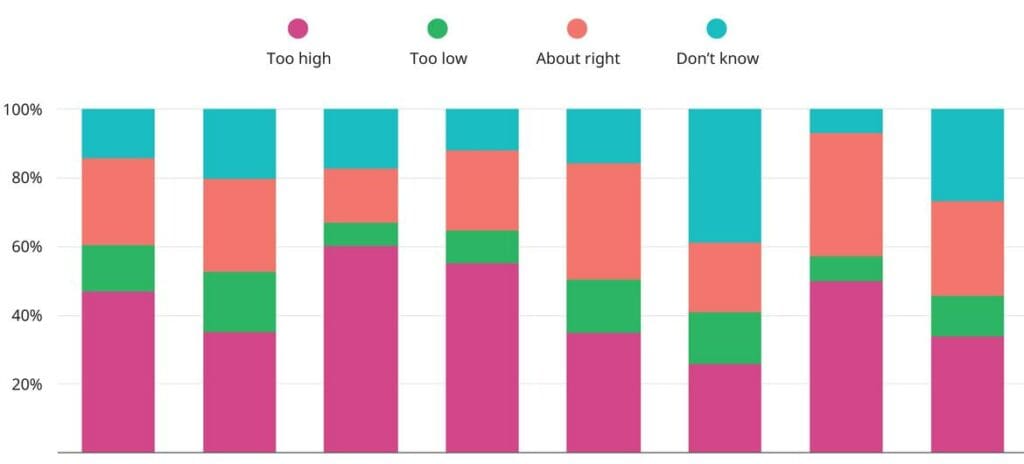 Source: UNFPA/YouGov survey. Views on global fertility rate held by survey respondents.
Gender equality key
The best solution for managing population change and for building resilient societies, UNFPA argues, is to advance gender equality.
Doing so, "is an often-overlooked solution", said Ms. Kanem: "In ageing, low-fertility countries, with labour productivity concerns, achieving gender parity in the workforce is considered the most effective way to improve productivity and income growth.
"In high-fertility countries, empowerment through education and family planning, is known to yield enormous dividends in the form of economic growth and human capital development", she added.
Start with bodily autonomy
The UNFPA chief said this was the main reason why the agency is calling for "expanded efforts to realize bodily autonomy" and support sexual and reproductive health and rights for everyone.
This right, she added, "should be the starting point for all conversations about population."
Policy prescription
UNFPA in the report, is calling on all governments to uphold human rights, strengthen pension and healthcare systems, promote active and healthy ageing, protect migrants' rights, and seek to mitigate the damaging impact of climate change.
The original article appeared here.