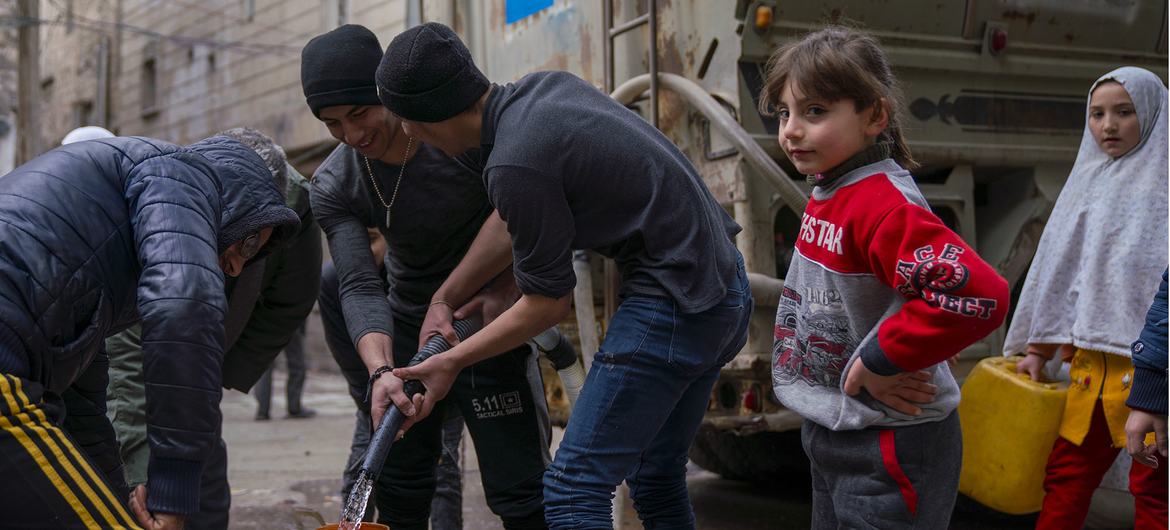 Earthquake disaster: UN chief welcomes Syria decision to open aid corridors
© UNICEF/Muhannad Al-Asadi Communities in Aleppo, Syria, access clean water after the earthquake which struck the region.
United Nations, 13 February 2023
The UN Secretary-General has welcomed the decision on Monday by the Syrian president to open two further crossing points on the Turkish border to allow more aid into the stricken northwest of the country.
Only a single crossing point – Bab al-Hawa – has been open to humanitarians since the 6 February earthquakes struck across the border region of southern Türkiye and northwest Syria, which has been in the grip of civil war for the past 12 years, and is the last remaining region partly under the control of opposition forces.
"I welcome the decision today by President Bashar al-Assad of Syria to open the two crossing points of Bab Al-Salam and Al Ra'ee from Türkiye to northwest Syria for an initial period of three months to allow for the timely delivery of humanitarian aid", António Guterres said in a statement. As hope fades of bringing more survivors out alive from the ruins, in Syria, more than 4,300 deaths had been reported in the northwest on Sunday. Deaths in Türkiye have reportedly now exceeded 31,000.
"We must be more vigilant than ever," he said, noting that "terrorist and violent extremist groups are finding fertile ground on the internet to spew their vicious venom."He said neo-Nazi, white supremacist movements are becoming more dangerous by the day and now represent the top internal security threat in several countries, as well as the fastest growing.
'Utmost urgency'
It's clear that "delivering food, health, nutrition, protection, shelter, winter supplies and other life-saving supplies to all the millions of people affected is of the utmost urgency", added Mr. Guterres. "Opening these crossing points – along with facilitating humanitarian access, accelerating visa approvals and easing travel between hubs", he added, "will allow more aid to go in, faster."
Lifting gear, medicines needed
Humanitarians working to save lives in Syria and Türkiye made an urgent appeal on Monday for more heavy machinery to remove rubble and debris in towns and villages shattered by last week's earthquakes, together with medical supplies.
That includes ambulances and medicine, shelter and non-food items, including heating, emergency food supplies and so-called WASH assistance – water, sanitation and hygiene, the UN Spokesperson Stéphane Dujarric told correspondents in New York at the regular daily briefing.
Emergency and search-and-rescue teams have deployed to assess and prioritize urgent needs and to provide life-saving assistance following the devastating earthquake near the Türkiye-Syria border. UN aid coordination agency OCHA said that Harim, Afrin and Jebel Saman are the worst-affected districts in northwest Syria, and that more than 50 trucks loaded with aid from five UN agencies have so far arrived via the sole international crossing at Bab al-Hawa, from Türkiye.
UN continuing to mobilize
"The UN continues to mobilize emergency teams and relief operations", Mr. Dujarric stressed.
At Türkiye's request, a UN Disaster Assessment and Coordination (UNDAC) Team with a total of 50 members has been deployed to the aid hub of Gaziantep and to three other hubs in the affected area to support the coordination of the International Urban Search and Rescue Operations, he added.
An UNDAC liaison team to Türkiye's Disaster and Emergency Management Ministry, who are leading the response, has also been established in Ankara. Speaking from there to UN News on Monday, UNDAC's Winston Chang said that the scale and the damage sustained inside the disaster area in the south of the country was "one of the worst we have seen."
6,000 high rise buildings now rubble
"We are looking at a damage area of over 50,000 square kilometers, covering a span of ten provinces…We count now, 6,000 collapsed, high rise buildings".
He said there were still reports coming in, eight days after the deadly earthquakes struck Türkiye and Syria, of "miracle rescues", including a newborn baby who was still attached to the umbilical cord, pulled from the rubble.
"We have 25 different disaster groups fighting across all sectors from environmental, medical, the military, of course, disaster response coordination", he added, noting that at the Turkish national emergency centre, there was a strong sense of unity, and mission to aid those in need.
As for the horrific scale of the disaster, he said that compared to the Indian Ocean tsunami of 2004, where 220,000 were killed, "I think this one does not pale in comparison."
UN disaster relief teams in Syria
A separate UNDAC team composed of seven members reached Syria and is supporting the response in Aleppo, Latakia and Homs, said Mr. Dujarric. Currently, eight international rescue teams are working in the earthquake impacted areas in Syria.
"The UN is working to rapidly scale up its assistance, including through the cross-border aid operations into the northwest", he added, before news of President Assad's decision had been announced.
On Monday afternoon in New York, the Security Council held a private meeting, reportedly to discuss the speeding up of aid to stricken areas of northwest Syria.
On Monday, six trucks carrying food and non-food items from the World Food Programme (WFP) crossed through Bab al-Hawa crossing, the UN Spokesperson said.
"Since 9 February, a total of 58 trucks loaded with essential humanitarian assistance crossed into the northwest Syria from southern Türkiye."
Relief chief in Damascus
UN Emergency Relief Coordinator Martin Griffiths was in the stricken quake region over the weekend surveying the huge challenges of the aid operation and on Monday, arrived in Damascus.
Earlier in the day he was in Aleppo and spoke to families who have lost loved ones and their homes, Mr. Dujarric said.
"He also met first responders and aid workers who have worked tirelessly to meet urgent humanitarian needs.
"He said the trauma of the people he spoke to in Aleppo was visible – and this is a trauma which the world needs to help heal. Mr. Griffiths said our obligation is to ensure shelter, food, schooling, psychosocial care, and a sense of the future for people affected by the devastating earthquake." 
The original article appeared here.